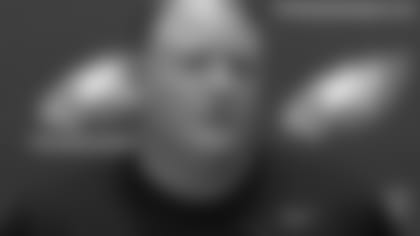 What are the ground rules here? Are we just talking about the acquisitions?
HEAD COACH CHIP KELLY: Fire away, Les [Philadelphia Daily News Eagles beat writer Les Bowen]. [Laughter] You're going to fire away anyway. [Laughter]
Why did you feel the need to have total control of personnel?
KELLY: I didn't think I needed control of the personnel. That was a decision that our owner made. So I just had a meeting with him, like I do at the end of every year, in terms of the direction of what we were doing and how do we go from being a 10 6 team to a team that can win the Super Bowl and that was a decision that [Eagles Chairman and Chief Executive Officer] Jeffrey [Lurie] made.
Do you think this is a better setup than it was at this time last year?
KELLY: Well, it better be or else we made the wrong decision.
Why is it a better setup?
KELLY: I feel like we have an understanding -- We have a vision of what we want for our football players here and I think we can articulate that and I think that's what we are trying to go out and get.
On the outside there are probably a lot of people, a lot of fans, wondering kind of what's going on with losing [QB Nick] Foles, losing [WR Jeremy] Maclin and losing [RB LeSean] McCoy. How would you explain what's transpired over the last week or so in terms of getting rid of most of your offensive stars?
KELLY: I think when you look at it, you have to look at every individual case. So, LeSean McCoy is the all time best running back here, we certainly understand that, but to get something you have to give something up and that's the way it works in this league. You're not going to trade somebody that has no value for someone to steal somebody from somebody. I think everybody in this league is too good at that standpoint. We felt like when the opportunity with LeSean came up and it was offered, you've got an outstanding young linebacker at a position that we have a huge need at: we have two guys coming off injuries at those positions.
So one of our plans going in was that we had to bolster our inside linebacker depth, that was a priority for us and then really the result of it is the money that was freed up. The way we looked at it is we got [LB] Kiko Alonso and [CB] Byron Maxwell for LeSean McCoy and the bottom line is almost every decision that you have to make is governed by money.
You would love to keep everybody if you could pay everybody, but it's not baseball. We are all limited by a cap number and you've got to give something up to get something. Did we want to lose LeSean? Certainly not. In the two years we had him in this system, two years ago he led the National Football League in rushing, [and] last year, despite playing behind 10 offensive linemen – we had obviously a new lineup almost every week – there were a lot of doubts about him and we stood by him through the whole season. He was our guy, we road him again, he had almost the same amount of carries last year than he did the year before when he led the league in rushing. But you had to give something up to get something. Really the biggest factor with LeSean, it was LeSean and the money, and what could that get us and we felt like we got two quality players back in return.
Is QB Sam Bradford your quarterback going forward?
KELLY: Yeah -- Well, Sam and [QB] Mark [Sanchez] are, and I think we have to have two. It was really essential for us to get Mark back here and then when the opportunity with St. Louis came up to get Sam it was the same exact thing. Do you want to lose Nick Foles? No, you don't want to lose Nick Foles, but you have to give something up to get something.
So you know, the deal with Sam Bradford, if he never tore his ACL, he would never be traded. When you look at this league – and [C] Jason Kelce just said it this morning when I was visiting with Jason in the weight room – the injury rate in the National Football League is 100 percent, it just matters what the severity is of it.
Jason Kelce himself has come off an ACL and a sports hernia surgery and made a Pro Bowl. Jeremy Maclin had an unbelievable year for us with 85 catches and he's coming off two ACLs. There's a lot of injuries in this game. [New England Patriots QB] Tom Brady has torn an ACL before, [New Orleans Saints QB] Drew Brees has missed a season. [Denver Broncos QB] Peyton Manning has missed a season.
It's very rare that you have a quarterback in this league that hasn't been hit and hasn't been knocked down, but the one thing about Sam – again I said it earlier – if he didn't tear his ACL, we would not be talking about trading for him.
Do these deals mean you won't be trading up to draft Marcus Mariota?
KELLY: Let's dispel that right now. I think that stuff is crazy. You guys have been going with that stuff all along. I think Marcus is the best quarterback in the draft. We will never mortgage our future to go all the way up to get
somebody like that because we have too many other holes that we are going to take care of.
Getting back to the front office setup. So you would have been perfectly fine with the way it was with Executive Vice President of Football Operations Howie Roseman as the general manager?
KELLY: I would be perfectly fine with whatever Mr. Lurie says. He owns the team and runs this organization.
So what were your suggestions and feedback when you met with Mr. Lurie?
KELLY: I didn't make any suggestions. I just talked about the vision of this thing and then he came back to me with what he wanted to do and how he wanted to run this.
So it was completely Mr. Lurie's idea?
KELLY: Yeah, it's Mr. Lurie's decision on how things are run here.
Why was your vision, presumably, without Howie Roseman as a part of the personnel --
KELLY: That wasn't my vision. That's not what I talked about, so I think you guys are misconstruing that. Mr. Lurie made that decision.
When we spoke with Mr. Lurie a week before that announcement he said that Howie was absolutely going to be back as the general manager. So that wasn't his opinion within the week and then you have a conversation with him. So logic suggests that the decision was based on your thoughts and not his.
KELLY: No, it wasn't my thought. My thought was, 'How do we make this place better?' and I never talked about that. I think Howie does an outstanding job. He has done an outstanding job in free agency in term of negotiating contracts. I think there's a collaborative effort in everything we do.
You mentioned the injuries with Sam Bradford. A lot of the other guys that you've signed have recent histories of also being injured. You've said before, 'The best ability, is durability' --
KELLY: I'm not sure there are many guys that aren't ever injured ever come available. You're talking about free agency, so there's got to be a reason that a guy is let go -- For some reason they can't compromise, whether it's a money issue or injury issue, it's going to be something. Usually if the money can work out with the player and he's not an injured player, most people want to keep him around.
Have you talked to Bradford about a contract extension?
KELLY: No. Sam just got in the building right now, so I actually have only talked to Sam over the phone. We haven't sat down and done any of that at this current point in time.
Can you shed some light on the so called tension between you and Roseman behind closed doors that has been out there for quite some time?
KELLY: I think there's a lot of things out there that people talk about all the time that aren't true. If I had to stand up here every single time that something was said I get along great with Howie. We have a great working relationship, just like do I with everybody else in this building.
And [if you ask] Howie [it'll be] the same thing that I tell you: we are trying to win a championship here and what's the best way we can win a championship? He's been outstanding at trying to provide us with a lot of resources. He's done an unbelievable job again with the cap in how we manage things and how do we things. I'm excited about working with him.
So when Jeffery Lurie came up to you and said he wanted to make this change in the front office, were you surprised?
KELLY: No, I'm not surprised by anything. Were you guys surprised when we traded Nick Foles for Sam Bradford? No? [Sees raised hand] Hey! There's one. [Laughter] I'm not surprised by anything to be honest with you. I also think we have a quality guy in [Vice President of Player Personnel] Ed Marynowitz who has done an unbelievable job in his role. We have just expanded peoples' roles.
Are you on the phone during these trades?
KELLY: I'm on the phones? Yeah, I'm part of it, but I'm not one on one, 'I'm trading this for that.' I've had conversations and I pass things off. But I've spoken to people. I don't do contracts. I'm not on the phone saying, 'Hey, it's going to be this. Tell him his P5 is going to be that, how much do we get back on the back end?' That's not what I do. I have talked to people about what our vision is, how we are going to use the player, what we need to get back; everything is run by us. Ed will present it and say, 'Hey we got offered this and this, what do you think?'
Were you blindsided by Frank Gore's decision not to sign with the Eagles?
KELLY: Blindsided? No. Because we were not allowed to talk to Frank. My first chance that I ever had an opportunity to talk to Frank was yesterday at four o'clock and he told me he wanted to take a visit to Indianapolis and see what their opportunity was and then I tried to talk to Frank about after he gets done with Indianapolis, will you come to Philadelphia? So was I blindsided? No, not at all.
Do you feel like the Eagles are still in the mix for Gore?
KELLY: No, I think he signed [with Indianapolis] didn't he? Yeah, I think he signed.
Do you view Sam Bradford long term as your quarterback going forward?
KELLY: We'll see. Everything's a one year season for everybody and that's what this league is. I think as you move forward but we wouldn't have traded for him if we didn't think he has a tremendous upside as a quarterback.
Why do you believe in Sam Bradford? Looking at it, at least on paper, he's coming off those two ACLs --
KELLY: Well, we don't look at paper. That's really not my job.
*He's coming off two ACLs *
KELLY: Jeremy Maclin came off two ACLs and made 85 catches last year.
But Maclin's injuries were way far apart.
KELLY: So are you we're going way far apart is the expert ruling on this now? We've done our due diligence in terms of talking to Dr. [James] Andrews in terms of what we are getting. So we feel very confident in where Sam is.
What do you see in Bradford?
KELLY: I think he's got an outstanding skill set. He's a big, strong, physical quarterback. He's over 6 4, he's 240 pounds, he's smart, he's intelligent, he's one of the most accurate throwers when you see him throw the football. I think he's smart. I think he's wired right.
I think we had some inside information because [Offensive Coordinator] Pat Shurmur had the opportunity to coach the kid for a year [in St. Louis], so he knows what he's like in the meeting room and he know what he is like on a daily basis and he knows the consistency that comes with him and he understands his work ethic. He's an unbelievable competitor.
You know, talked to the people who have been around him who were his coaches in the NFL and who were his coaches in college. Kevin Wilson is now the head coach at Indiana and was his offensive coordinator [at Oklahoma]. I talked to Kevin about him. I talked to [Oklahoma Head Coach] Bob Stoops about him. The kid is wired right. He's a competitor.
So you're not concerned about the injuries?
KELLY: I'm concerned about everybody's injuries. But again, you are not going to get involved with any of these players if they never were injured.
In negotiations for Bradford did you feel like you had to attach the second-round pick in order to get him?
KELLY: Everything goes back and forth. There were times we didn't think there was ever going to be anything done at all. I mean, I was offered a first-round pick for him this morning from another team.
How does Maclin leaving affect your plans at wide receiver?
KELLY: I think it affects it. And again with Mac, we did not want to lose him. He had a tremendous year for us. It's just that we couldn't go as high as Kansas City went. That's really what it came down to, but we definitely wanted Mac back.
I had a lot of discussions with Mac over the weekend and I know it was a very difficult decision for him, but I understood the decision. We definitely wanted Mac back. We have got some alternative plans and you always have to have contingency plans, but the ultimate plan was we wanted to have Mac back. It just didn't work out.
New player on this team  obviously, how difficult is it to mesh all these new players and have the success that obviously you expect and everybody in this town expects for next season?
KELLY: I don't think it's difficult. I think it happens every year. We had new players come in last year, Malcolm Jenkins, Darren Sproles. I think it's part of what the NFL is all about. You're going to lose players and you're going to gain players and you're going to add players through the Draft, whether it be three, four, five, however many of those guys make your team but that's what it's all about.
The players that we played in 2013 with, I don't know the exact number, what's the number, how many did we go back with last year we had 18, change over last year, probably have about 18 change over this year.
I mean with more of the offensive players gone.
KELLY: That's the nature of the league. You can't keep everybody and that's just what it's all about. But when our guys get here on April 20, our job as a coaching staff and a player group is let's get ready and attack the season.
Just to clarify, you were offered a 1st-round pick for Bradford this morning?
Who is determining the value compensation – in other words, in the Bradford trade – that this is what we're willing to give?
KELLY: I have final say over that but we determine it and run it by everybody and see what their thoughts are.
Did you believe you were vying with other teams for Bradford?
KELLY: From what we understood, there were other teams involved with Sam.
How many teams were vying for Foles?
KELLY: We didn't talk about anybody else. St. Louis was the only thing that we dealt with with Nick.
Whose call was it in letting Tom Gamble go earlier this year?
KELLY: That was made on other side. That wasn't my call.
And what was your reaction to it?
KELLY: I like Tom. I think Tom does an unbelievable job and is a great football guy but I didn't have anything to do with it. So I couldn't make any impact on that decision.
Could you bring him back after you had all the power?
KELLY: I'm not in charge of hiring the personnel people. We've got Ed in place and Ed is running the personnel department. Ed will hire and fire. I hired Ed. Ed is in charge of whoever will come in after that from a personnel standpoint. When I was in charge of how are we going to put this thing together, whoever we were bringing in to run personnel was going to run personnel.
So I was not going to come in and say, 'You are going to run personnel, and your job is to go hire this guy, this guy, this guy.' That's his job, he runs with it and he's got his marching orders and Ed has done a great job with it.
How has your role changed?
KELLY: I just really have final say. It really hasn't changed much.
Are you more involved with scouting?
KELLY: Do I go to pro days?
KELLY: Exactly. The only real difference is I think I just have final say.
Did you have final say on the roster before?
KELLY: That's the only thing. I have final say on roster, yeah.
Do you think with where you are right now in terms of personnel, are you better at this point than you were at the end of 2014?
KELLY: I never compare it that way because we're not playing a game today. I'm concerned about being better on September 13 or whatever day we're opened up. It's the same thing.
I had a great conversation with [Seattle general manager] John Schneider at Senior Bowl from Seattle about, I think it was the 2012 Draft. They got an 'F', and they drafted [LB] Bruce Irvin, [LB] Bobby Wagner, their third round pick was some kid named [QB Russell] Wilson and their fourth round pick was [RB] Robert Turbin, the running back, and everyone said it was an 'F' draft and they have no idea what they are talking about.
Do you like your team more than at the end of last season?
KELLY: I haven't even met some of these guys so, no, I can't answer that question. And it doesn't matter if I like them or don't like them more. One of them may piss me off tomorrow and I may not like them tomorrow.
Will LB DeMeco Ryans be back next season?
I know you're not penciling in starters right now, but you have three inside linebackers --
KELLY: We have got a lot we don't have three inside linebackers.
Three starting caliber inside linebackers, do you like that situation of having depth there?
KELLY: I like having really good football players, so you have no idea. The one thing is [LB] Mychal [Kendricks] missed some games last year, DeMeco missed games last year, [LB] Kiko [Alonso] has missed games. We are trying to accumulate as many good football players as we can is what we are trying to do.
Beyond the quarterback position, what are some fits with CB Byron Maxwell and Alonso?
KELLY: Obviously, I know Kiko very well but I think people that didn't know him well from his college career can see what he did in his first year at Buffalo. He had 159 tackles in 16 games, played every defensive snap, had four interceptions. I think he was the Defensive Rookie of the Year, very instinctive football player, runs extremely well, he's tall, he's long, he's what we're looking for, he's all about football.
He's just a smart, intelligent football player that's working very, very hard to get himself back in position to play. We got an opportunity to get Byron Maxwell. We've seen Byron firsthand. We got a chance to see him when we played Seattle and obviously we felt he was the best corner that was available in terms of how we could fit it, what fits with us money wise. He's what we're looking for, again, in corners: tall, long, physical, athletic, smart. He's an intelligent football player, so I think he's a good fit.
I talked a little bit about [QB] Sam [Bradford] already, and not sure who else I can talk about. [CB] Walter [Thurmond III] is another guy I think was available because he was injured. We are going to sign him to a one year deal. He's a very competitive player, was captain when I was there in 2009 at Oregon, had a really good career at Seattle. I know the coaches at the Giants were extremely high on him but he got hurt last year. Kind of the similar deal that we signed [S] Nate Allen to last year. He'll come in here and give Walt an opportunity to compete with [CB Nolan] Carroll II and [CB Brandon] Boykin to see who our other corner is outside of Byron
What about RB Ryan Mathews?
KELLY: I can't comment on anybody that has not come to terms with us.
It sounded like RB LeSean McCoy wasn't happy with the communication following the trade to Buffalo.
KELLY: Yeah, and I tried to get ahold of LeSean, I think when we traded Sam and Nick, myself and [Rams head coach] Jeff Fisher both talked to each other on the phone and simultaneously called Nick and Sam, and then exchanged text messages that that was done, so we could talk to them.
What ended up happening and I think you guys were all part of it is that trade was supposed to be initiated the next morning and there were still things to being worked out. To be honest with you, I didn't know if the trade was even going to go through. Next thing I know, we get a phone call that it's out, everybody knows he's been traded.
I tried to call LeSean that night and I got his voicemail. I tried to call him. I reached out to his agent, Drew Rosenhaus, said I really would like to speak to him. I got all the respect in the world [for him]. The kid is the all time leading running back here. He's a special football player.
But he found out because Buffalo jumped the gun and called someone else, and we told Buffalo we were not happy with that but there's nothing you can do about getting it back. When we did it with St. Louis, we thought it was done the right way. We got a chance to talk to both players individually before they heard from somebody else.
Since you are the general manager, where is your accountability?
KELLY: My accountability is to [Eagles Chairman/CEO] Jeffrey Lurie.
KELLY: And to you, Howard.
You brought in a bunch of guys who are injured. Is that a philosophical thing now that you're buying low?
KELLY: That's a good question, we don't want to bring in injured players, but I think the players that are available, there has to be a reason. Some guys are available because it's a money reason and you don't have the cap room or you're not willing to go that high for that individual player and some players are available because there was an injury. But as I said, I alluded to earlier, there are not many people in this league, that are not injured at that position and then it's your ability to come back and if you talk about the Saints, I think their revival and what happened down there was their acquisition of [QB] Drew Brees who, like a lot of people, failed in a medical [and] they couldn't go play there. But I think maybe they just didn't do enough due diligence in terms of counting Drew Brees out. Give [Saints head coach] Sean Payton credit and [Saints executive vice president and general manager] Mickey Loomis credit, they didn't count Drew Brees out and look how it paid off for them. That's some of the chances you have to take.
Have you found a benefit to buying low on guys though?
KELLY: We all have the same amount of money, so if you buy high on everybody, you're going to be over the cap.
You talked about how you're not going to mortgage your future for Marcus Mariota --
KELLY: We will not mortgage our future for any particular player. That's just not philosophically what we think is the right thing to do, that you're going to package 20 picks to move up from 20 to some other spot.
Have you looked into the possibility and are you looking at the possibility of trading up for Marcus Mariota?
KELLY: We have not looked into anything. We have not had any discussions with anybody about any draft things.
You said that you were offered a first-round pick for Bradford. Do you view him as a quarterback or possibly a chip to move up in the draft?
Given the fact that you said you were offered a first-round pick for Bradford --
KELLY: No. We didn't entertain anything with Sam. We did not bring Sam in here to be a chip. I'm the only Chip here. [Laughter]
*When it comes to the salary cap and Howie Roseman's domain over that end of it, and you're making final say, who decides ultimately what players get, how do you decide *
KELLY: It's a conversation. We run it by him.
"He's going to cost this. If he costs that, you can't get that player."
And you decide ultimately?
KELLY: Then I have to make a decision on which player I want. We've all got a budget and they tell you what you can spend. You can't go over it. I can't say I want this guy and I want that guy. If you only have 15 million dollars left and they both cost 10 [million], you can't take both of them.
You said that you have a good working relationship with Howie Roseman. What makes you believe that he is ok with no longer being the GM?
KELLY: I've talked to him and he's excited about winning games here at the Philadelphia Eagles and helping us win a championship.
Why was it necessary to move Howie Roseman's office away?
KELLY: I didn't move his office.
KELLY: I don't know. I mean, everybody, there's a lot of people that moved. That whole front part there, they opened everything up and they took a lot of desks out of there. Katie [player personnel executive assistant Katie David] moved, Jake's [director of football administration Jake Rosenberg] office has moved. There's a lot of shuffling around. We could have a good street hockey game up in front of that right now, but I don't know what the plans are, to be honest with you, with that space. Office and chairs and where people sit isn't really under my quote, unquote new title.
In the draft process, what's the difference between last year and this year?
KELLY: I would just have final say on who we end up selecting.
So you didn't have final say last year?
KELLY: I haven't had final say in the last two years.
When you signed Sanchez, you said that you didn't look at his NFL game film when making that assessment. Is that a similar thing with Bradford?
KELLY: No. We looked at every throw Sam has made since he's been in the National Football League.
What did you see that suggested that he could have better production than what he's had so far in the pros?
KELLY: I think everybody's a byproduct of what's around you and kind of where you are. But I think when you're assessing individual players, I'm watching skill set: 'How does he throw the ball, can he make this throw, can he make that throw, have you seen him throw the out, have you seen him throw a comeback, have you seen him throw a dig, have you seen him throw a deep ball?'
Sometimes when the quarterback throws the ball directly where it needs to be and the receiver drops it, is that the receiver's fault or is that the quarterback's fault? So what does it go down as for the quarterback? That's 0-for-1, and he doesn't gain any yards on it.
So I think there's a lot of different things that happen when you study an individual player. I don't think you can look at somebody, especially at that position, and say sheer statistics tell you what that player is. A quarterback could be extremely erratic, but he's got some wide receivers that make circus catches all the time. Or the quarterback throws a 1 yard swing pass that turns into an unbelievable run and in the books it's 1-for-1 for 80 yards. Well he didn't throw the ball 80 yards, the running back did a heck of a job.
So, there's more into it. So studying, 'How are his drops? How does he work?' There's a lot of different things into it. And again, the part about him being a worker and those things, I think we had some great information because Pat [Shurmur] had the opportunity to coach the kid for a year.
Who made the decision to draft LB Marcus Smith II last year?
KELLY: Who made the decision?
KELLY: Howie had final say on that decision.
Would the draft have looked differently last year if you had had final say?
KELLY: No. I didn't have the final say, so I don't look at it that way.
Will Roseman be in the war room with you in this draft?
Will he be navigating? You've talked about how he has convinced you that certain guys will be available in certain rounds, is that --
KELLY: We haven't talked about what the setup is going to be.
Do you expect his input to still be similar?
KELLY: Yeah. I value his opinion.
Do the similarities in your offense and what Sam ran at Oklahoma play into your comfort level with him at all?
KELLY: I don't know about the comfort level, but I know talking to the coaches that coached him, it's more of that. It's not, you need to see him run a certain type of offense and do a certain thing, because we are not dissimilar than everybody else in the NFL in terms of what we do. As much as people think it's different, it's not different.
Have you or Shurmur seen anything that you want to work with him on? Footwork or anything that you need to change?
KELLY: No, we haven't had a chance to break anything down like that. When I come out of here, I think he's here, so it will be the first chance I get a chance to sit down and visit with him.
*What didn't you see in Foles *
KELLY: That's not I disagree with that question. It's not what I didn't see in Nick Foles. It's like LeSean. We would like to keep them all, but I think to get somebody or to do things, you're going to have to give things up and we gave up an outstanding quarterback that's going to have a great career in St. Louis and one of the all time great teammates and players. I think everybody in here -- I'll be honest with you, it was a very difficult phone call to make because of how I feel about Nick. I think for some other guys in this building, too, because of what he meant to us. But again, when you make trades, you've got to give up something to get something and that's the way I looked at it.
Why did you decide to talk today?
KELLY: Because we made maneuvers and we had news.
But why not when you made the McCoy deal?
KELLY: We did not make the McCoy trade. It was not official until yesterday at four o'clock and I was not in town yesterday at four o'clock.
Did you have plans to talk today all along?
KELLY: Here is what I'll say. When we have news, I talk. When you guys speculate about things and have your whole offseason, the fact that I can't help you –
But the front office changes?
KELLY: That wasn't news for me. I didn't make the moves.
How about when you released WR DeSean Jackson last year?
KELLY: We released everybody, but we didn't have any press conferences after [WR] Jason Avant and all of those other guys got released. There is a consistency in my behavior. The fact that it doesn't jive with your schedules is what I think the issue is. [Laughter]
How come you didn't speak after S Malcolm Jenkins was signed last year?
KELLY: Because I didn't have final say last year. The pieces are fitting together in the puzzle right?