Who will start for the Eagles at cornerback in 2015? The Eagles released cornerback Cary Williams on Tuesday and Bradley Fletcher is scheduled to become an unrestricted free agent next week. At this point, the Eagles have three cornerbacks under contract for next season in Brandon Boykin, Nolan Carroll II and Jaylen Watkins.
Boykin has primarily been the slot cornerback the past two seasons utilized in the nickel subpackage. He played 43 percent of the snaps in 2014 and 51 percent the previous year when he was tied for second in the league with six interceptions.
Carroll earned playing time in his first year with the Eagles as the dime linebacker. Due to the Eagles' increased usage of the dime package following the injury to linebacker DeMeco Ryans, it is fair to question whether that impacted Carroll's chances of playing outside.
As for Watkins, the team's fourth-round pick last year, he earned playing time on defense in the season finale against the Giants when he logged 30 snaps and had three tackles. At the time he was drafted, Watkins was touted for his smarts and versatility with the ability to play both corner and safety. He'll have every chance to earn increased playing time in 2015.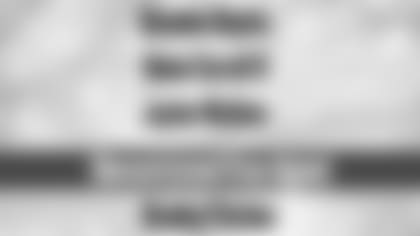 1. Byron Maxwell, Seahawks
2. Brandon Flowers, Chargers
3. Kareem Jackson, Texans
4. Chris Culliver, 49ers
5. Davon House, Packers
6. Tramon Williams, Packers
7. Antonio Cromartie, Cardinals
8. Perrish Cox, 49ers
9. Walter Thurmond, Giants
10. Buster Skrine, Browns
The Top Cornerback Contracts From 2014 Free Agency
1.  Aqib Talib, Broncos (6 years, $26M guaranteed, $57M total)
2.  Vontae Davis, Colts (4 years, $20M guaranteed, $36M total)
3.  Alterraun Verner, Buccaneers (4 years, $14M guaranteed, $25.75M total)
4.  Dominique Rodgers-Cromartie, Giants (5 years, $13.98M guaranteed, $35M total)
5.  Darrelle Revis, Patriots (1 year, $11.5M guaranteed, $12M total)
6.  Corey Graham, Bills (4 years, $5.5M guaranteed, $16.3M total)
7.  Cortland Finnegan, Dolphins (2 years, $5.5M guaranteed, $11M total)
8.  Captain Munnerlyn, Vikings (3 years, $4.45M guaranteed, $11.25M total)
9.  Tarell Brown, Raiders (1 year, $3.4M guaranteed, $3.5M total)
10.  Antonio Cromartie, Cardinals (1 year, $3.25M guaranteed, $3.5M total)