Cornerback Asante Samuel knows all about the New York Giants.
Just nine months ago, Samuel nearly made a play that would have prevented the Giants from winning Super Bowl XLII.
With 1:20 remaining and down by four points, Giants quarterback Eli Manning dropped back and threw a pass towards the right sideline for wide receiver David Tyree. The ball was thrown too far past Tyree and Samuel - then a New England Patriot - was the only player with a chance at making a play. Samuel leapt off the ground and the ball went through his hands.
On the next play, Tyree made the amazing one-handed grab against his helmet and eventually the Giants scored on a Plaxico Burress touchdown to win 17-14. Later in that same month, Samuel signed a six-year deal to join the Eagles. Now, he'll get his first crack at revenge for last season's disappointing finish. But Samuel isn't concerned about the past. He only cares about what he can help the Eagles do this Sunday in front of a prime-time, nationally televised audience.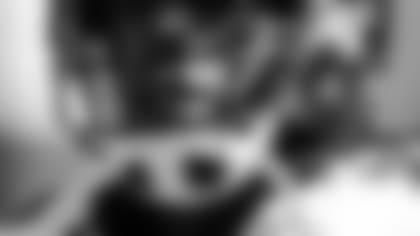 CB Asante Samuel
"I'm kind of over last year," Samuel said. "Last year's last year. It's a new year, new team. Different challenges. So, I just want to go out there and get this W.
"Being that they're leading the division and playing really good football, we just want to go in there and play a physical game and try to come out with a victory. We know it's going to be a game that goes all the way down to the end. Hopefully, we will come out of the victory."
After earning his first Pro Bowl selection following the 2007 season, Samuel leads the Eagles this season with three interceptions to go with 10 pass knockdowns. Since 2006, Samuel leads the league with 19 interceptions.
This is exactly the type of game that the Eagles signed Samuel for. The Giants swept the season series last year against the Eagles, but only scored a combined 32 points in the two games. Defense is at a premium and the Eagles need all the help they can get to shutdown Plaxico Burress. This season, the 6-5, 232-pound Burress has caught 31 passes for 390 yards with three touchdowns. Against the Eagles, Burress has 40 career receptions for 707 yards and six touchdowns.
"Great athlete," Samuel said of Burress. "He's about 6-5, 6-6, 230 pounds. Big body. He definitely presents a tough challenge because he's physically that big. We just have to go in there and play with our techniques and re-route him and be physical."
Will Samuel be locked on him exclusively Sunday night?
"I don't know," Samuel said. "We have to wait and find out."
With a win, the Eagles can establish themselves as a serious contender in the air-tight NFC. The Eagles have won three straight games, but the Giants are 7-1 even after their run to the Super Bowl a year ago. Again, for Samuel it's all about this team, this Sunday. And Samuel is confident the Eagles have what it takes to come out victorious.
"We know what we can do here. We know we have a good football team. Whatever anybody thinks, that's what they think," Samuel said. "We know we're capable of going out and playing Eagles football and being able to win. It would mean a lot. It definitely puts us back up there towards the top of the conference. A victory would be good for us."