October 20, 2013 had all of the makings of a day to remember for Nick Foles.
He had helped guide the Eagles to two straight victories, and was preparing to start the biggest game that the Eagles had played since January of 2011. Foles had a chance to prove himself against the Dallas Cowboys in front of a raucous Lincoln Financial Field with the NFC East lead there for the taking. It was a dream scenario for the Eagles' second-year quarterback.
Three poor quarters and a concussion later, that dream had turned into a nightmare. Foles was uncharacteristically inaccurate, completing just 11 of his 29 passes for 80 yards in the Eagles' 17-3 loss. Speaking to the media for the first time since the game on Tuesday, Foles offered his explanation of what went wrong against the Cowboys.
"Personally, I just didn't execute like I needed to," Foles said after his first practice since the concussion. "I was inaccurate on certain throws that I'm normally very accurate on.  Just watching the film, there are big plays that I missed. It's one of those things where I have a little bit longer (to dwell on the game) because I didn't play last week, obviously. I didn't have the next game to move on to, but I see those things and it was great to be able to get back out there today and work on it, and get back into my footwork and delivering the ball with authority."
Because of how well Foles handles himself each day, it is sometimes hard to remember that he is just a second-year player. The game against Dallas was only his eighth start as a pro, but Foles said the scope of the moment had nothing to do with the way he performed.
"It was tough, but the pressure wasn't a thing," said Foles. "I didn't play well. I have to make sure that in those games when they play a lot of man coverage, I have to be very accurate with the ball, and I wasn't and that's on me. That's something that I'm going to get out here and work on it, because I play quarterback for a reason - I want the ball in my hands. I want to be able to make the decision and I want to be able to deliver it. I did not do that in that game and it was tough to deal with … but I'm also motivated to get better. I have to keep pushing. I can't let that game get me down. It was tough, but I'm going to use it as motivation to say, 'Hey, this is what I need to work on,' and I'm going to work on it and get better."
Foles spent his first few days after the game mostly resting, putting his health as his first priority. As soon as he was healthy enough to watch the film, that's exactly what the University of Arizona product did, finding the problems from the game and thinking about solutions.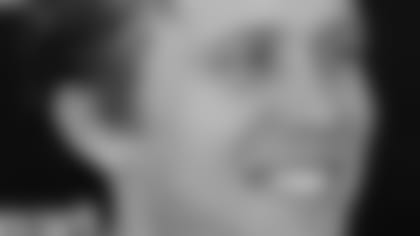 "I watched it by myself two days ago," said Foles. "I was able to just go through it and break it down. I had some notes from the coaches, and I was able to see what they saw, and I'm already critical of myself. You play this game long enough and you can kind of coach yourself, and I was able to see why I wasn't accurate.
"It's hard to watch those games. … When you're watching the game, you're going to be critical, so I'm always critical of myself. I see the mistakes. I did not play well, but one game never defines me and it never will. I'm going to continue to work and get better, and that's what today was for."
After a difficult game like the one Foles had against Dallas, it would be fair to assume that the young quarterback's confidence might have taken a hit. However, Foles remains as sure of his abilities as ever, and is prepared to get back on the field with his Eagles teammates.
"I feel very confident," said Foles. "I have the same confidence that I had after the Tampa game. After a loss, it is tough, and that's why there is that 24-hour rule when you have a tough game and stuff like that. You do feel emotions. You're a human - you play bad and it creeps in that you let everybody down, but you have to get back to it to it and you're like, 'Hey, I can't mope. I can't do this." You've got to man up and get after it. That's why I approach it that way, and I felt really good and confident throwing the ball today."
It is still uncertain whether or not Foles will get the start in this week's game against Oakland. That will be determined by how well he responds to being re-assimilated back into the flow of Eagles practice. Whatever the case may be, Foles is making sure to learn from his mistakes as he continues his growth as an NFL quarterback.
"Obviously, you want to have a great game every game and you want to win every game, and in life you want to have a great day every day, but sometimes you do have bad days," Foles said. "You can't let the bad days get you down, no matter what. I didn't look at it that way. I looked at that game like I want to get better because of this. I don't want this to bring me down. I want to look at it, and it's going to be tough, but it's going to make me a better person and a better player."