EAST RUTHERFORD, N.J. -- "Next man up" is a common expression in football. When a player goes down with an injury, it's up to the next man on the depth chart to step in and fill that role. On Sunday, Nick Foles was that next man. After Michael Vick injured his left hamstring scrambling for 13 yards towards the end of the first half, Foles stepped in without skipping a beat, leading the Eagles to a 36-21 victory over the New York Giants.
Vick pulled up lame following the long first-down run, but he stayed in the game for final three plays of the drive. After taking a heavy hit from Jason Pierre-Paul on the first play of the next drive, however, Vick was pulled from the game in favor of Foles, who didn't know how long his services were going to be needed.
"I honestly didn't know (how long I would play), to tell you the truth," said Foles. "I saw Mike on the sideline trying to work it out, and like I've told you before, I just take it one play at a time. We ran one play and then other plays kept coming. I really didn't know the situation until I went in at half time and they said 'Alright, this is what we're going to do.'"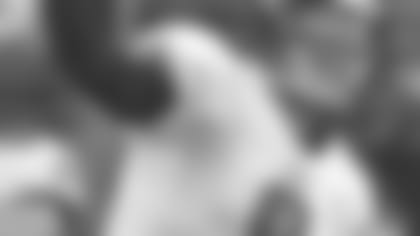 Playing the final drive of the first half and the entire second half, Foles was spectacular, completing 16-of-25 passes for 197 yards, including two fourth quarter touchdown strikes. After the game, the second-year pro was quick to give credit to the players around him.
"I felt really comfortable throughout the whole game," said Foles. "There was never a span where I was like 'Alright, I'm ready to go.' I felt good when I went in and we just needed to get things going, but the win was a team win. I thought everybody did a great job. The defense created a lot of turnovers. I thought the offense did a great job of holding onto the ball and getting the ball into the end zone after the turnovers, and special teams were good."
Going into the half, the Eagles led the Giants 19-7, but Eli Manning brought New York back, taking a 21-19 lead with three minutes and 46 seconds remaining in the third quarter. Foles and company would answer right away, putting three points on the board to give the Eagles the lead back, at 22-21. On the Giants' next drive, Manning was picked off by Mychal Kendricks, giving the Eagles a prime opportunity to build on their lead. Foles didn't need much time to strike, as he found Brent Celek for a 25-yard score on the very next play. Foles put the throw exactly where he needed to, but he once again cited his teammates as being responsible for the terrific play.
"It was sort of a naked (bootleg) out of there and we were trying to get the defense to go one way and slip Brent underneath the other way," Foles explained. "They had a man right on him, but credit to Brent to go up and get that ball and be an athlete. He's a great tight end and he did a great job … Hey, I'm going to put it in his area, but he made the play, and the guys up front, there was no one near me so when you get that kind of time, it helps a lot."
Chip Kelly said after the game that Vick will remain the Eagles starting quarterback as long as he is healthy. Even after a strong performance, Foles understands his role on the team and is keeping his focus on the task at hand, rather than thinking long-term.
"I'm not even thinking that way," said Foles. "The first thing that happened when Mike got hurt was I prayed for him … My job was to go in there, because Mike was hurt, and get a win. I had a great team around me to help me do that. I'm excited to go on the bus and be with the team, and I just don't think that way.
"(My approach will be) like it always is. (I'm going to) study the film, because there are some things that I missed that I have to get better at, and just try to get better. We get an opportunity to go out there again, get in the weight room and get the soreness out, because I actually got hit a little bit. I'll probably be a little sore, but we're going to enjoy it today, but move forward and just get better every day, and it calculates up."