For the fifth time in 22 games, cornerback Asante Samuel will line up across the field from the New York Giants.
And really, they've all been pretty high-leverage games for Samuel. With New England last year, Samuel's Patriots twice needed to beat the Giants to make history with an undefeated season – in Week 17 and Super Bowl XLII. The Patriots won that Week 17 contest, but Samuel dropped what could have been a game-sealing interception on the Giants' penultimate drive in the Super Bowl. The Giants eventually turned that drive into seven points, and arguably the biggest upset in NFL history.
But don't expect to hear any mention of that play from Samuel's mouth in the days leading up to this Sunday's NFC divisional round playoff, also against the Giants, now a division rival he's facing for the third time this season. Though probably not of David-Goliath proportions, a win against the Giants at their house would be an upset indeed, and one that would put the Eagles within a victory of a trip to Super Bowl XLIII.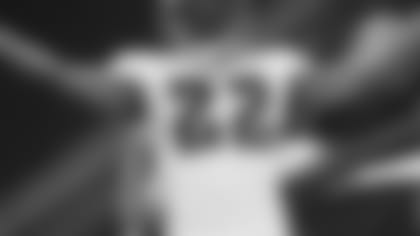 Samuel following his record fourth interception return in the postseason
That's Samuel's only focus at this point.
"No matter who it is, the Giants or whoever we're playing, we've got one thing in mind, and that's to make it to the Big One," Samuel said. "Whoever steps in our way, we've got to just try to take care of them. And currently, the Giants are in our way."
Samuel played a pivotal role in helping the Eagles to this point, with his NFL-record fourth career postseason interception return for a touchdown, which gave the Eagles an insurmountable margin of victory last week in Minnesota.
Talk to Samuel for a couple of minutes, and it's almost a guarantee that the phrase "make plays" or a variation of it will make its way into the conversation. That's what Samuel was brought to Philadelphia to do, and that's still his modus operandi – making plays.
And with the big plays, Samuel said, comes something the Eagle locker room likes to call "swag" – not the free stuff you pick up at a career fair, but their own version of swagger. It's something the Eagles need to establish an extended run, and they'll need it in East Rutherford, N.J.
"We're swagged out over here, man. That's how we do," Samuel said. "'Swag' is all about confidence and kind of feeling yourself, and believing that you're going to go do a good job and make plays. That's what it's all about."
Samuel himself has fought through pain this postseason; a hip strain, in this case. He missed some time during the Minnesota game, but was able to return to the field and make his impact.
He participated fully in practice on Thursday in preparation for Sunday's game, another chance to make plays against a budding personal rival.
"We meet again," Samuel said. "Bygones are bygones. (The Super Bowl)'s in the past. New season, new year, new team. … It's a different approach, so we're going to go out there and try to execute."