JACKSONVILLE, FL -- It wasn't a perfect half of football for the first-team Eagles defense, but there were plenty of positives for the starting unit in what was likely their final game before the season opener against the Washington Redskins on September 9.
To be sure, things started slowly for the defense as the Jacksonville Jaguars marched 90 yards down the field on 12 plays for a touchdown on their opening drive, punctuated by a 17-yard touchdown pass from Chad Henne to Justin Blackmon.
Clearly, though, there were adjustments made on the sideline following that drive. The next three Jaguars' possessions were all demonstrative victories for the Eagles defense – a three-and-out followed by an interception followed by another three-and-out.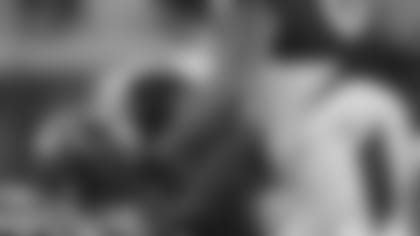 The interception, the team's first forced turnover of the preseason, came on a beautiful play by outside linebacker Connor Barwin. Barwin initially tipped the pass from Henne a few yards down the field before hauling in the ball on the deflection. It was a seminal moment for Barwin, who has never had an interception in a regular season game. In fact, the ball he intercepted was sitting in Barwin's locker following the game.
"I think we were in a cover four and I had the slot receiver," Barwin said. "I just re-routed him. He ran a little dig behind me and I turned around and the ball was coming. I just put my hands up and tried to get my hands on it and it came right down to me."
The first half for the Eagles defense also served as confirmation of the importance of turnovers. The Eagles scored a touchdown two plays following Barwin's interception. Shortly after, however, the Eagles defense was twice forced onto the field following turnovers by the Eagles.
First, after a Damaris Johnson fumbled punt return, the defense was pinned back at its own 44-yard-line. After surrendering a few first downs, they held firm to allow a 35-yard field goal. It was the Jaguars' next possession, however, that left the biggest stain on the team's performance.
After a Michael Vick interception, Jaguars running back Jordan Todman took a handoff 63 yards for a touchdown. There were several missed opportunities for a tackle on the play, as Todman reversed field and avoided would-be tacklers like Earl Wolff. It was a down moment for Wolff, who had been alternating series with Nate Allen alongside Patrick Chung.
"I thought he was going to cut back," Wolff said. "I was too aggressive. But I'm glad it happened now instead of happening in the regular season. I'm going to learn from my mistakes.
"I'm not known for taking bad angles. That's what made it worse for me, I'm not known for taking bad angles. I was just a little too aggressive. Next time I'll be more patient."
After closing out the half by forcing another three-and-out, the Eagles defense was left with having allowed 17 points on seven Jaguars possessions. It was an uneven performance, but one that offered promise. The pass rush took a step forward as Cedric Thornton, Mychal Kendricks and Barwin all recorded sacks.
It was also instructive to see defensive coordinator Bill Davis' substitution patterns with the first-team offense. The second defensive line unit of Clifton Geathers, Bennie Logan and Damion Square rotated consistently, while Davis also inserted two new rush linebackers (Brandon Graham and Chris McCoy) briefly to spell Barwin and Trent Cole.
The Eagles did suffer bad news in the secondary, where Brandon Hughes (fractured hand) and Eddie Whitley (knee) both sustained significant injuries.
Now, with the majority of the first-team defense having seen its final work of the preseason, the preparation begins for the season opener.
"As a defense, we're definitely coming together and getting that chemistry," said Allen. "This is about when you start coming together as a team and as a unit and everybody starts jelling, starts working together and playing well."