While many fans like to point to the Eagles' second game against the Giants as one of the major turning points of the season for the defense, Jim Johnson likes to think of the first Giants game as when things began to click for Philadelphia.
That's right. A game in which the Eagles gave up a season-high 219 yards rushing is when things began to turn around.
"I think there were a couple turning points and then it kind of went south, then it came back," Johnson said. "I thought after Pittsburgh we kind of (turned the corner), then I thought we were average against the Giants. I thought after the Giants, that was the next best turning point. We did some things we were going to try to correct and I think we corrected them. But I think that was a big turning point, the first Giants game."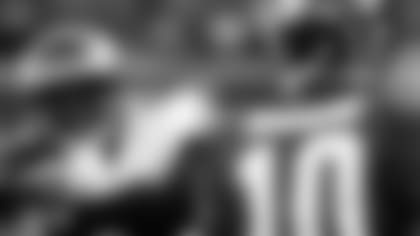 DT Brodrick Bunkley
According to Johnson, that game exposed a weakness. But the Eagles fixed the problem and they haven't allowed more than 148 yards rushing in a game since.
Johnson gave credit to defensive tackles Brodrick Bunkley and Mike Patterson on helping the Eagles become stout against the run.
"They're very consistent," Johnson said. "I think Bunkley has gotten better every year. This is probably his best year, I think. Mike Patterson has always been a steady player. The two of them, right now, have been very consistent. Bunkley especially has had a really good year, I think."
Since Bunkley teamed with Patterson after being drafted in the first round in 2006, the duo has helped the Eagles improve from 24th to fourth overall in run defense.
Part of that success has been the addition of former Notre Dame standouts Trevor Laws and Victor Abiamiri. Laws has been effective in the playing time he has been given and has helped spell Patterson and Bunkley so they can stay fresh.
"He's behind two pretty good tackles right now," Johnson said of this year's second-round pick. "He's getting in the rotation. He's probably not getting as many plays as he would want but when he's playing he's doing a good job. I'm very happy with him."
Abiamiri has been slowed by injuries this season, but he's expected to return in time to play against the Giants. Johnson said the team has missed Abiamiri's contributions.
"Especially in the nickel," Johnson said. "We missed him in the nickel. We had to put J.P. (Juqua Parker) inside a little bit. He's a big part of a lot of our packages. Run defense and our nickel situations."
Considering that the Giants will be without star wideout Plaxico Burress, who is serving a team-imposed suspension, the Eagles' run defense with face perhaps their stiffest test of the season in Sunday's divisional playoff game against New York.
"The running game is such a big part of what they want to do," Johnson said. "They're No. 1 in the NFL in rushing, so that's where you got to start. There's no question that's one of our objectives. You got to get them in a third-down–and-long situation. It's no secret that the first time we played them, they had a lot of third-and-mediums. Last time we played them, they had a lot more third-down-and-long situations (and) we were able to get off the field. That's the key, still stopping that run."
So maybe fans should thank the Giants for running all over the Eagles in November. It may help them survive and advance in January.