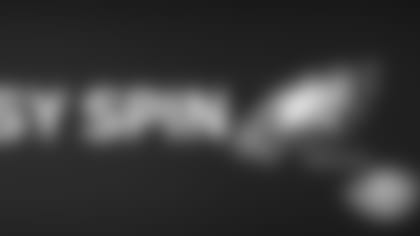 Joe Dolan is the managing editor of FantasyGuru.com and a host for SiriusXM Radio. A former writer for PhiladelphiaEagles.com, Joe still contributes to the site with on-camera segments and written columns. He can be heard hosting "SiriusXM Fantasy Football Gameday" every NFL Sunday from 1-7 PM on Sirius 210, XM 87.
*App users, click on "View In Browser" for the full experience.
The Eagles and Saints are a couple teams who have had some offensive parallels this year. Who would you rather have for the long run this season, from a fantasy standpoint – Sam Bradford or Drew Brees?
The obvious, knee-jerk reaction here is to say Brees. That may still be the answer, but is it closer than people think? Brees had big numbers last week, but they clearly were buoyed by an 80-yard touchdown to C.J. Spiller in overtime on a busted coverage by the Cowboys. While he played well and threw it well, the fact of the matter is Brees simply isn't throwing the ball down the field, perhaps more of a result of a lack of weaponry at the receiver position and poor protection than it is of his throwing shoulder. For now, Brees is averaging .51 fantasy points per pass attempt, fewer than the likes of Josh McCown, Blake Bortles and Ryan Fitzpatrick.
Bradford's level of play has been improving. While he has yet to put together a complete fantasy game, he had an excellent second half against Washington last week, attacking downfield constantly, and delivering three touchdown passes. In fact, Bradford's .96 fantasy points per pass attempt led the entire league in Week 3, after he averaged a poor .40 over the first three games of the season. Bradford's reasoning? Not only is he getting more comfortable in the offense, but the Eagles simply had a better passing matchup against Washington than they've had recently. Indeed, they'll find another good matchup this week against the Saints.
The concern I have with Bradford in comparison to Brees is that while Brees' offensive line has really underachieved, it isn't as banged up as the Eagles' front. On the other hand, weirdly, I'm a little less concerned with Bradford's health than I am with Brees'. If I had to answer this question now, I'd have to say Brees, however. The guy has been a top-five fantasy quarterback every year since he's arrived in New Orleans, and until proven otherwise, he remains a great option at the position.
Here's a tougher one. What about Darren Sproles or C.J. Spiller long term?
Spiller's 80-yard touchdown last week was an eye-opener, but if not for a coverage bust by the Cowboys, fantasy players may have dropped Spiller across the board. Those 80 yards – one play – accounted for 50 percent of Spiller's yardage, and given the touchdown, 50 percent of his fantasy output so far this year. Now, the Saints definitely need to get Spiller more involved, as he's played just a 20 percent snap share in three weeks, since his speed is something the team has seriously lacked so far this year. But exactly how many more snaps will he get? Mark Ingram has hovered around a 60 percent snap share on the year thus far, and has produced both as a runner and receiver. Khiry Robinson is handling a rotational role behind both guys. Spiller clearly has the ability to be on the flex radar, but the concern is he needs a big play to truly make value in fantasy.
As for Sproles, he has provided the Eagles more than enough return on the fifth-round pick they traded to the Saints for him two years ago, and because the Eagles' run game has been subpar so far this year, Sproles has seen a 36 percent snap share through four weeks of the season. Of course, he hasn't been without mistakes – he's dropped multiple passes, for one, and after a big Week 1 he's come back to earth offensively.
All considered, I'm tempted to say Spiller here, but fantasy players have seen this act from him too many times to fully trust. He should get more involved, but he's struggled to stay healthy, while Sproles has simply been the more consistent player.
Lamar Miller, Dolphins – As much as fantasy players outright hate Ryan Tannehill, they're more sympathetic to Miller's plight, as the Joe Philbin-led Dolphins outright refused a commitment to Miller, even when Miller was performing well (like, all of 2014). We're about to find out if the lack of commitment was Philbin-driven, or something more. With Philbin gone, I'm willing to gamble the Dolphins' play-calling will be friendlier to Miller, as will the schedule coming out of the bye (Tennessee, Houston and New England).
Doug Martin, Buccaneers – It sure felt like Charles Sims was nipping at Martin's heels, especially since Martin popped up on the injury report last week with a knee issue. And it sure felt like Martin was feeling some heat in Week 4, as he was very aggressive and played with a little more of an edge. Martin is running hard and he does look good, but it seems like he needs planetary alignment to come through.
Jordan Matthews, Eagles – I know Matthews hasn't killed it the last two weeks, but I also find it curious that so many of his owners are looking to move on from him, at least based on Twitter questions I've received this week. Sam Bradford is coming off his best game of the year, which is a positive sign for Matthews and the rest of this passing game. Bradford threw the ball much better downfield, and he just missed a wide-open Matthews for a long touchdown. We're guessing Matthews owners wouldn't be selling him this week if he had scored. If Bradford can continue to throw the ball better downfield, it should open things up more for Matthews in the short and intermediate areas.
Ronnie Hillman, Broncos – There's been a lot of talk about a timeshare in Denver, and more talk this week about Hillman's 72-yard touchdown run. The run was great, and his explosiveness is needed here. However, if you take away that one long run he still rushed for only 31 yards on 10 carries. So basically, with Hillman you're hoping he pops off a long run because even if they split the snaps and touches down the middle with C.J. Anderson, this is still a guy who's averaged only 3.0 yards a carry on 38 carries other than his long run.
He's not lighting it up or providing the Broncos with a consistent ground-game option. There seems to be a perception that Hillman has been great this year and that he's ascending, but I'd argue against both points and would be more than fine selling high on him now. The most troubling issue with Hillman is that this offense, in general, just doesn't have the juice we've come to expect from the Peyton Manning-led Broncos. That's hurting the run game in and of itself.
(Note: These options are my rankings for the non-obvious starters at each position. Rankings are based on PPR scoring.)
FantasyGuru.com's Week 5 Mid-Level Flex Rankings
Running Back
Wide Receiver
Tight End
13. T.J. Yeldon, Jaguars
25. Allen Hurns, Jaguars
7. Delanie Walker, Titans
14. DeMarco Murray, Eagles
26. Amari Cooper, Raiders
8. Owen Daniels, Broncos
15. Giovani Bernard, Bengals
27. Terrance Williams, Cowboys
9. Antonio Gates, Chargers
16. Latavius Murray, Raiders
28. Leonard Hankerson, Falcons
10. Tyler Eifert, Bengals
17. Jeremy Hill, Bengals
29. Alshon Jeffery, Bears
11. Larry Donnell, Giants
18. Doug Martin, Buccaneers
30. Willie Snead, Saints
12. Zach Ertz, Eagles
19. Melvin Gordon, Chargers
31. Travis Benjamin, Browns
13. Gary Barnidge, Browns
20. C.J. Anderson, Broncos
32.Rueben Randle, Giants
14. Ladarius Green, Chargers
21. Duke Johnson, Browns
33. Martavis Bryant, Steelers
15. Crockett Gillmore, Ravens
22. LeGarrette Blount, Patriots
34. Eddie Royal, Bears
16. Tim Wright, Lions
23. Ronnie Hillman, Broncos
35. Tavon Austin, Rams
17. Vernon Davis, 49ers
24. Ameer Abdullah, Lions
36. Cole Beasley, Cowboys
18. Richard Rodgers, Packers
QB: Sam Bradford, Eagles – If you've held onto Bradford, you did it for this gorgeous matchup against the Saints.
RB: Chris Thompson, Redskins – You need a deep reach this week? Consider Thompson, as the Falcons give up nearly 11 catches per game to running backs.
WR: Willie Snead, Saints – He's doing what people wanted Brandon Coleman to do, and has been gradually taking more snaps than Coleman. He's the Saints' only legitimate downfield threat right now.
TE: Owen Daniels, Broncos – The Raiders have given up a touchdown to the tight end in every game so far this year, including multiple touchdowns twice.
QB: Andy Dalton, Bengals – Dalton's been a legitimate every-week starter, but that Seahawks defense is back to being its nasty self.
RB: Isaiah Crowell, Browns – It looks like Duke Johnson is taking over, and it's a tough matchup against the Ravens.
WR: Anquan Boldin, 49ers – Abandon ship. Colin Kaepernick has been atrocious.
TE: Ladarius Green, Chargers – Green has been very good, but Antonio Gates is back. I'd prefer to sit and wait to see how this shakes out.