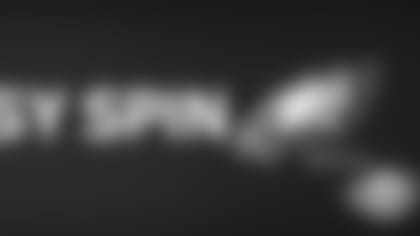 Joe Dolan is the managing editor of FantasyGuru.com and a host for SiriusXM Radio. A former writer for PhiladelphiaEagles.com, Joe still contributes to the site with on-camera segments and written columns. He can be heard hosting "SiriusXM Fantasy Football Gameday" every NFL Sunday from 1-7 PM on Sirius 210, XM 87.
The fantasy season is over. What are your picks for the 2015 fantasy awards?
This award was harder to pick than in years past. Normally, I have it narrowed down to a couple of guys, but the answer is obvious. This year, not so much. I first thought of going with Adrian Peterson, as he was the only first-round running back who came close to returning value. But as good as he was, he was more solid than dominant on a consistent basis. There was a sense of comfort in starting him every week, as you never really had to make a call on it, but Peterson had "only" five games above 20.0 fantasy points in a PPR, and actually had four below 10.0 FP in a PPR.
At the wide receiver position, I considered Antonio Brown, DeAndre Hopkins and Julio Jones, and all would have been worthwhile, but they also all had some down moments. I also considered Devonta Freeman, who was the No. 1 fantasy RB with 21.6 FPG this year, and he would have been a totally defensible choice, though as the Falcons slumped late, his ceiling lowered a bit.
So in selecting the award, I'm doing something I've never done before – I'm giving it to two people. We had a ton of debates in the fantasy industry about when the right time to draft Steelers back Le'Veon Bell was. Remember, Bell was suspended the first two games of the season, and if he wasn't he would have been the slam-dunk No. 1 overall pick. Well, it turns out selecting Bell No. 1 overall and then handcuffing him with DeAngelo Williams was the right move all along. Bell played five full games. He topped 20 FP in three of them, topped 17 FP in four of them and finished averaging 18.5 FP in just six games (one incomplete). Meanwhile, DeAngelo started the Steelers' other 10 games. He was even better – he had six games of 20 FP or more, including three games of 30 FP or more. Both Bell and DeAngelo averaged over a 90 percent snap share in the games they started, a ridiculous number this day and age. They were both consistent and dominant. If you had this pair, you likely competed for a championship.
FANTASY MVP WINNER: Le'Veon Bell/DeAngelo Williams
This one was pretty easy for me. I didn't want to include anyone who got hurt, like Jamaal Charles ... that's not fair. Prior to the season, I was a big advocate of Eddie Lacy as the first running back off the board, and would have been totally OK with using the first overall pick on him. Well, through this point of the season, Lacy's dealt with minor injuries, off-field issues and conditioning woes. He's currently averaging 9.9 FPG, less than half of leader Devonta Freeman's 21.6 FPG. He couldn't cleanly beat out James Starks, and by the time he put up his first 20-FP effort of the year in Week 12, fantasy players may have either moved on from him or have been so far out of the race they didn't even bother to care. Lacy was also hurt by the general crappiness of the Packers' offense following the Jordy Nelson injury, but that's not enough to totally excuse him. Lacy could be a value next year, but he needs to get in better shape this offseason.
BIGGEST BUST "WINNER": Eddie Lacy
Last year was such an incredible year for rookies, but the award was an easy one to give out – Odell Beckham, Jr. Heck, Beckham was an MVP candidate last year. This year, the class isn't as good, especially at the wide receiver position. While Amari Cooper had a great rookie year, a couple of late-season goose eggs really dampen his candidacy. Cardinals running back David Johnson is carrying plenty of teams to fantasy championships, but there's a better award for him (more on that in a bit).
So I'm going with Todd Gurley of the Rams. Gurley's had some bumps in his rookie road, but most of that is because he plays behind a young offensive line with one of the worst passing games in years. Teams can stack the box liberally against Gurley, and he still managed to post five games with 100 yards rushing or more to this point in the season. Gurley has started 12 games, and in those 12 games, he's had just two performances of fewer than 10 FP in a PPR. That's remarkable consistency from a guy who is his team's only legitimate offensive weapon. This offseason, I'm hoping the Rams upgrade at quarterback, get a solid perimeter receiver and the offensive line continues to develop. Even with all the warts mentioned here, Gurley's a lock to be a first-round fantasy pick next year, and one of the first four running backs off the board.
ROOKIE OF THE YEAR WINNER: Todd Gurley
WAIVER WIRE STUD OF THE YEAR
It feels dirty that Devonta Freeman isn't going to win one of these four awards. He was close to being the MVP, and he was likely drafted too much to be a true waiver stud. The player taking this one home, though, has far too many similarities to C.J. Anderson last year to pass up. Since Week 13, Cardinals rookie running back David Johnson has started four games, pretty much coinciding with the fantasy playoffs. Over those four games, he's posted 79/417/4 rushing and 14/182/1 receiving. His 26.0 FPG ranks him No. 1 among all RBs over the month. While I feel the Cardinals are the best team in football, it still took some good fortune for Bruce Arians to end up with perhaps the league's most dangerous running back heading into the playoffs – he was force feeding Chris Johnson ineffective touches up until late November.
Certainly, likening DJ to Anderson or Jeremy Hill, last year's second-half stars, is going to make people nervous about drafting him early next year. But fortunately, there should be no major coaching changes in Arizona (unlike Denver), and there's really no second back here who can even come close to doing what DJ can (Andre Ellington is a nice player, but he's never been anywhere close to this good). I guarantee we'll be talking about him as a first-round pick in seven months.
WAIVER WIRE STUD OF THE YEAR WINNER: David Johnson
Every year, we look back on the fantasy season and try to look at some of the mistakes we made and learn from them – it's all well and good to do that, but you also have to understand that holding grudges can be bad for business, as well. The NFL these days is so specialized, and there are going to end up being exceptions to every rule. But there were a couple of things you can take from this year and apply to 2016.
1. DON'T DRAFT A QUARTERBACK EARLY!
This is not an unfamiliar concept, as I write about it every year, but there's always someone who will say "It's the safest position!" Well, those who subscribe to that newsletter got a hard dose of reality this year. Generally, the first quarterback off the board in fantasy drafts this season was Andrew Luck. He ended up playing seven games, and in the games he played he threw 12 interceptions. Aaron Rodgers was right there with Luck, and he's not even top 10 in total fantasy points as we head into Week 17. Peyton Manning was a top-five QB in average draft position, and he still leads the NFL with 17 interceptions despite playing in only nine games thus far.
Now, I totally understand that this is an uncommon result. Typically, the quarterback position is the safest. But the reason I always say to avoid falling into the Rodgers/Luck trap is because of the names who emerge as legitimate first-tier fantasy options every year. Yes, I was pushing Ryan Tannehill and Sam Bradford in August as guys I thought would take the leap. While that didn't work out, you didn't likely waste too much of your season before picking up another legitimate option. Blake Bortles is currently No. 3 among all QBs in total fantasy points. Carson Palmer is No. 5. Ryan Fitzpatrick is No. 8. Kirk Cousins is No. 10. All of them are ahead of Rodgers. Derek Carr is No. 13. Jameis Winston and Marcus Mariota have each had their moments. And if you exploited the matchup against the Saints, their defense has surrendered an average of 28.3 FPG to the QB position this year – that's higher than Cam Newton's 28.0 FPG average, which is first among all QBs.
The point is that there will be big value at the position again in 2015 – heck, maybe Rodgers and Luck become the values. But taking a quarterback in the first four rounds (and that's being kind) is insanity in this day and age in most leagues.
2. NEVER STOP WORKING THE WAIVER WIRE
Never, ever, ever. Especially at the running back position. Say you drafted Le'Veon Bell early, and took a shot on Arian Foster in the middle rounds. Well, heading into Week 7, you may have felt you had the best RB situation in your league. By the end of Week 8, you would have lost both of them for the season.
Well, no matter! Because of some depth you built up, you were able to swing a trade for Mark Ingram, and you picked up some guy named Thomas Rawls off the waiver wire. You were once again rolling at running back ... until Week 14, when after which both Ingram and Rawls were lost for the season.
Yes, this has been the wildest year for running backs I've ever seen. The only first-round option who is going to end up playing a full season without some injury, off-field issue, or both is Adrian Peterson. But the lesson is that you should never assume your depth is solid. It's never a bad idea to keep your last few bench spots open for backs who look like they may have an increased opportunity. Hell, Tim Hightower, who had been out of the league for four years won many players championships with his monster Week 16. Just because you didn't need the extra depth in Week 11 doesn't mean you won't for the fantasy playoffs.
3. BUILD AROUND WIDE RECEIVERS
There are multiple paths to a fantasy championship, but in this day and age, it's hard to imagine a fantasy team without strong wideouts is going to do much of anything. The nice thing about wide receivers is that the good ones are always on the field – if your stud running back plays 60 percent of his team's offensive snaps, that's considered a lot. You don't have to try to figure out if and when a coach is going to use your receiver in a particular situation (third downs, goal line, etc.). In general, the wide receiver position is also more consistent.
In 2015, two wide receivers have repeated a top-five total FP performance from 2014, Antonio Brown and Julio Jones. Zero running backs have done it. In fact, the only running back to have a top-10 total FP performance in 2014 to also have the same in 2015 is Lamar Miller. There's turnover at both positions, of course, but the nature of the wide receiver position means your players are simply going to be in a better position to follow through on expectations.