Seven draft picks. One veteran, running back D'Andre Swift, acquired in a trade. Five other trades, plus a pre-draft agreement with the Arizona Cardinals, that helped set up this wild weekend and provide future NFL Draft assets as well.
The 2023 NFL Draft, Eagles style, was certainly one to remember, and if there is any single word to describe it, maybe this is the one:
"I'm most proud of the people and the process involved this weekend," Roseman said as he walked to his office at the NovaCare Complex to relax and unwind minutes after the draft ended on Saturday night. "Obviously, these guys haven't proven anything yet, so we've got to get them on the field, develop them on and off the field. But I'm really proud of the time and effort we spent through this process and the results will come over the next few weeks and certainly over the next few years.
"We try to go through every scenario and then there are always ones that come up and we will kind of add them to next year, but I'm proud of our ability to adjust on the fly and to stay true to what we believe in. I think when we look back at this draft, the positions we went after are the positions that have set us up for success in the past and hopefully will in the future."
The positions: offensive and defensive lines, to start. Build from the trenches out. The Eagles have their quarterback, and signing Jalen Hurts through 2028 10 days earlier cannot be overlooked here. That important piece of business was crucial to the offseason and to the future of this football team, and the Eagles were able to finish off the contract and turn all attention toward the draft and through three days of wheeling and dealing and debating and trusting their draft board – one that consumed 11 months of hard work – they did what they did.
And what they did was jet forward a roster that many outside the NovaCare Complex wondered what would look like when – and think back just six weeks ago – free agency began. Roseman said then that "there's going to be change" but that it didn't necessarily mean that would be a bad thing.
Here we are, free agency and the NFL Draft come and gone (although free agency technically continues) and the Eagles are different. And, as it looks from this perspective, it isn't a bad thing at all – the Eagles reloaded the roster. This is nothing like a rebuild, as many on the outside predicted would happen.
"We don't put labels on it like that," Roseman said. "We tried to improve the team the best that we can with every opportunity that we have. Every day, we look over our roster and see areas that we can continue to improve, and that won't stop. It isn't going to stop because the draft ended. It won't stop in June, July, August. We're going to be relentless in our efforts to try to improve the roster.
"We'll get a chance to digest what we did here and see what the next area of opportunity is to improve the team."
The Eagles added defensive tackle Jalen Carter and outside linebacker/edge player Nolan Smith in Round 1, adding high-level talent and depth to an area of strength, the front seven on defense. As Head Coach Nick Sirianni said on Saturday, "We like to come in waves on defense," and a defense that led the NFL in quarterback sacks and that played so well against the run last season has even more attack capability now.
In Round 2, the Eagles brought on board Alabama left tackle Tyler Steen, who the Eagles think can play multiple positions and compete for playing time early in his career. More depth for the offensive line. More high-level talent for Offensive Line Coach Jeff Stoutland to mold. In the third round, the Eagles added safety Sydney Brown, a five-year starter at Illinois who chases down the football, plays with a high IQ, and is tough and physical and athletic.
That brought us to Saturday, normally a bit of a routine Day 3 of the draft, but for the Eagles in 2023, it was anything but that.
Philadelphia traded up before Saturday's draft began to secure the third pick of the day, and with that selection, the team nabbed Georgia cornerback Kelee Ringo, and Roseman had this to say about Ringo.
"Ringo was a guy that stuck out on our board. He had a really high grade. He was a guy that we were considering at those picks in the third round," Roseman said. "Then we go through it and kind of say, all right, what's our grade like, a year from now not having that pick, how is that going to affect us, who may be available at that pick. We had higher grades on him than the pick we traded. We felt like this was a 20-year-old kid who was a good kid, tremendous physical tools, and we really had an opportunity to develop him. He doesn't have to come in here and be a superhero. He can learn.
"We think we have tremendous veterans at that position who can show the way, and he can come in in a role where he's learning, and there's not a lot of pressure on him, and he can develop. We believe in the player and in the person. I know there were reports. We watched the draft there in our draft room. We don't have a question about his work ethic. We don't have a question about his medical. For us, it just made some sense. We wanted to get him in the building. We thought getting him in the building and being around (Darius) Slay and J.B. (James Bradberry) and Avonte (Maddox), and obviously we have young guys at that position too that we like. We thought that would benefit us and him. We're excited to add him."
Then came the day's shocker: Sending a 2025 fourth-round draft pick to Detroit to add running back D'Andre Swift, a dynamic player in his three NFL seasons. The Philadelphia native who played his high school football at St. Joe's Prep adds juice to an already-strong Eagles running back room.
"You can definitely see his ability to make people miss in space, and you saw that against our defense last year. He had some unbelievable runs against us last year, where you look at each other like, 'Man, that guy is hard to tackle.' So, he has the ability to make you miss and also accelerate through the hole, which will serve us well in some of the draws that we run and some of the RPOs (run/pass options) that we run," Sirianni said.
"I don't know exactly how we'll use him perfectly with each individual run, you have to get your hands on him to see that, but also in the passing game, I think he's a dynamic playmaker that's done some things that we've done with guys in the past, with some of the different routes that he runs. But he has a great ability to read defenses out of the backfield, to make guys – to separate from tight coverage out of the backfield, and has really good hands."
The Eagles finished the day off by taking Stanford quarterback Tanner McKee in the sixth round and Texas defensive tackle Moro Ojomo in round seven.
A roster that was bound to transition after the Super Bowl entering free agency has done so, in a very, very positive direction.
"At the end of the day, it had to be different just by the nature of the salary cap and of the guys that we brought back and signed to extensions, but we're not looking to take our foot off the gas," Roseman said. "We're not looking to take a step back. We're looking to do whatever we can to make the players on our team, the coaches on our team, and the city proud."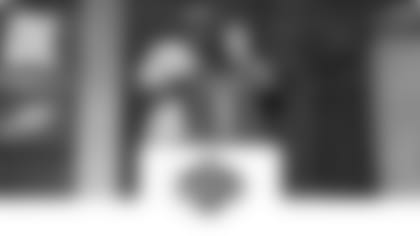 Eagles Draft Sweepstakes
Enter to win an autographed item from our 2023 NFL First Round Pick.