Using future assets to build for 2023 and beyond, Eagles General Manager Howie Roseman is turning what appeared to be an ordinary Day 3 of the 2023 NFL Draft into a classic case of mining for football gold.
First, Roseman and the Eagles sent a 2024 third-round draft pick to Houston to select Georgia – yes, Georgia again! – cornerback Kelee Ringo with the third pick (105th overall) of Saturday's fourth round. Ringo became the fifth player the Eagles selected in the last two drafts from Georgia, joining defensive tackle Jordan Davis (2022 first round), linebacker Nakobe Dean (2022 third round), defensive tackle Jalen Carter (2023 first round), and linebacker Nolan Smith (2023 first round).
"I think a lot of times you go overnight and you sit there and you look at who's standing out on your board and he really stood out for us," Roseman said on ESPN of the trade to move up and get Ringo. "We had him much higher than he was at this time and so we went out and tried to get him. ... He's in a situation here where we have phenomenal corners, outside corners, starting with (Darius) Slay and James Bradberry – Pro Bowl guys, Pro Bowl people – and he doesn't have to come in and be Superman here.
"We're talking about a 20-year-old corner who's played at the highest level and one of the top recruits in the country coming out, so we're excited to get him and it's a position we're always looking for."
Then Roseman sent a fourth-round pick in 2025 and a swap of seventh-round picks in 2023 to Detroit to acquire running back D'Andre Swift, a Philadelphia native and, yes, former Georgia Bulldog. Swift adds versatility to the running back room, a player who is explosive with the ball in his hands as a running back – he has averaged 4.6 yards per carry in his three NFL seasons – and he is a weapon in the passing game, having caught 156 passes (46 in 2020, 62 in 2021, 48 in 2022) in his time with Detroit.
"A lot of credit goes to Brad Holmes, GM of the Lions, working through this with us and finding a solution there that we could both live with. Philly kid, St. Joe's Prep, a kid that we know playing in high school. Obviously, followed him in college – tremendous player, tremendous person. Excited to get him to Philly," Roseman said on ESPN moments after the trade was announced.
Swift gives the Eagles a player who can move around the formation and create favorable matchups. Now, he's in the running back room with Kenny Gainwell, power runner Rashaad Penny, Boston Scott, and Trey Sermon.
"He's got big-play ability as a runner and as a receiver. We saw it the first game of the season. He's got tremendous vision, obviously tremendous character adds to that. We liked our running backs. We didn't go into the draft feeling like this was a position that we had to have. But we felt like this player was somebody who really adds to our culture and adds to our team," Roseman said.
The offense, already potent, added a talented lineman in Tyler Steen – a left tackle at Alabama who will get a look at multiple positions here – in the third round of the draft on Friday night and now Swift, a home-run threat who adds another piece defenses will have to try to contain. The Eagles saw that firsthand in the 2022 opener at Detroit as Swift carried 15 times for 144 yards and a touchdown and added three receptions for 31 yards. Swift gained 50 yards on the second play of the game, a sign of the kind of problem he would be throughout the afternoon.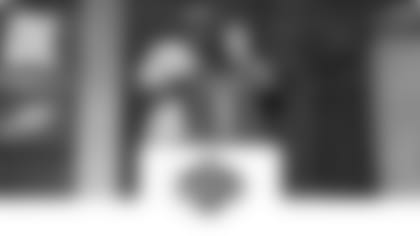 Eagles Draft Sweepstakes
Enter to win an autographed item from our 2023 NFL First Round Pick.