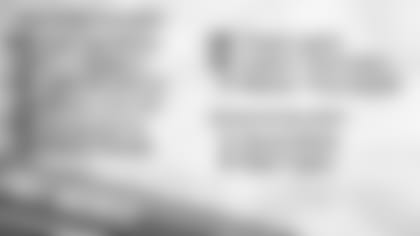 The Eagles have 11 players who are scheduled to become free agents this offseason. Here is a look at those players with a note about how each of them performed in the 2014 season. Free agency begins March 15, 2015 at 4 PM ...
Players with four or more years experience who are allowed to sign with any team.
WR Seyi Ajirotutu - Veteran wideout Seyi Ajirotutu made the majority of his contributions to the Eagles this season on special teams. The six-year veteran was signed to a one-year deal by the Eagles last spring.
CB E.J. Biggers - Biggers stepped up in the final weeks of the season, stepping into action when cornerback Byron Maxwell was forced out of action. The veteran was solid in his lone season with the Eagles.
QB Sam Bradford - Acquired via trade last offseason, Bradford started 14 games for the Eagles at quarterback in 2015, finishing the year with 3,725 yards on a 65.0 percent completion percentage, throwing 19 touchdowns to 14 interceptions and earning a career-best 86.4 passer rating (minimum eight games) in the process. The team's decision about the future of the 28-year-old signal-caller in Philadelphia looms largest entering free agency.
CB Nolan Carroll - Carroll stepped into a starting role this season after spending last year primarily as a reserve. The 28-year-old showed a great deal of improvement as the year went on, but a broken ankle in Week 12 ended his season prematurely.
DE Vinny Curry - Pass-rush specialist Vinny Curry finished this season with 3.5 sacks after notching nine last year. Interesting how Chairman and CEO Jeffrey Lurie specifically named Curry as someone who can fit into any type of defensive scheme.
LB Najee Goode - Goode played the fourth-most special teams snaps of any Eagles player this season, but just a handful of the team's defensive snaps after joining the team following Week 2.
QB Thad Lewis - Signed by the Eagles midway through the 2015 season, Lewis was active for two games but did not play a snap on offense.
DE Cedric Thornton - In his fifth season with the Eagles, Cedric Thornton started in all 13 games he played. Since becoming a full-time starter in 2013, he has been a key rotational piece known for his ability to hold up at the point of attack.
S Walter Thurmond - Thurmond was signed to a one-year deal last offseason and tallied 52 tackles in 16 starts alongside Malcolm Jenkins. The 28-year-old led the Eagles in interceptions with three.
Players with three years experience who can sign with another team, but the original team has the right to match or potentially receive draft pick compensation.
C David Molk - A torn bicep ended Molk's season prematurely in 2015, but the 27-year-old provided depth for the team in 2014 when Jason Kelce missed games with a sports hernia.
G/T Matt Tobin - The 25-year-old was thrust into a starting role for 13 games this season due to a handful of injuries along the Eagles' offensive line.