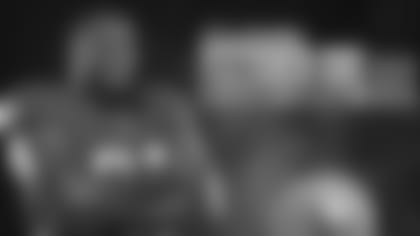 On Wednesday morning, the Eagles announced defensive end Fletcher Cox as the recipient of their 2015 Ed Block Courage Award, as voted by the players inside the Eagles' locker room.
The Ed Block Courage Award is named after Ed Block, a long-time head trainer for the Baltimore Colts and a respected humanitarian dedicated to helping children. Recipients are often players who have overcome devastating injuries or tragedies in their personal lives to return to top-level competition in the NFL.
Cox is having the best year of his career in a season that he's dedicated to his late brother, Shaddrick, who passed away in January at the age of 34, the man that Cox considers his father figure. No big decision was made in Fletcher's life without counsel from his older brother. In honor of his brother, Cox devoted his 2015 season to him and the family he left behind.
Cox had a remarkable 2014 season, earning second-team All-Pro honors, but he's followed that up with an even better 2015 campaign. Through 12 games, Cox leads the team with 24 quarterback pressures, is tied for the team lead with three forced fumbles and ranks tied for second on the team with 5.5 sacks. Additionally, Cox was named NFC Defensive Player of the Week following a Week 5 win vs. New Orleans after collaring a career-high three sacks of Saints QB Drew Brees. In the contest, he also became the first NFL player since 2007 to record three sacks, two forced fumbles and one fumble recovery in one game.
A mechanic, Shaddrick imparted on Fletcher his passion for automobiles. "Losing my brother had to be one of the hardest things that I've faced as a young man," said Cox, who now tries to serve as a father figure to his 7-year old nephew, T.J.
"I go to battle with those guys every day, and for them to vote for me for that award, I truly think they appreciate me and I appreciate those guys and I'll continue to appreciate those guys," Cox said on Wednesday afternoon. "It's always good to be around your boys. Anybody can make you laugh, and with these guys right here, you've got a lot of characters in the locker room." 
Previous Eagles Ed Block Courage Award winners: Jeremy Maclin (2014), Jason Kelce (2013), Colt Anderson (2012), Mike Patterson (2011), Jason Avant (2010), Michael Vick (2009), Jon Dorenbos (2008), Montae Reagor (2007), Jerome McDougle (2006), Chad Lewis (2005), Derrick Burgess (2004), Correll Buckhalter (2003), Shawn Barber (2002), Duce Staley and Tommy Brasher (2001), Cecil Martin (2000), Mike Mamula (1999), Bobby Taylor (1998), Rhett Hall (1997), Kevin Turner (1996), Charlie Garner (1995), Fred Barnett (1994), Andre Waters (1993), Jerome Brown (1992), David Alexander (1991), Ron Solt (1990), Mike Quick (1989), Wes Hopkins (1988), Gerry Feehery (1987), Jody Schultz (1986), Ron Jaworski (1985), John Spagnola (1984).
Officially formulated in 1986, the Ed Block Courage Award Foundation is a 501(c)(3) charitable organization that is sanctioned by the NFL and the Professional Football Athletic Trainers Society (PFATS). The Foundation is committed to heightening awareness of the plight of abused children in cities throughout the league. Proceeds from the annual Courage Awards event benefit the Foundation's Courage House National Support Network For Kids.
In 2011, the Children's Crisis Treatment Center in Center City Philadelphia was dedicated as the Philadelphia Eagles Courage House. The Children's Crisis Treatment Center is a private non-profit agency dedicated to assisting children and their families coping with the impact of behavioral health issues, traumatic events and other challenges that have an effect on childhood development.
The Eagles and DT Fletcher Cox have agreed to terms on a six-year extension that will keep him in Philadelphia through 2022...