The Eagles picked up their second prime-time win of the season as they defeated the Buccaneers on Monday Night Football, 25-11.
The Birds are 3-0 thanks to two turnovers forced by the defense and 201 rushing yards from D'Andre Swift, Jalen Hurts, and the rest of the offense.
"We want to be tough and together," said Eagles Head Coach Nick Sirianni. "Part of toughness is being physical and that is what really stood out in this game."
The defense made an opening-drive stop that almost ended in a Darius Slay interception.
The Eagles were driving thanks to A.J. Brown and D'Andre Swift. However, the offense turned the ball over on downs after Kenneth Gainwell's run on 4th-and-2 was stopped short.
Britain Covey had a fantastic 52-yard punt return to put the Eagles in great field position.
FIELD GOAL! Jake Elliott connected on a 36-yard field goal after the offense could not find the end zone. (Eagles 3, Buccaneers 0)
SACK! Marlon Tuipulotu took Baker Mayfield to the ground for his first sack of the season. Another stand for the defense.
The Bucs finally got on the board with a 33-yard field goal from Chase McLaughlin. Sydney Brown made the stop on third down, batting a ball away from the grasp of Mike Evans. (Eagles 3, Buccaneers 3)
TOUCHDOWN! Olamide Zaccheaus caught his first touchdown as a Bird on a 34-yard pass from Jalen Hurts. Hurts stood strong in the pocket with good protection and found a streaking OZ for the score. Jake Elliott added the extra point. (Eagles 10, Buccaneers 3)
"He did a great job of stepping up and making a play in a crucial moment of the game," Hurts said. "We needed to make a play, really needed to make a play, and we made one."
INTERCEPTION! Reed Blankenship picked off Mayfield over the middle. This was the first turnover of the season for the Tampa offense.
"I really have a lot of confidence in our defense," Sirianni said. "We hired Sean Desai because we had a lot of confidence in him and he has done a nice job. What we are doing really well is playing with good fundamentals."
With the offense driving, Hurts threw an interception after he and Swift failed to connect on a route.
FUMBLE! Just two plays later, Jalen Carter punched the ball loose and James Bradberry recovered. The Eagles took over in good field position.
FIELD GOAL! Jake Elliott hit a 38-yard field goal to end the half on a high note up 13-3. The Eagles got the ball to start the second half.
TOUCHDOWN! The tush push made an appearance as Hurts sneaked for the score on fourth down. The 13-play, 5:48 drive was led by Swift who rushed for 43 yards on the drive. (Eagles 20, Buccaneers 3)
"We just try to execute our game plan week in and week out," Swift said. "The opportunity was there today and the offensive line did a great job again; they make my job easy."
SAFETY! After Hurts threw his second interception of the game at the Buccaneers 1-yard line, Nicholas Morrow gobbled up Rachaad White in the end zone for the rare two-point score. (Eagles 22, Buccaneers 3)
FIELD GOAL! Jake Elliott was good from 26 yards out, his third make of the night. The Eagles ran a fake tush push on 3rd-and-goal, but Hurts tripped before he could get the pass off. Brown, who had 131 receiving yards, made a big 26-yard catch to put the team in field goal range. (Eagles 25, Buccaneers 3)
The Bucs found the end zone with a 1-yard score from Mike Evans. Mayfield hit Chris Godwin on the two-point attempt to make it a 14-point game. (Eagles 25 - Buccaneers 11)
The Eagles ended the game with a 9:22 drive that lasted 15 plays. Nick Sirianni and Brian Johnson put together a clock-chewing masterclass to finish off the win.
QB Jalen Hurts: 23-37, 277 YDS, 1 TD, 2 INT (Rushing: 10 ATT, 28 YDS, 1 TD)
RB D'Andre Swift: 16 ATT, 130 YDS
WR A.J. Brown: 9 REC, 131 YDS
WR Olamide Zaccheaus: 2 REC, 58 YDS, 1 TD
TE Dallas Goedert: 5 REC, 41 YDS
S Reed Blankenship: 7 TKLs, 1 TFL, 1 INT, 1 PD
LB Nicholas Morrow: 2 TKLs, 2 TFLs
DT Marlon Tuipulotu: 2 TKLs, 1 SK, 1 QBH, 1 TFL
DT Jalen Carter: 2 TKLs, 0.5 SK, 1 QBH, 2 FFs
DT Fletcher Cox: 2 TKLs, 0.5 SK, 2 QBHs
CB James Bradberry: 1 TKL, 1 FR
K Jake Elliott: 3-3 FGs, 2-2 XP, 11 PTS
PR Britain Covey: 3 ATT, 81 YDS, 52 LG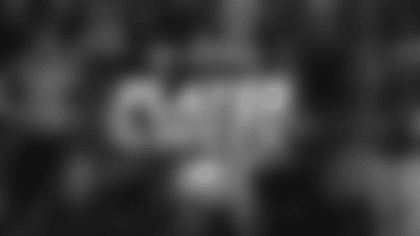 Toyota Player Of The Week
After every game, we want to know who stood out as the Toyota Player of the Week. Each week that you vote, you will have the chance to win the jersey of your favorite Philadelphia Eagles player. Everyone who participates, will be entered to win the grand prize, a brand-new Toyota!