Over their long history, the Eagles have played the New York Giants more than any other team. Since 1933, the Eagles and Giants have played 162 times with more than a handful of memorable moments along the way. From Chuck Bednarik's knockout blow at Yankee Stadium to the Meadowlands miracles performed by Herman Edwards, Brian Westbrook and DeSean Jackson, the Eagles have created some iconic franchise memories against their divisional foe. As the Eagles now prepare for Sunday's matchup, they know that anything can happen in what is a pivotal game in the early part of the season.
"Every year you get a chance to play the Giants and it's always fun," said Trent Cole. "It's a backyard rivalry and it's always been an intense game every time that we've ever played them."
The Giants enter the game struggling out of the gate, with a record of 0-4 and the worst defense in the NFL in terms of yards per game. The Eagles sit just one game better in the NFC East standings, but they feel that the team's individual records have nothing to do with how they are preparing for this weekend.
"It's going to be a fun game, but they're always going to be ready," said Brent Celek, who caught a touchdown pass in the Eagles' dramatic 38-31 comeback victory in 2010. "It doesn't matter what they're record is or what our record is, it's going to be a game … They're a good football team. They're going to come out ready to play and when they get on the field, they're going to forget about that record."
LeSean McCoy expressed similar feelings, saying that the Giants are a much better team than they appear to be.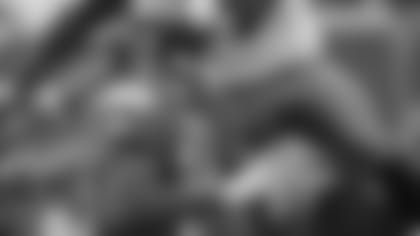 "It's a division game and it's a must-win game for both teams," said McCoy. "They have a ton of really good players over there. The 0-4 team isn't really what I see on tape. When you look at their offense, they're explosive also. We both have the mindset that we need to win."
For veterans like Cole, Celek and McCoy, who have been playing against the Giants for the past few years, there's no question that the games against New York mean something. But do the rookies need to be taught a quick history lesson when it comes to playing the team dressed in blue?
"They'll feel it when they play there, just like the first time I played there," said Celek. "You realize it. You can feel it in the town. You realize it from what (the media) says. If you can't figure it out, there's something wrong with you."
"I think (the rivalry) is something that you experience," McCoy said. "As a rookie, they didn't have to explain it to me. They just told me how important it is to win the game because it's a division game."
To Kurt Coleman, it's important not to overlook the regular preparation just because of the intensity that will be on the field Sunday afternoon. .
"You can ask any fan on the street- they don't talk about a lot of other games other than the Giants, Cowboys and Redskins, and the Giants are definitely one of their favorites," Coleman said. "It's almost like Michigan-Ohio State. It's one of the top rivalries in the league and it's going to be a physical game. Everyone needs to understand that. It's going to be a really physicall game and we're going to be in their house this week. We have to go out there and quiet the fans with our play right off the bat and get after them for four quarters."
Other players echoed Coleman's thoughts, saying that the Eagles are preparing for the Giants the same way that they get ready for all 32 NFL teams.
"We're preparing like we prepare every week," said Fletcher Cox. "It's no different than how we have been preparing in the past."
"It's a fun game to play in," explained Todd Herremans. "Both teams get really hyped up to play in it, but we're not trying to make it any more special than any other week. We're coming in and putting in a lot of hard work this week and preparing to win the game."
The Eagles split the series with the Giants last season, with each team winning at their respective home stadiums. The second game between the two sides in 2012 was a fitting ending to a dismal regular season for the Eagles as they fell 42-7. Though he didn't play in the game because of a concussion, Mychal Kendricks is eagerly awaiting the chance for his team to erase their most recent memory of MetLife Stadium.
"After losing, you always have a bad taste in your mouth," said Kendricks. "The fact that we lost to them the last time and the fact that we just lost this last game (against Denver), I can't wait to get out there and play."