For the second consecutive week, the identity of the Eagles' starting quarterback remains in question. Last week, Michael Vick's return from a hamstring injury was the top story on a daily basis ahead of the Eagles' game against the New York Giants. This week, with Vick having reinjured that same hamstring, the attention has turned to Nick Foles, who returned to practice Tuesday for the first time since suffering a concussion against the Dallas Cowboys nine days prior. That game against the Cowboys marked a low point for Foles' career, as he completed just 11-of-29 passes for only 80 yards on the heels of an NFC Offensive Player of the Week performance. To make matters worse, of course, Foles suffered a concussion on the final play of the third quarter and was sidelined until he was able to complete the NFL's post-concussion protocol.
Now, with Foles and rookie fourth-round pick Matt Barkley each taking first-team reps, the onus will be on Foles to prove throughout the week that he is ready to bounce back from both the injury and the poor play that linger from his last outing in order to resume the role of starting quarterback. On the other side of the ball, the Eagles defense has continued to improve throughout the season. Over the first four games, the Eagles allowed 34.5 points to the opposition. That number has dropped dramatically over the last four games, as the Eagles have allowed only 18.25 points per game. This week, they'll be tested on the road by the Oakland Raiders and dynamic dual-threat quarterback Terrelle Pryor. Though the Raiders rank 28th in total offense and points scored, they are coming off wins in two of their last three games. As for what else the Eagles need to do to come out victorious Sunday afternoon and remain in the race for the NFC East, let's take a look …
Last Time They Met:
October 18, 2009 – Eagles 9, Raiders 13
In a truly sloppy and ugly game, the Eagles dropped to 3-2 with a loss to a Raiders team that would eventually finish 5-11. Donovan McNabb completed 22-of-46 passes for 269 yards and the Eagles were unable to find the end zone. The key play of the game came in the first half when Raiders tight end Zach Miller broke several tackles and lumbered into the end zone on an 86-yard catch and run from JaMarcus Russell.
When The Eagles Have The Ball:
After two consecutive games without an offensive touchdown, the Eagles offense faces some serious questions. What happened to the 53-play first-half tempo that we saw in the season opener? What has happened to the running game? Who is the team's starting quarterback? Now at two games under .500 (but still just a game back of first place in the NFC East) the Eagles will have a chance to go out west and regroup. Now 0-10 in their last ten regular season games at Lincoln Financial Field, the trip to Oakland could be the change of scenery that the Eagles need to get back on track offensively.
For the fourth straight week, the Eagles must prepare for a game without knowing who their starting quarterback will be because of injury concerns. Chip Kelly said on Monday that he is not expecting Michael Vick to play this week after re-tweaking his hamstring against the Giants. On Tuesday, Nick Foles returned to practice after going through the post-concussion protocol that kept him out the week following the loss to the Cowboys. Foles and Barkley split the first-team reps on Tuesday and the focus will be on whether Foles can prove to the coaching staff that he is ready to return to the field. If Foles can't go, California native Matt Barkley would likely get the start. Barkley has appeared in the Eagles' last two games in relief, and has performed at a decent level. He has shown the ability to lead receivers and get the ball out quickly, but turnovers continue to hamper the young quarterback's progress.
Whether it is Foles or Barkley who takes the field on Sunday as the starter, the Eagles offense will have to find a way to make something happen against a talented and physical Raiders defense. Oakland ranks 10th in the NFL in yards allowed per game (330.9) and 12th in points allowed per game (21.4). The one area where Oakland's defense has lacked has been in pass defense, as they allow 241 yards per game through the air on average. The Raiders do have some talented players in the secondary, including one-day Hall of Famer Charles Woodson, who is now playing safety, along with cornerbacks Tracy Porter, Mike Jenkins, and first-round rookie D.J. Hayden.
Injuries have played a big role in the Eagles' lack of a consistent passing attack, but the drop-off in the running game has been worrisome. LeSean McCoy is healthy, and the starting offensive line has been intact for almost the entire season. Even with a sturdy line, McCoy has been held to 55 rushing yards or fewer in three of the Eagles last four games, and things won't get any easier against the Raiders. Oakland has been terrific against the run, holding opponents to an average of 89.9 yards per game on the ground, ranking sixth in the NFL. It doesn't matter who is behind center on Sunday afternoon, because if the Eagles can't run the ball and become one dimensional, winning the game becomes much more difficult.
The Raiders' front seven may not have the same name-recognition as their secondary, but the group has played well this season. Middle linebacker Nick Roach leads the team with 51 combined tackles. In the trenches, defensive end Lamarr Houston leads the team with four sacks and six total tackles for loss. Rookie pass rusher Sio Moore has also provided a boost and is coming off a 2.0-sack performance in last week's win over the Pittsburgh Steelers.
Eagles Projected Starting Lineup
Offense
Defense
QB Nick Foles
DE Cedric Thornton
RB LeSean McCoy
NT Bennie Logan
WR Riley Cooper
DE Fletcher Cox
WR Jason Avant
ROLB Trent Cole
LT Jason Peters
MLB Mychal Kendricks
LG Evan Mathis
MLB DeMeco Ryans
C Jason Kelce
LOLB Connor Barwin
RG Todd Herremans
LCB Bradley Fletcher
RT Lane Johnson
RCB Cary Williams
TE Brent Celek
S Nate Allen
WR DeSean Jackson
S Patrick Chung
When The Raiders Have The Ball:
The Oakland Raiders sport one of the NFL's lowest-ranked offenses overall, averaging 314.9 total yards (25th), 18.0 points (26th) and 15.9 first downs (32nd). Even so, it is a unit that can pose problems for opposing defenses because of its unorthodox style and unique quarterback, third-year pro Terrelle Pryor.
Pryor, the former Ohio State star who wrestled the starting quarterback job away from Matt Flynn (since released) before the season, is an incredible athlete with natural ability as a runner and thrower. He has begun to carve out his niche in the NFL and is making himself into a viable threat at the position. While Pryor's evolution is still in its embryonic stages and the Raiders currently rank last in the league in passing yards per game (176.0), he has been accurate throwing the football and is completing 63.1 percent of his passes. He's also averaging 7.32 yards per attempt, which ranks 15th among starting quarterbacks. That said, he has thrown only five touchdowns to seven interceptions. Where Pryor really hurts defenses most is as a runner, as he has run for 391 yards on 53 attempts in six games (65 yards per game). That threat was on display on the very first snap of last Sunday's 21-18 victory over the Pittsburgh Steelers when Pryor kept the ball on a read-option run and gashed the middle of the defense, galloping untouched for a 93-yard touchdown. This is the first time all season the Eagles defense will face a dual-threat quarterback (disregarding Robert Griffin III in his first game back from knee surgery), so the unit will have a new challenge for which to prepare and each player must be even more disciplined with individual assignments.
The Raiders offense boasts one of the league's best rushing attacks, ranking fifth in the league at 138.9 yards per game. A lot of that has to do with Pryor, who leads the team in rushing yards. Running back Darren McFadden ranks second with 340 yards on 93 carries (3.7 average), and backup Rashad Jennings is third with 140 yards on 36 carries (3.9 average). While the run game has not been dynamic outside of Pryor, it consistently churns out yards and McFadden, who has scored four touchdowns on the season, possesses the kind of explosive ability that makes for a potential breakout at any time.
Speedy wide receiver Denarius Moore leads the team in receptions (27), yards (431) and touchdowns (four). He is flanked by former Temple Owl Rod Streater, a big target (6-foot-3, 200 pounds) who came out of nowhere as an undrafted rookie in 2012 and has steadily progressed in his second season, posting 23 catches for 319 yards and one touchdown. Rookie tight end Mychal Rivera is third on the team with 12 catches for 138 yards and a touchdown, while McFadden and Jennings have combined for 24 catches for 179 yards. Marcel Reece is a bit of a wildcard as a fullback, since he plays a versatile role and can hurt defenses as both a runner and receiver.
Meanwhile, as the Eagles offense sputters, the defense continues to improve and ascend. Against the Giants, for the fourth straight game, the defense lowered its points allowed total. This time, the defense kept the Giants out of the end zone and held them to just five field goals. While the effort ultimately was not enough because the team lost, it was an encouraging sign to see the defense build on its recent performances. The Eagles still rank 31st in the NFL in yards allowed per game at 401.8, but that is a number that keeps falling each week. Likewise, the Eagles now rank 23rd in points allowed per game, at 26.4. The unit still ranks 31st in passing yards allowed per game (302.3), though is tied for fourth in passes defended (47). Meanwhile, the defense has moved into 10th in rushing yards allowed per game (99.5).
The front seven has been getting better pressure as of late, as defensive ends Fletcher Cox and Cedric Thornton continue to wreak havoc and establish themselves as one of the NFL's best bookend duos. The Eagles now rank 26th with 16 sacks and will be going up against a struggling Raiders offensive line that is second-to-last in the league with 29 sacks allowed. This is an opportunity for the pass rush, including Trent Cole and Brandon Graham, to make a statement. Speaking of opportunities, the Eagles defense, which ranks 25th in the league in third-down efficiency by allowing a 40.9 percent conversion rate, must find a way to get off the field against a Raiders offense that is converting only 35.1 percent of its third downs (26th in the NFL).
With Pryor's mobility a focus, the game plan of defensive coordinator Bill Davis will be a storyline. Does Davis employ a spy on Pryor and, if so, who? Mychal Kendricks – who is coming off what head coach Chip Kelly described as his "best game" – has the type of speed and athleticism to match Pryor. DeMeco Ryans remains his steady, productive self, while Connor Barwin has been one of the defense's top performers as both a pass rusher (3.0 sacks, tied with Cox for the team lead) and in coverage (seven passes defended, second on the team).
Finally, the secondary too continues to improve with each game. Cary Williams and Bradley Fletcher are playing physically and aggressively, while Brandon Boykin blankets slot receivers. Nate Allen and Earl Wolff have developed chemistry and become a solid, effective starting tandem. Wolff continues to progress and show flashes, and Allen has really come on and been dependable both as a tackler – especially in the open field – and centerfielder.
Raiders Projected Starting Lineup
Offense
Defense
QB Terrelle Pryor
RDE Lamarr Houston
RB Darren McFadden
DT Vance Walker
FB Marcel Reece
NT Pat Sims
WR Denarius Moore
LDE Jason Hunter
LT Khalif Barnes
WLB Kevin Burnett
LG Lucas Nix
MLB Nick Roach
C Stefen Wisniewski
SLB Sio Moore
RG Mike Brisiel
LCB Mike Jenkins
RT Tony Pashos
RCB Tracy Porter
TE Jeron Mastrud
FS Charles Woodson
WR Rod Streater
SS Tyvon Branch
Key Matchups:
Tracy Porter/Mike Jenkins vs. DeSean Jackson
Jackson remains a top-five receiver in the NFL in terms of yards (673), despite having only 84 combined receiving yards in the Eagles' last two games. Look to see if the Eagles go back over the top to Jackson, an area that has been missing from the offense over the last two weeks. Whether it's Porter or Jenkins lined up against Jackson, the Raiders corners will try to keep Jackson contained for the third straight game. Porter, the former Saint and Bronco, recorded his first interception of the season last Sunday against Pittsburgh. Meanwhile, Jenkins is coming off of a terrific game against the Steelers, when he intercepted one pass and jarred the ball loose to cause another. Jenkins spent his first five NFL seasons in Dallas, so he is very familiar with how dangerous Jackson can be.   
The Eagles' Front Seven vs. Terrelle Pryor
Through eight games, the Eagles defense has yet to face a quarterback with the running ability of Pryor. Alex Smith and Tony Romo can be elusive and can scramble in the pocket, but they don't have the speed that Pryor possesses. Even in the season opener against Washington, Robert Griffin III was not playing at full speed in what was his first game back since injuring his knee at the end of last season. Pryor is a different kind of runner. If you're looking for an example, look no further than his 93-yard touchdown scamper against Pittsburgh, the longest run of all-time for a quarterback. With an athlete like Pryor, it's no surprise that the Raiders have built read-option plays into their system, and the Eagles front seven will need to find a way to keep Pryor in the pocket in their first game without Isaac Sopoaga.
QB Matt Barkley, No. 2 / QB Nick Foles, No. 9
Only one thing seems certain when it comes to the Eagles' quarterback situation – Michael Vick will not play after reaggravating his hamstring injury. Nick Foles passed his imPACT test Monday and returned to practice Tuesday. It remains to be seen if he will take the first-team reps and reassume the role of starting quarterback, or whether Barkley will be prepped for that role. Regardless of who gets the start, the Eagles need improved play from the quarterback position if they're to pull out a road win on Sunday.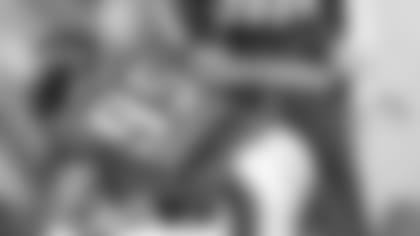 ILB Mychal Kendricks, No. 95
Kendricks struggled a bit following his impact performance against the Washington Redskins in the first game of the season, but he has since reemerged and been one of the reasons the defense has steadily improved. He has settled into his role and is playing fast yet under control. Kendricks was a tackling machine against the Giants last week, leading the team with 12 total stops (11 solo), including one for loss. He would be the obvious choice to spy Terrelle Pryor, if that's a technique Bill Davis chooses to employ. He figures to be even more integral than usual to the defense's success against the Raiders.
WR Denarius Moore, No. 17
The 6-foot, 190-pound Moore is the Raiders' most explosive wide receiver and their primary deep threat. Though he only has one 100-yard receiving performance for the season, he has recorded a catch of at least 30 yards in four of the team's seven games, including a 73-yard touchdown against the Broncos. Moore can stretch defenses vertically with his 4.4 speed and can make contested, acrobatic catches. The Eagles defense cannot afford to let a Raiders' passing game that has struggled rip off any big plays.
DE Lamarr Houston, No. 99
The Raiders defense is a hodgepodge of castoffs from other teams, and the unit plays with a collective chip on its shoulder. It is a fast, physical group that gives maximum effort on every snap. Charles Woodson returned to the team as a free agent in the offseason and is the starting free safety, but defensive end Lamarr Houston, a 2010 second-round pick of the Raiders and one of the defense's few homegrown talents, has emerged as the most formidable player. At 6-foot-3, 300 pounds, he has a rare combination of quickness and strength that makes him exceedingly difficult to block. If Houston, who has 30 total tackles and leads the team with 4.0 sacks, lines up at his traditional right defensive end spot, he will match up against Jason Peters.