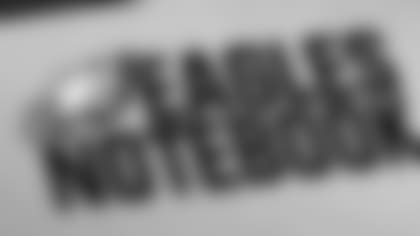 Moving Up The Charts ... Brian Westbrook scored his 31st rushing touchdown as an Eagle, tying Ricky Watters for 4th place in team history. They trail Steve Van Buren (69), Wilbert Montgomery (45), and Randall Cunningham (32) ... Westbrook now has six total touchdowns on the season and 58 for his career, tying Montgomery for 7th place in team history (tied for 3rd among running backs behind Van Buren's 77 and Timmy Brown's 62).
DJ on the Run ... Rookie DeSean Jackson registered a 68-yard punt return for a touchdown in the first quarter. The last Eagles rookie to accomplish that feat was Bob Shann, who returned a punt 63 yards for a score vs. Detroit on December 19, 1965 ... The last time the Eagles scored on a punt return was December 21, 2003, when Westbrook had an 81-yard return for a touchdown vs. San Francisco.
Impressive Streak Comes to an End ... Antwaan Randle El's 18-yard touchdown pass to Chris Cooley in the 3rd quarter was the first touchdown the Eagles allowed at home since December 9, 2007, when Giants QB Eli Manning connected with Plaxico Burress for a 20-yard TD. It ended a streak of 43 consecutive possessions of not allowing a TD over 15-plus quarters of action at Lincoln Financial Field.
Dawk's Sack Attack ... Brian Dawkins' sack of Jason Campbell was the 20th of his career, making him the 5th defensive back in NFL history to reach that plateau (Rodney Harrison, Carnell Lake, Ronde Barber and LeRoy Butler are the others).
Savvy Effort ... Sav Rocca, the NFC's special teams player of the month in September, registered a 42.8 net punting average vs. the Redskins on five punts. Rocca has recorded a 42.0-plus net average in all five games this year after reaching that plateau just once in the entire 2007 campaign. He entered this weekend's action leading the league in that category and now has a 43.8 net average on the year.
Birdseed ... Donovan McNabb played in his 123rd game an Eagle, moving past Randall Cunningham and into second place in team history among quarterbacks, trailing just Ron Jaworski (142) ... The Eagles scored an opening-drive touchdown for the second time this season. They now have 17 opening-drive points ... The Eagles did not allow a sack in a game for the 2nd time this season.