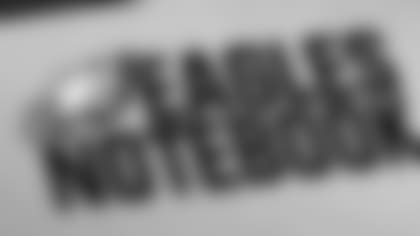 Upcoming Schedule ... After the game, head coach Andy Reid gave the players off until next Monday (Oct. 20).
McNabb Makes History ... With 280 yards passing and 2 touchdowns on 36 attempts, Donovan McNabb moved past Ron Jaworski to become the franchise leader in both attempts and yards. He now leads the Eagles in attempts (3,943), completions (2,324), yards (26,980) and touchdowns (179), joining Colts QB Peyton Manning as the only two quarterbacks in the NFL to lead their current team in all four categories.
Dynamic Duo ... McNabb and Reid won their 76th game as a tandem, surpassing Bill Walsh and Joe Montana as the winningest head coach/quarterback tandem who started their careers together ...Reid won the 99th game (including playoffs) of his career Sunday. He needs one more victory to become the 37th head coach in NFL history and seventh active coach (Mike Holmgren, Mike Shanahan, Bill Belichick, Tony Dungy, Jeff Fisher and Tom Coughlin are the others) to reach the century mark. He would also become just the 22nd coach to win 100 games with one franchise and the 17th coach to do so during his first stint as a head coach.
The Buck Starts Here ... Playing in place of the injured Brian Westbrook (fractured ribs), RB Correll Buckhalter racked up a career-high 178 yards from scrimmage. His 85 receiving yards were also a career high. With 93 rushing yards, Buckhalter moved past Swede Hanson and Frank Ziegler and into 18th place in team history with 1,993 for his career. He has scored a rushing touchdown in both of his starts this season.
JP's Big Day ... DE Juqua Parker recorded his first career interception, returning it 55 yards for a touchdown, also the first of his career. He also had two tackles for a loss and a sack on the day, upping his team-leading total to 4.5 sacks on the season.
King Cole's Sack Attack ... DE Trent Cole registered his third sack of the season and now has 28.5 for his career, moving past Darwin Walker and into 14th place in team history. Cole also forced a fumble, his second of the season and the eighth of his career.
Birdseed ... LT Tra Thomas played in his 156th game, tying Jerry Sisemore for sixth place in team history and first among tackles...WR Hank Baskett scored his second touchdown of the season ...S/KR Quintin Demps had a career-long 63-yard kickoff return, setting up the Eagles first touchdown of the game.
Getting Off The Field ... The Eagles defense held the 49ers to 2 of 12 third-down conversions for first downs. In three wins this season, the defensive unit has held opponents to an 11.1% (4-36) conversion rate on third down (Rams 0-11, Steelers 2-13, 49ers 2-12).
Get The Point ... The Eagles scored 40 points on the day, including 23 unanswered points in the fourth quarter. It was their highest total since 9/23/07, when they scored 56 vs. Detroit.
Defensive Nuggets ... After not scoring a defensive touchdown in the entire 2007 season, the Eagles have already posted two through the first six games of the 2008 season (Chris Gocong fumble recovery on 9/15 at Dallas; Juqua Parker 55-yard interception return on 10/12 at SF) ... S Quintin Mikell registered his career-high second interception of the season, setting up an Eagles field goal in the fourth quarter ... The Eagles posted three consecutive turnovers (Mikell INT, Cole sack and forced fumble, and Parker INT) in the decisive 4th quarter ... After posting just 19 takeaways in 2007, the Eagles have notched 12 through six games in 2008. PHI vs. SF 10-12-08