Bristol High School football coach Mike Ciotti has a fortune cookie note on his nightstand that reads, "You will not go far unless you know where the goalposts are." Every morning, that message serves as motivation for Ciotti.
"I let that remind me of why I do what I do," Ciotti said. "I want to be a positive role model to all the kids I teach and coach."
After graduating from Pennsbury High School, Ciotti played defensive back at Lycoming College. It was former Pennsbury assistant coach John Greiner who brought Ciotti onto his staff at Bristol shortly after Ciotti graduated college.
Greiner, then the head coach at Bristol, hired his former player as the defensive coordinator. Ciotti spent five years in that role before he was promoted to head coach five years ago when Greiner departed the program.
Coaching has been in Ciotti's blood ever since he stepped foot on the field. Ciotti loved to assist and coach at high school football camps. He always admired his football and basketball coaches who served as mentors.
Frank Sciolla, Ciotti's high school basketball coach, once told him, "Coaching is in your blood. Continue to be a positive role model as you get into coaching and teaching."
"That had a huge impact on me," Ciotti said.
Ciotti took the advice from his former coaches and became the ultimate advisor for his players.
Ciotti keeps an open dialogue with his players to give them advice, makes sure they are succeeding in the classroom, and helps them set their future goals.
"A big thing for me is making sure I have a personal connection with all my players," Ciotti said. "I care more about them as a person than the success on the field."
The same can be said for his students.
Ciotti is a gifted enrichment and special education teacher at Bristol Middle School. He assists students who need extra academic or emotional support.
Some of his students have gone on to play for him.
"It is awesome to see them mature and grow up and have the opportunity to call me coach instead of Mr. Ciotti," he said.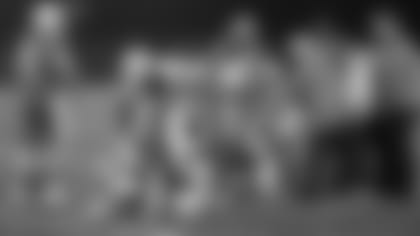 Ciotti wants his players to understand the sense of community and experience giving back.
The team participates in numerous events around town. Just this past year, Ciotti's players have volunteered at National Night Out, the Bristol Carnival, and Italian Day.
"I have been Bristol's Athletic Director for 17 years and I have not seen or heard of a coach who does more for his community than Coach Ciotti," Mike Poploskie said.
At Bristol High School, community service is required. When serving the people of Bristol with Ciotti, it feels like less of a mandate for the players.
The biggest local event that they participate in is Challenger Football, a league for people with disabilities which is a terrific way for the players to engage with their peers. Nick Caywood, the team manager for the last 10 years, is a part of the league. Ciotti described him as the "heart of the program."
Ciotti's team supports and assists the players every Sunday during the Challenger Football season.
"The values of football transfer to every aspect of life," Ciotti said.
Since Ciotti took over as head coach, the team has gone from 22 players to 37. With a small student body, the coach has done everything possible to improve a program with a rich history.
The Bristol Warriors are 3-3 this season, but are undefeated in conference play. Since the shortened pandemic season in 2020-21, the Warriors are 20-8 under Ciotti's leadership. The team is in prime position to win its fourth consecutive Bicentennial Conference title this season.
While improving and succeeding on the football field is extremely important for Ciotti, being that role model for his players is what his job is all about.
"Graduating, becoming successful, and growing into fine young men is more important than any win or loss," Ciotti said.
Ciotti's commitment to the success of his players and students makes him the Week 5 Eagles Coach of the Week! Bristol High School will receive a $2,000 grant and Ciotti will be entered as a candidate for the Eagles High School Coach of the Year. – Written by Owen Boyle