Coming off a long weekend following their Thursday night loss to the Kansas City Chiefs, the Eagles turn the page to a difficult task ahead in Week 4. Awaiting the 1-2 Eagles on Sunday afternoon is a clash at Mile High Stadium against the 3-0 Denver Broncos, who have won their three games by an average of just under 19 points per game. The Broncos are led by the most productive offense in football thus far, though the Eagles rank atop the league in yards per play. Needless to say, there could be some offensive fireworks on display during what is set to be a nationally televised 4:25 game on FOX.
The Broncos' abundance of weapons on offense will test an Eagles defense that is trending upwards, but must improve significantly on third down. On the other side of the ball, the Eagles' top-ranked rushing attack will test the Broncos' top-ranked run defense. As the Eagles look to close the first quarter of their inaugural season under Chip Kelly, they can take solace in the muddle current state of the NFC East. Despite sitting one game under .500, the Eagles are alone in second place in the division ahead of the winless Washington Redskins and New York Giants and only one game behind the 2-1 Dallas Cowboys. With the NFL media giving the Eagles little chance this weekend, perhaps the visitors will be ripe for an upset.
Last Time They Met:
December 27, 2009 – Broncos 27, Eagles 30
The Eagles moved to 11-4 in the penultimate game of the 2009 regular season on a game-winning field goal by David Akers with seven seconds left. Donovan McNabb threw for 322 yards, three touchdowns and one interception on the day while Brent Celek led the way for the Eagles with 121 yards receiving. Of course, the biggest storyline on the day was the return to Lincoln Financial Field by Brian Dawkins, who left for Denver the summer before.
When The Eagles Have The Ball:
Despite a 1-2 record, the Eagles offense is among the NFL's best and most explosive. It ranks as the most efficient offense in the league, with a top-ranked 7.0 yards per play. Unfortunately, turnovers and missed opportunities drop the Eagles all the way to eighth in points per game (26.3). After turning the ball over just twice and forcing five over the first two games, the Eagles committed five turnovers and forced none in their 26-16 loss to the Kansas City Chiefs. Through three games the Eagles are negative-two in turnover differential, which is tied for third-worst in the NFC.
Coming off his first poor performance of the season, Michael Vick will look to get back on track against a Broncos defense that ranks 30th in the NFL in passing yards allowed per game at 327.0. Those passing yardage stats are somewhat inflated because opponents have been trailing for the entire second half and thus have been forced to throw almost exclusively. Denver's pass defense is actually much better than the ranking suggests, as they rank first in passes defensed (31), tied for first in interceptions (six), 10th in completion percentage allowed (58.3 percent) and 18th in yards allowed per pass (6.9). Vick ranks second with 9.1 yards per pass attempt and is eighth with a 96.0 quarterback rating. Still, going against this Broncos secondary, which should have All-Pro cornerback Champ Bailey back from injury, will be no easy task.
Following two huge performances in which he went over 100 yards and scored a touchdown, DeSean Jackson was held under 100 yards receiving and without a touchdown against the Chiefs, who played a lot of press coverage and devoted safety Eric Berry to helping over the top. Jackson still managed three catches for 62 yards and ranks second in the NFL with 359 receiving yards, as well as second with 149 yards after the catch and 17 first downs. Third-year pro Chris Harris has replaced Bailey at cornerback for the Broncos, while former Eagle Dominique Rodgers-Cromartie – who may be most likely to draw the Jackson assignment – is the opposite starter. Tony Carter mans the nickel position. The trio has combined for five interceptions, and the starting safety tandem of Rahim Moore and Duke Ihenacho has impressed as the final line of defense. Expect Moore, as the free safety, to play a similar over-the-top role in coverage on Jackson and for the Broncos to attempt to make the Eagles' other receivers – like Riley Cooper, Jason Avant (who was the team's leading receiver against the Chiefs and registered his first touchdown of the season), Brent Celek and Zach Ertz – beat them.
After an injury scare at the end of the first half against the Chiefs, LeSean McCoy returned in the second half and looked like his dominant self, en route to gashing Kansas City's previously second-ranked rush defense for 158 yards and a touchdown on 20 carries. Sunday's matchup will pit the Eagles' first-ranked rush offense (209.0 yards per game) against the Broncos' first-ranked rush defense (43.3 yards allowed per game) in a battle where something has to give. The Broncos' success defending the run isn't just because they've been consistently ahead either, as they rank atop the league with only 2.28 yards allowed per rush. Opponents have simply been unable to gain yards on the ground against the Broncos, but the Eagles offensive line of Jason Peters, Evan Mathis, Jason Kelce, Todd Herremans and Lane Johnson has been exemplary opening up holes in the run game.
In addition to McCoy, the NFL's leading rusher by a healthy margin, Vick is on pace for 997 yards rushing, which would be his second-best total as a pro. Each will attempt to find space against a Broncos front seven that features a defensive line of Derek Wolfe, Kevin Vickerson, Terrance Knighton and Robert Ayers (who typically rotates but started in place of the injured Shaun Phillips against the Raiders), and an exceptionally fast linebacker corps of Nate Irving, Wesley Woodyard and Danny Trevathan.
Eagles Projected Starting Lineup
Offense
Defense
QB Mike Vick
DE Cedric Thornton
RB LeSean McCoy
NT Isaac Sopoaga
WR Riley Cooper
DE Fletcher Cox
WR Jason Avant
ROLB Trent Cole
LT Jason Peters
MLB Mychal Kendricks
LG Evan Mathis
MLB DeMeco Ryans
C Jason Kelce
LOLB Connor Barwin
RG Todd Herremans
LCB Bradley Fletcher
RT Lane Johnson
RCB Cary Williams
TE Brent Celek
S Nate Allen
WR DeSean Jackson
S Earl Wolff
When The Broncos Have The Ball:
Most NFL fans know that the Broncos boast the one of the most high-powered offenses in the league, but just how good is it? Through three games, the Broncos rank first in the league in total yards (486.7 yards per game), first in third-down efficiency (53.9 percent conversion rate) and, most importantly, first in points per game (42.3). The numbers are intimidating, and they are explained by a talented roster, led by one of the league's greatest players of all time.
The cog that makes the entire Denver offense move is future Hall-of-Famer Peyton Manning, who will one day go down as one of the best quarterbacks to ever set foot on an NFL field. Now 37, Manning is playing at one of the highest levels of his career. After missing the 2011 season due to multiple neck surgeries, Manning has been extremely efficient in his time with Denver. In 19 regular season games with the Broncos, Manning has thrown 49 touchdowns to only 11 interceptions with a ridiculous 69.4 completion percentage and an outlandish 110.8 quarterback rating.
As was the case in Indianapolis, Manning has once again been surrounded by playmakers. In his fourth season out of Georgia Tech, Demaryius Thomas has become one of the top receivers in the NFL. Though the Broncos have a lot of players capable of making big plays, Thomas is their true home run threat, averaging 15.4 yards per reception. At 6-foot-3, 229 pounds, Thomas' size and athleticism will pose a challenge for Eagles cornerbacks. On the other side of the formation, Eric Decker is just as dangerous. Also at 6-foot-3, Decker recorded 1,064 receiving yards and 13 touchdown catches in 2012. Cary Williams and Bradley Fletcher will need to play a very physical game against the tall and talented duo.
Then there's Wes Welker, the gnat that buzzes around and drives opposing teams mad. He is the receiver who gets exactly six yards and not an inch more when it's third-and-six, and has made a living playing in the middle of the field and knowing exactly where the first down chains and goal line are. In the past two weeks, the Eagles have had trouble with similar receivers in Eddie Royal and Donnie Avery, and Welker will be the toughest test yet. Expect to see a lot of nickel packages from the Eagles, with Brandon Boykin shadowing Welker. That matchup means that the Eagles linebackers will most likely be tasked with covering tight end Julius Thomas, who has been having a breakout third season in the league.
While the Broncos have a number of different ways to beat teams through the air, their ground game has been a different story. Knowshon Moreno has been the team's leading rusher to this point, but he is averaging only 53.5 yards per game (on 4.7 yards per carry). Ronnie Hillman and Montee Ball will also see time in the Broncos backfield, but Moreno has been the most consistent running option to this point and is the most trustworthy pass protector. The Eagles cannot avoid stopping the run though, as the Broncos rank 14th in the league with 112 rushing yards per game. The goal of any defense is to try to make the opposing offense one dimensional. Even though Denver's passing dimension has been terrific, the Eagles ability to neutralize the Broncos running game could go a long way.
On the other side of the ball, the Eagles will need to get off of the field, something that they were not able to do against Kansas City. Overall, the Eagles defense played relatively well against the Chiefs, but they could not make crucial stops on third-and-long situations and they allowed to the Chiefs to milk eight minutes and fifteen seconds off of the fourth quarter clock with a 15-play drive that helped seal the Kansas City win. When the Eagles defense has the Broncos is third-down situations, they need to make plays – something that will be all the more difficult considering the Broncos' standing as the best third-down offense in the league thus far. Manning and company cannot be afforded second and third chances.
Broncos Projected Starting Lineup
Offense
Defense
QB Peyton Manning
LDE Derek Wolfe
RB Knowshon Moreno
DT Kevin Vickerson
WR Demaryius Thomas
NT Terrance Knighton
WR Wes Welker
RDE Robert Ayers
LT Chris Clark
SLB Nate Irving
LG Zane Beadles
MLB Wesley Wooryard
C Manny Ramirez
WLB Danny Trevathan
RG Louis Vasquez
LCB Champ Bailey
RT Orlando Franklin
RCB Dominique Rodgers-Cromartie
TE Julius Thomas
SS Duke Ihenacho
WR Eric Decker
FS Rahim Moore
Wide Receiver DeSean Jackson vs. Cornerback Dominique Rodgers-Cromartie
It stands to reason that the Broncos will put the speedy Dominique Rodgers-Cromartie on DeSean Jackson in a showdown between the former teammates and a rematch of several thrilling Training Camp one-on-ones in years past. Though Rodgers-Cromartie should have over-the-top help from safety Rahim Moore, it will be his primary responsibility to contain one of the league's most dynamic playmakers. After the loss to the Chiefs in which Jackson was held to just three catches, expect the Eagles to find more ways to get their explosive playmaker the ball.
Outside Linebackers Trent Cole and Brandon Graham vs. Left Tackle Chris Clark
While the most publicized concern is what will happen with Peyton Manning going against the Eagles' struggling secondary, the defense must get pressure on the Hall of Fame quarterback in order to slow down the Broncos' prolific passing offense. Manning thrives on quick throws, so Eagles defenders will have to be disciplined and solid as tacklers in order to minimize yards after the catch. If Manning is allowed to comfortably sit in the pocket and go through his progressions, he will pick apart any defense. The Broncos' offensive line has allowed only four sacks so far, the third fewest in the league, but will be missing All-Pro left tackle Ryan Clady, who is done for the season with a Lisfranc injury. His replacement, Chris Clark, is a five-year veteran who now has to protect Manning's blind side and just made his first ever start at left tackle against the Raiders, surrendering the only sack of the game. Trent Cole and Brandon Graham must take advantage of this matchup, generate significant pressure and get Manning off his game if the Eagles defense is to have any success.
Lane Johnson, Right Tackle, No. 65
The fourth-overall pick in the this year's draft got off to phenomenal start against the Washington Redskins, and was the highest-rated rookie tackle for week one, according to Pro Football Focus. Since then, Johnson has looked more like a rookie. He's committed some costly penalties and has missed a few blocking assignments. Johnson has the opportunity to put that all behind him and get back to that top form against a Broncos defense that is without Von Miller, one of the best pass-rushers in the game.
Mychal Kendricks, Linebacker, No, 95
Like Johnson, Kendricks was terrific in the Eagles Week 1 win, recording 10 combined tackles (including one for loss) and recovering a fumble. Kendricks continues to lead the Eagles with 27 combined tackles, but his play has not been as smooth as it was in the opener. Against San Diego and Kansas City, Kendricks displayed great pursuit to the ball, but on occasion his over-pursuit has led to missed tackles. Kendricks will need to have a great game both in coverage, when he is matched up against Julius Thomas or even Welker, and in rushing Manning.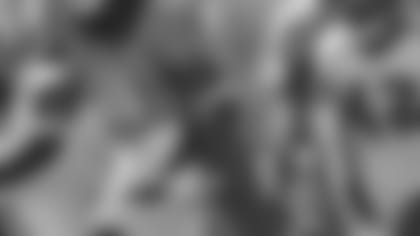 Trindon Holliday, Returner, No. 11
Holliday spent his first two-plus seasons in NFL limbo. After being placed on injured reserve during his rookie season of 2010 and then spending the majority of his time on the Houston Texans practice squad, Holliday was claimed off waivers by the Denver Broncos in October of last season. That signing has certainly paid off for both Holliday and the Broncos in the months since. After joining the Broncos prior to their Week 6 game, Holliday led the NFL in 2012 with an average of 32.5 yards per kickoff return. He came up big in the playoffs as well, recording the longest punt return in NFL postseason history (90 yards) and the second-longest kick return (104 yards), with both coming in Denver's divisional round loss to Baltimore. Holliday's blurring speed can change a game's momentum at any time and he already has one punt return touchdown to his credit in 2013. After a strong early start, Dave Fipp's coverage units took a small step back last week against the Kansas City Chiefs and now rank 20th in kickoff return coverage.
Derek Wolfe, Defensive End, No. 95
As mentioned above, the Broncos are without their best pass-rusher. In Von Miller's absence, Wolfe may be the player who steps up. Though designated pass rusher Robert Ayers leads the Broncos with 3.0 sacks, Wolfe is the man to watch in the middle as he creates interior pressure. After a strong rookie season in which he racked up six sacks and started all 16 games, Wolfe is an emerging stalwart on the Broncos defense. Through three games this season, he has been held without a sack, so expect Wolfe to be on the prowl come Sunday afternoon.