We all know Chip Kelly's offense can score. Last season, the Eagles set a club record by rolling up 442 points. But even Kelly will have to go some this week to top the highest-scoring regular season opener in Eagles history.
In 1947, the Eagles kicked off the season with a 45-42 win over Washington. It was the highest-scoring opener in NFL history. The two teams combined for 12 touchdowns which set a league record. It was a wild affair that included two kickoff returns for touchdowns, one by each team.
The game marked the NFL debut of Pete Pihos, a two-way end who had a Hall of Fame career in Philadelphia. He wasted no time making an impression, catching two touchdown passes from quarterback Tommy Thompson delighting the 35,406 fans at Municipal Stadium.
Washington's Sammy Baugh threw five touchdown passes and recorded the 1,000th completion of his career that day, but he could not overcome the Eagles' offense which was led by halfback Steve Van Buren who scored two touchdowns, one on a 95-yard kickoff return.
"We gave the fans their money's worth," Thompson said.
Coach Greasy Neale had waited two years for Pihos, a 6-foot-1, 215-pounder from the University of Indiana. Neale selected Pihos in the third round of the 1945 NFL Draft even though Pihos was still in Army. He had earned a battlefield commission serving under Gen. George Patton in Europe. There was no assurance Pihos would even resume his football career after the war. Neale was willing to take that chance.
"I can wait for a player like Pihos," Neale said.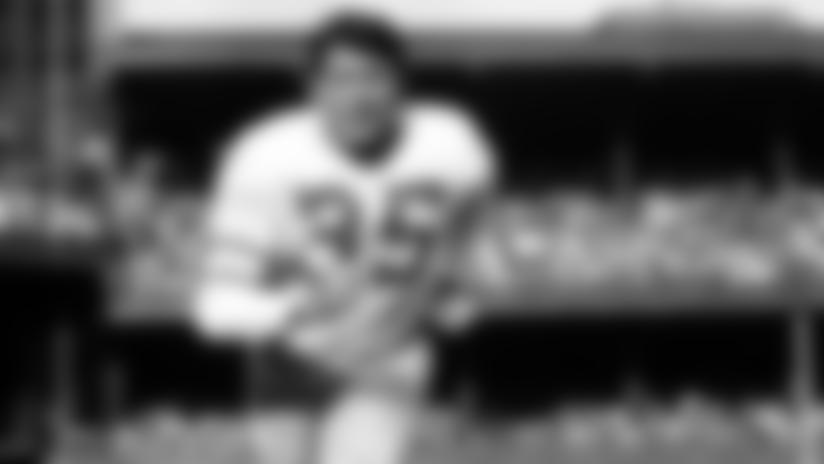 It proved to be a wise move because Pihos, after winning five combat medals and surviving some of the bloodiest fighting in the war, was only too happy to return to the football field. In college, he played fullback and defensive end and was an All-America selection at both positions. When Pihos joined the Eagles, Neale made him a pass catching end.
Pihos wasted no time showing what he could do, catching five passes and scoring two touchdowns in the opening day win over Washington. Pihos led the Eagles in receptions in eight of his nine pro seasons. The only year he missed was 1952 when the coaches moved him to defense. Pihos went back to offense the following season and led the NFL in receptions the next three years in a row.
It seems odd to say that a player who is in the Hall of Fame is underrated, but Pihos really is. When Eagles fans talk about the great players in team history, they always mention Van Buren, Chuck Bednarik, Tommy McDonald and Reggie White as they should. But Pihos is seldom discussed and that's unfortunate because he belongs in the conversation.
Pihos played in six consecutive Pro Bowls. In Eagles history, only Bednarik (eight), White and Brian Dawkins (seven) have more Pro Bowl appearances. Pihos missed only one game in nine seasons. He is the only Eagle to lead the league in receptions more than once. Even now, 60 years after his retirement, Pihos still ranks fourth in team history with 373 catches and 61 receiving touchdowns, remarkable totals when you consider he played in an era of 12-game seasons.
In his book Pro Football's 100 Greatest Players, George Allen, the Hall of Fame coach, called Pihos "the first great tight end." Allen wrote: "(Pihos) was no giant, but he was big enough. He was no sprinter, but he was fast enough. He was extremely tough and durable and he seemed to me an exceptionally smart player. He never gave an opponent anything."
Pihos surprised the Eagles by retiring after the 1955 season. He had just led the league in receptions for the third consecutive year and at 32 he was still in his prime, but he had an offer to go into business and pro football wasn't paying players, even star players like Pihos, big money in the 1950s. So he walked away.
In a 1981 interview, Pihos talked about a chance meeting with baseball great Joe DiMaggio and how that influenced his decision to retire. Pihos said: "I ran into Joe once in Atlantic City. He said, 'Pete, when you retire, make sure you retire on top. Things will be better for you. Don't retire as a has-been.' I always remembered that. I could've played longer but I chose to retire on top."
An award-winning writer and producer, Ray Didinger was inducted into the Pro Football Hall of Fame in 1995. He has also won six Emmy Awards for his work as a writer and producer at NFL Films. The five-time Pennsylvania Sportswriter of the Year is a writer and analyst for Comcast SportsNet. Didinger will provide Eagles fans a unique historical perspective on the team throughout the season for PhiladelphiaEagles.com. You can read all of his Eagles History columns here. He is also the author of The New Eagles Encyclopedia, which is already among the hot sellers on Amazon.