The last time the Los Angeles Rams played a regular-season game in Philadelphia, Ronald Reagan was president, Wilson Goode was in his second term as mayor, and Phil Collins was everywhere on the radio. It was November 6, 1988 and the Eagles were on their way to an NFC East Division title under coach Buddy Ryan.
The Eagles won the game, 30-24, defeating the Rams behind the stellar play of Randall Cunningham who threw three touchdown passes, two to tight end Keith Jackson, and another superb performance by the defense led by Reggie White (two sacks) and Jerome Brown (one sack, one interception). Ryan's defense intercepted Rams quarterback Jim Everett four times in the victory.
But the day was memorable for another reason: a celebration of the Eagles 1949 NFL Championship team. Forty years had passed since those Eagles led by Hall of Fame halfback Steve Van Buren and a rookie linebacker named Chuck Bednarik defeated the Rams 14-0 in a rain-soaked title game at the Los Angeles Coliseum.
The Eagles brought back all the living members of that team for a weekend reunion that culminated with a halftime tribute at the Vet. The highlight was the sight of Van Buren in his number 15 jersey, long since retired by the team, walking onto the field to join his teammates. It was just three months after he suffered a stroke that almost took his life at age 67. He was hospitalized for two months and doctors said there was a good chance he would be paralyzed. However, he vowed to attend the reunion and when he was introduced at halftime he would walk on the field. No wheelchair, no cane. He would walk out there on his own just like always. He did it, too.
"There were a lot of guys with tears in their eyes," said Al Wistert, the All-Pro tackle and team captain who was the first to greet Van Buren at midfield. "Steve was the heart and soul of our team and he was our heart and soul today."
"I knew Steve would not come back in a damn wheelchair," said Pete Pihos, the Hall of Fame end. "He's got too much pride for that. The only way he would come back was if he could walk, so I'm sure that pushed him. Steve is a champion. That's how he played and you don't lose that."
"I wasn't going to miss this," Van Buren said. "I told the doctors I was knocked down plenty in my day but I always got up and I was getting up this time. I haven't had a drink or a cigar in two and a half months. I gave up chewing tobacco, too, and I used to go through a pack a day. I'm on a restricted diet."
"I'm taking better care of myself now than I did when I played," he said.
The story of Van Buren's stroke made all the papers, so the 65,264 fans at Veterans Stadium greeted his appearance with a standing ovation. He acknowledged the cheers with a wave and a smile as highlights of the '49 NFL Championship Game played on the scoreboard.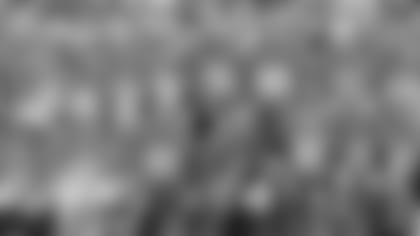 It was arguably the greatest game of his career. He carried the ball 31 times for 196 yards, an NFL playoff record that stood for more than 30 years. After the game, Clark Gable, Hollywood's biggest star, came to the Eagles' locker room to offer his congratulations. "You're the greatest athlete I've ever seen," Gable said. Van Buren thanked him.
When Gable walked away, Van Buren asked a teammate. "Who's that guy?" The other players laughed about that for years.
"Steve didn't get out a lot, obviously," Wistert said.
For those two seasons, 1948 and '49, the Eagles dominated pro football. They won 22 of 26 games, including the two championship games against the Chicago Cardinals (7-0) and Rams. The players who returned to Philadelphia that weekend for the reunion spent hours talking about those seasons and what great fun they were. They are still the only team in NFL history to win back-to-back championship games by shutout.
"We were the first (Eagles) team to enjoy any success and the city really got behind us," Wistert said. "Old Original Bookbinders, the fancy seafood restaurant, made us a deal: Every time we got a shutout, we ate for free. Not just the players but the wives, our kids, everybody. You don't think that was motivation? At halftime, if we had a shutout working, guys would be talking about those lobster tails.
"Back in those days, we weren't making much money so a free dinner really meant something."
It was a different time, all right. The Eagles traveled to Los Angeles by train to play the 1949 championship game. Coach Greasy Neale was afraid to fly so the Eagles rode the rails from Philadelphia to Los Angeles. It took three days. They passed the time by playing cards and thinking about how much money they were going to make playing the championship game in the 100,000-seat Coliseum.
"They were talking about the biggest live gate in league history," said Bosh Pritchard, Van Buren's backfield mate. "We were thinking, 'Oh boy, we could get five or six thousand (dollars) apiece for this.' We each made fifteen hundred the previous year (the winner's share for the '48 title game in Philadelphia) so this was gonna be like hitting the lottery. Our wives were already going out and buying fur coats."
Shortly after the Eagles arrived in Los Angeles, it began raining and it rained for three days straight. On gameday, the Coliseum was three-quarters empty, so the payoff was a soggy disappointment.
The players consoled themselves with winning a second NFL Championship as Van Buren proved beyond all doubt he was the NFL's reigning superstar.
"Steve was hell on a leash that day," Pihos said. "His stamina was unbelievable. How he kept going in those conditions, I'll never know. The mud was up to our ankles. It was like running in glue."
As the halftime ceremony ended, the '49 champs were going up the tunnel as the current Eagles headed for the field. Alex Wojciechowicz, wearing his number 53 jersey, was clapping his hands and yelling at the players. "Let's go, you guys," he barked. "C'mon, pick it up."
Keith Jackson asked a bystander, "Who's that guy?"
Told Wojciechowicz was a center and linebacker on the '49 championship team, Jackson asked: "Was he any good?"
"He is in the Hall of Fame," came the reply.