Greg Brown ranks sixth on the Eagles' all-time sack list. His 50.5 sacks put him just behind Brandon Graham and just ahead of Fletcher Cox, so he is in pretty good company.
Yet even in Philadelphia few fans remember Greg Brown. That's because the 6-5, 265-pound defensive end played in those dreary years from 1982 through '86 when the Eagles were an NFC East bottom-feeder. It is too bad because he deserved better.
Brown, who died Saturday at age 63, was a great story, a hard hat who literally walked off a construction site and into the National Football League.
In the spring of 1981, a University of Illinois coach, John Teerlink, was stopped at a traffic light in Washington, D.C. He was in town on a recruiting trip and this big guy carrying a lunch pail walked in front of his car.
Teerlink recognized Brown as a kid he had coached two years earlier at Eastern Illinois. He honked his horn and waved. Brown hopped in the car. Over dinner, Brown told Teerlink he was making $13.50 an hour working construction. Football, he said, just never worked out.
Teerlink asked Brown if he'd like to try pro ball. Brown said, sure, but who would take a chance on a guy who hardly played at all in college? Teerlink said he would make a few calls. He also slipped Brown $50 and told him to eat a few steaks.
"I didn't get my hopes up," Brown said. "I knew it was a long shot. But I did pray on it some."
Teerlink called John Rehfield, a former Illinois assistant who was working in the Eagles' personnel department. He told Rehfield this kid Brown was worth a look. Because Teerlink had an NFL background – he played five seasons with the Chargers – the Eagles trusted his judgment. They offered Brown a free agent contract.
A week later, Brown turned up at the door of Chuck Clausen, the Eagles' defensive line coach. Clausen's reaction: "I thought, 'My God, what have we done? This poor guy is gonna get killed.'"
It seems the 250-pound prospect Teerlink had described on the phone was, in fact, 220 pounds. Clausen introduced Brown to personnel director Lynn Stiles, who looked the kid up and down and decided to double his bonus as an act of charity.
"We were gonna give him $500," Stiles said, "but I thought, 'Naw, I'll give him $1,000. He deserves it for the beating he's going to take."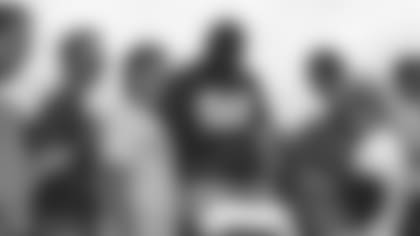 At the spring minicamp, Brown shocked the coaches with his quickness and instincts. "He reminded me of a young Carl Hairston," Clausen said, "except for one thing. Carl was 40 pounds heavier."
After the two-day session, Clausen told Brown he had NFL ability but he didn't have NFL size. He told Brown he was welcome to come back for Training Camp but he recommended Brown hang onto his union card.
Brown was undaunted. "I remember telling him, 'Coach, you let me in the door. Nobody's gonna get me out now.' I was gonna do whatever I had to do to make the team."
Brown beefed up on potatoes and bread and reported to summer camp at 235 pounds. It was better but still 20 pounds lighter than the next lightest defensive lineman. But Brown lifted weights and ate more than any three players in camp. He was, in fact, the only player ever to gain weight during a Dick Vermeil Training Camp. He finished the six weeks at 248 pounds.
Brown made the team as a pass-rush specialist and in his first regular-season game he had two sacks and five hurries in a 24-10 win over the New York Giants. He was awarded a game ball which he turned over to his mother who came to the game. It was the first time she had ever seen him play in person.
"She said, 'Does this mean you get to play again next week?'" Brown said. "I told her, 'Yeah, mom, I'm pretty sure it does."
Brown played six seasons with the Eagles and in those six seasons, he had more sacks than any other NFC player with the exception of Washington's Dexter Manley and the Giants' Lawrence Taylor.
He was one of those feel-good free agent stories that comes along once in a great while, a cheerful guy who appreciated his opportunity to play in the NFL but never lost touch with his blue-collar roots. All the while he was earning an NFL paycheck, he continued to pay dues to the construction union back home.
In 1982, when the NFL players went on strike for two months, Brown picked up his hard hat and went back to work.
"I asked around if there was any part-time work," he said. "You'd be surprised how much you can find if you want to. I laid carpet. I moved furniture. I installed windows. I did renovations in some old houses. It wasn't any big deal. I'm used to working. I worked all my life.
"Construction is good work but football is a labor of love."
Brown finished his NFL career with two seasons in Atlanta. Despite posting 29 sacks between the 1984-85 seasons for the Eagles, Brown never earned an invite to the Pro Bowl.
Brown is survived by his wife, Valerie, four children – three sons: Maurice, Gregory Jr., and Michael, and a daughter: Kasha, and nine grandchildren.