When the Eagles signed Jeff Garcia in 2006, it was not a popular decision. Why sign a 36-year-old quarterback whose QB efficiency rating had declined each of the previous five seasons?
No other quarterback in NFL history with a minimum of 150 attempts had a stretch of five consecutive seasons in which his efficiency rating went down every year. Certainly, that was cause for concern.
But I agreed with Andy Reid's decision to sign Garcia. He was coming in as the backup to Donovan McNabb, so he wasn't being asked to carry the load. Also, if anything happened to McNabb, Garcia had experience in the West Coast Offense to come off the bench and run the show.
Garcia wasn't the same quarterback who went to two Pro Bowls as a San Francisco 49er but he didn't have to be. The Eagles had a solid defense and a dynamic offensive weapon in Brian Westbrook. The former Villanova star led the team in rushing (1,217 yards) and receptions (77) as well as touchdowns (11) that season. Garcia didn't have to win games by himself.
"I think balance is essential," Garcia said. "Utilizing Brian the way we have is only going to benefit our passing game. I'm just one of those guys. I'm willing to do anything and everything to win football games. If that means handing it off 40 times, that's because we're being effective."
"You really see his veteran experience come into play," Reid said. "When you lose a quarterback like Donovan, that is not always the case. But in Jeff, you have somebody who steps up and grabs everybody and shakes them a little and says, 'Let's go. We're going to be all right.'"
I believed in Garcia partly because of a conversation I had with Bill Walsh, the former 49ers coach who knew more about quarterbacking than anyone else on the planet. Walsh spent an hour telling me about Garcia. He called him "a blue-collar Joe Montana," which was an enormous compliment.
Walsh talked about a 1993 game in which Garcia, who was then at San Jose State, passed for 380 yards against Stanford. Garcia's team was outclassed but he kept them in the game to the final possession. When it ended, Walsh, who was Stanford's athletic director, ran across the field to shake Garcia's hand.
"I told him I thought he had a great future in professional football," Walsh said. "And I meant every word."
Walsh lobbied to get Garcia an invitation to the East-West Shrine Game where he was voted the MVP. Walsh was stunned when no NFL team drafted Garcia. They wrote him off because of his size (he is generously listed at 6-1) and what they considered an average arm.
He signed with Calgary of the Canadian Football League but Walsh vowed if he ever returned to the NFL, he would sign Garcia. Walsh did just that when he rejoined the 49ers as general manager in 1999.
"He deserved the opportunity," Walsh said. "I was impressed with his quickness, his mobility, and his ability to throw accurately on the move. He could make the intuitive play like Montana. He had a feel for the game that you just can't teach."
Garcia joined Montana and Steve Young as the only quarterbacks in 49ers history to pass for more than 3,000 yards three seasons in a row. He threw for 31 touchdowns in the 2000 season and 32 the following year. It was hard to believe this was the same guy who at various times worked out for Oakland, St. Louis, Jacksonville, Miami, and Green Bay and was rejected each time.
In 2006, Garcia was looking for a job and Reid brought him in.
All he did was save the Eagles' season.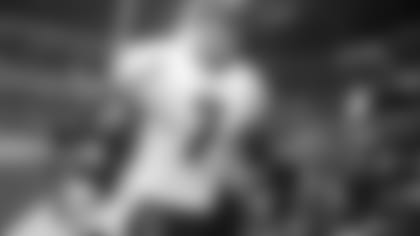 McNabb went down with a torn ACL in Week 10 with the Eagles stumbling at 5-5. Garcia lost his first start to Indianapolis, 45-21, but then rattled off five consecutive wins to put the Eagles in the playoffs.
In his six starts, Garcia completed 116 of 188 passes (61.7 percent) for 1,309 yards. He threw 10 touchdown passes and only two interceptions. His QB rating was 95.8, which was actually higher than McNabb's 95.5.
"It gave me an opportunity to step in and show what I could do," Garcia said. "I was hungry and ready for that chance and ready to lead that team and really take advantage of the opportunity that was being presented to me."
"Jeff is a very fiery guy," said Pro Football Hall of Fame safety Brian Dawkins. "He's in guys' faces sometimes. He wants perfection all the time. With Donovan going down, we needed a guy like that to make sure guys were working the right way."
In the NFC Wild Card game, Garcia threw a 28-yard touchdown pass to Donte Stallworth as the Eagles defeated the New York Giants, 23-20, at a rainy Lincoln Financial Field. He completed 17 of 31 attempts for 153 yards with no interceptions. David Akers kicked a 38-yard field goal as time expired to give the Eagles the victory.
The Eagles were trailing in the second quarter but they scored 17 points on the Garcia pass to Stallworth, a 49-yard touchdown run by Westbrook, and a 19-yard field goal by Akers. Westbrook had a big game, rushing for 141 yards on 20 carries, a 7.1-yard average. He also broke a punt return for an apparent 65-yard touchdown only to see it wiped out by a penalty.
"I'm really enjoying this," Garcia said. "The game wasn't much fun the last few years. It's not fun when you're not winning or having a chance to win. I really started to think about how much I had left in the tank. But when I came here, I felt like we could do big things. I think we proved that today."
An award-winning writer and producer, Ray Didinger was inducted into the Pro Football Hall of Fame in 1995. He has also won six Emmy Awards for his work as a writer and producer at NFL Films. The five-time Pennsylvania Sportswriter of the Year is a writer and analyst for NBC Sports Philadelphia. Didinger will provide Eagles fans a unique historical perspective on the team throughout the year for PhiladelphiaEagles.com. You can read all of hisEagles History columns here.He is also the author ofThe Eagles Encyclopedia: Champions Edition which is in bookstores now.