Eric Allen was inducted into the Philadelphia Sports Hall of Fame last week. Allen was part of a class that included the late Bobby Walston, the former end and placekicker, and brought the number of Eagles in the hall to 19.
Allen was a superb cornerback, a near-perfect combination of physical skill, toughness and intelligence. He wasn't as flashy as Deion Sanders or as intimidating as Ronnie Lott, but he was a key player in Buddy Ryan's Gang Green defense. He was voted into the Pro Bowl five times in seven seasons with the Eagles.
Ryan had Allen on his wish list going into the 1988 draft. Ryan liked what he saw of the 5-foot-10, 180-pound cornerback from Arizona State. There were other blue chip corners in that draft - Rickey Dixon and Terry McDaniel among them - but Ryan felt Allen, with his ability to play bump-and-run, fit his defense the best.
"He was my favorite of all the defensive backs," Ryan said of Allen after selecting him in the second round of the draft. "When I first saw him on film, he just stood out. He plays the game all the way to the hilt."
Allen stepped into the starting lineup as a rookie taking his place alongside Reggie White, Jerome Brown, Clyde Simmons and Seth Joyner on that ferocious Eagles defense. In his acceptance speech at the Hall of Fame dinner, Allen talked about that unit and its larger-than-life personalities.
"When I came in, I was like the little brother," Allen said. "Reggie, Seth, Wes (Hopkins), those were men. They commanded respect. Same with Clyde and Jerome. I looked up to those guys. It was a great atmosphere for a young player because I was surrounded by guys who set that (high) standard every day."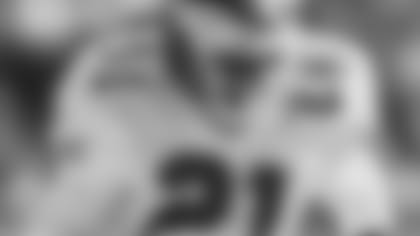 Allen was that rare athlete who combined great physical ability with a great work ethic. He could have done just fine relying on his natural skills. He ran the 40-yard dash in 4.48 seconds and he had a thickly muscled upper body and quick hands which allowed him to control receivers at the line of scrimmage. Many players, blessed with the same skill set, would have just relied on that and done quite well.
But what made Allen special was his willingness to work on the mental part of the job. He was a student of the game. He studied film for hours taking notes on every quarterback and receiver, charting their patterns, their moves, their tendencies. Often when he intercepted a pass it was because he saw something in the how the quarterback positioned his feet or how the receiver lined up. He knew where the ball was going before it was even snapped. At that point, he said, it was just a matter of making the catch.
"When I got to Philadelphia, I talked with all the great cornerbacks," Allen said. "I talked for hours with Roynell Young (the veteran starter). I sought out Herb Adderly (former Packers star and Philadelphia native). I began keeping a notebook on all the receivers and offensive coordinators. I'd run up to Ronnie Lott, Everson Walls, guys like that after games and talk to them about how they play the position. I was like a sponge. I wanted to absorb all the knowledge I could."
It wasn't long before young cornerbacks were approaching Allen after games asking the same questions.
"That was a thrill," he said. "When you earn that kind of respect in this league, it means a lot."
Allen shares the Eagles record for career interceptions (34) with Brian Dawkins and Bill Bradley. He holds the record for most interceptions returned for touchdowns in a career (five), in a single season (four in 1993) and in a game (two against New Orleans on December 26, 1993).
Allen's four touchdown returns in the '93 season tied a league record shared by Jim Kearney of Kansas City (1972) and Kenny Houston of Houston (1971). One of his returns was a dazzling 94-yard run against the New York Jets that was selected for the NFL Films video, "The 100 Greatest Touchdowns of All Time." At the end of that play Allen handed the ball to Randall Cunningham who was standing near the end zone on crutches. The quarterback had broken his leg earlier in the game.
Allen left the Eagles in 1995 to sign with New Orleans. White, Simmons, Joyner and the rest of Gang Green had moved on by then and he, too, felt it was time. He played three seasons with the Saints and then went to Oakland where he played another four years. In all, he played 14 seasons, all as a starting cornerback. I'm surprised - and disappointed - that Allen has not made it to the final 15 in voting for the Pro Football Hall of Fame. Hopefully, he will have his day in Canton because he surely deserves it.
Allen now lives in San Diego but he has fond memories of his time in Philadelphia. He made that clear during his speech last week, thanking the fans for their support. Last year, in an online chat, Allen was asked which NFL cities were the best to play in. He put Philadelphia at the top of his list ahead of Green Bay, Pittsburgh and New York.
"There are heavy expectations placed on the players (in Philadelphia) by some of the most knowledgeable fans in the league," Allen wrote. "It is a great place to play. I consider myself lucky to have played in such a great town."
*An award-winning writer and producer, Ray Didinger was inducted into the Pro Football Hall of Fame in 1995. He has also won six Emmy Awards for his work as a writer and producer at NFL Films. The five-time Pennsylvania Sportswriter of the Year is a writer and analyst for Comcast SportsNet. Didinger will provide Eagles fans a unique historical perspective on the team throughout the season for PhiladelphiaEagles.com. You can read all of his Eagles History columns here. He is also the author of The New Eagles Encyclopedia. Meet Ray this Thursday at 7 PM at Harleysville Books in Harleysville, Pa., or at the Barnes and Noble in Marlton, N.J. on Saturday at 3 PM. *