Devour the Competition is an initiative created by the Flik Hospitality staff to help the players get ready for the game through delicious food. The chefs prepare a meal during the week of the game that is inspired by the Eagles' opponent. As the Eagles get ready to face the Minnesota Vikings on Sunday, the chefs made Smoked Salmon Sandwiches.
What's the connection between salmon and Minnesota? According to the Stevens County Historical Society and Museum, more Norwegians live in Minnesota than any other state in the U.S. Minnesota has been an immigration destination since the early 1800s. Norwegians began to flee overpopulation and poor farming conditions in the mid-1800s. Norway is a dominant producer of farmed salmon.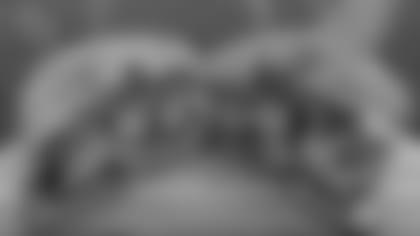 2 tablespoons mustard powder
1 tablespoon Spanish paprika
1/2 tablespoon granulated garlic
1/2 tablespoon dried dill
1 tablespoons dried berries (blueberries, cranberries or cherries), crushed
1 teaspoon each of chopped basil, parsley, and chives
Ingredients for the pickled red onions
2 red onions, thinly sliced
4 ciabatta rolls, split and toasted
2 medium heirloom tomatoes, sliced
Clean the salmon making sure to remove all pin bones and scales. Combine the salt, brown sugar, mustard powder, Spanish paprika, granulated garlic, dried dill, and dried crushed berries in a food processor. Pulse to mix thoroughly. On a large sheet pan, spread 1/2 of the seasoning mixture on top of the salmon – skin side down. Flip over and rub the top side with remaining seasoning. Wrap pan tightly with plastic wrap, then top with another sheet pan.
Place something heavy on top of the sheet pan so that the weight is distributed evenly along the salmon fillets. Cure for 24 hours. Remove the salmon side from the plastic wrap and rinse off. Pat the salmon dry and lay flat on a cooling rack on top of a sheet pan. Place in the fridge and allow to sit overnight. This will help the smoke to adhere to the salmon. When ready to cook, in 250 F smoker, set the salmon fillets skin-side down on the grill. Smoke for 1 to 1.5 hours or until a thermometer inserted into the thickest part of the salmon registers 150 F. Make sure to monitor the temperature closely to make sure it does not get above 160 F.
Remove the salmon and set aside.
Pickled Onions and Herb Mayo
Combine vinegar sugar and salt in a medium saucepan over medium-high heat while salmon is cooking. Cook until salt and sugar are dissolved and pour over sliced onions. Cover and refrigerate at least 1 hour before using.
In a small bowl combine mayo, herbs, salt, and pepper.
To build the sandwich, smear herb mayo on both sides of the ciabatta roll. Layer smoked salmon, pickled red onion, arugula, and tomatoes. Slice sandwich in 1/2 and serve.