Former Eagles defensive end Claude Humphrey and wide receiver Bob Hayes have been selected by the Pro Football Hall of Fame's Seniors Committee as finalists for election into the Hall of Fame with the Class of 2009.
Humphrey and Hayes will join 15 still-to-be-named modern-era candidates on the list of finalists from which the Class of 2009 will be selected. The Hall of Fame selection meeting will be held on January 31, 2009, the day before Super Bowl XLIII in Tampa, Florida. To be elected, Humphrey and Hayes must each receive the same 80 percent voting support that is required of all finalists. The Hall's Board of Selectors can elect a maximum of two senior candidates and five modern-era candidates for a class no smaller than four or larger than seven during next January's meeting.
Both of the senior nominees have been finalists for the Pro Football Hall of Fame in the past. Humphrey was a modern-era finalist three times (2003, 2005 and 2006) while Hayes was the seniors committee's candidate in 2004.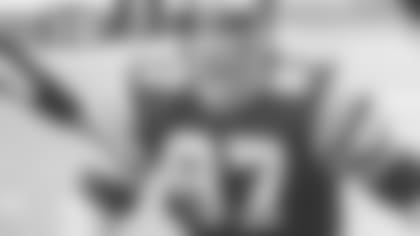 DE Claude Humphrey
Humphrey was selected as the third player overall in the 1968 draft by the Falcons and had an immediate impact in the NFL. Named the NFL's Defensive Rookie of the Year, Humphrey quickly developed a reputation as one of the best pass rushers in football.
Although the sack did not become an official statistic until 1982, Humphrey is unofficially credited as having 122 career sacks during his career with the Falcons (1968-1978) and Philadelphia Eagles (1979-1981).
He was named first team All-Pro in 1971, 1972, 1973, 1974 and 1977. A six-time Pro Bowl selection, Humphrey battled back from a potential career-ending knee injury that forced him to miss the entire 1975 season. He responded by recording a career-high 15 sacks in 1976.
Humphrey capped his career with three final seasons in Philadelphia. In 1980, he led the Eagles with a club-high 14.5 sacks as the Eagles won the NFC championship to earn a berth in Super Bowl XV.
Hayes, who earned the label "World's Fastest Human" during his gold medal-winning performances in track during the 1964 Summer Olympics, took the NFL by storm upon joining the Dallas Cowboys a year later. As a rookie, Hayes led the NFL in 1965 with a 21.8 yards per catch average and scored a league-best 12 touchdown receptions. He recorded 1,000-yard seasons in both of his first two years in the NFL.
A three-time All-NFL pick, Hayes amassed 371 career receptions for 7,414 yards and 71 touchdowns during his 11-season career with the Cowboys (1965-1974) and the San Francisco 49ers (1975). He also returned 104 punts for 1,158 yards and three touchdowns; and had 23 kickoff returns for 581 yards.
Hayes, who passed away on September 18, 2002, played in six NFL/NFC championship games and started in two Super Bowls.
The Class of 2009 will be formally inducted into the Pro Football Hall of Fame during the enshrinement ceremony on August 8 at Canton's Fawcett Stadium.