The clock is ticking, Eagles fans.
On April 30th, the NFL Draft will kick off from Chicago, as NFL Commissioner Roger Goodell announces the latest class of NFL talent. To make sure that you're all set for when the Eagles are on the clock for the first time, we're counting down each day with look at each number from 100-1 and the significance that the number holds in Eagles history.
Without further ado, let's continue the countdown … Connor Barwin had an excellent first season in Philadelphia in 2013. He did a little bit of everything while racking up 82 tackles and endearing himself to Eagles fans with his blue-collar, high-motor style of play.
So what would he do for an encore? Well, in 2014 he had an even more dominant season, posting a career-high 83 tackles and 14.5 sacks. For his non-stop efforts, Barwin earned the first Pro Bowl appearance of his six-year career. His crowning achievement was his month of November, during which he piled up 6.5 sacks and 24 tackles to earn NFC Defensive Player of the Month. First Eagle To Wear No. 83: E Jack Ferrante (1941)
Most Recent Eagle To Wear No. 83: WR Marvin McNutt (2012)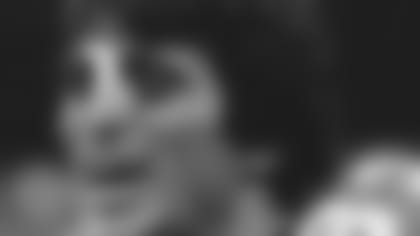 The photo above may not be real (sorry to spill the secret), but the impact that the unheralded Vince Papale had on the Eagles community is as real as it gets.
Papale's remarkable story is that of the local St. Joseph's grab who did whatever it took to find his way onto the roster of his beloved Eagles. While the tale told in the Disney movie Invincible is a bit dramatized, Papale's odds of making an NFL team were always very small. He played two seasons for the Philadelphia Bell of the World Football league where he shined on special teams. Eagles general manager Jim Murray gave Papale a private workout, during which the special teams ace earned an invite to Eagles Training Camp in 1976.
Papale's gritty style and Philadelphia roots made him a huge hit amongst Eagles fans, and he remains so to this day. Papale played three seasons for the Eagles, primarily as a special teams player.