On April 30th, the NFL Draft will kick off from Chicago, as NFL Commissioner Roger Goodell announces the latest class of NFL talent. To make sure that you're all set for when the Eagles are on the clock for the first time, we're counting down each day with look at each number from 100-1 and the significance that the number holds in Eagles history.
Without further ado, let's continue the countdown… The last two times the Eagles have held the No. 2 overall pick in the NFL Draft, they've come away with two Eagles Hall of Famers.
Tackle Bob Brown was taken out of Nebraska second overall in 1964, earning All-Pro honors in seven of his ten NFL seasons. More recently, the Eagles landed Donovan McNabb with the second pick in 1999, changing the future of the franchise and leading the Eagles to one of their most successful decades in team history. First Eagle To Wear No. 2: E Joe Pilconis (1934, 1936-37)
Current Eagle Wearing No. 2: QB Matt Barkley (2013-present)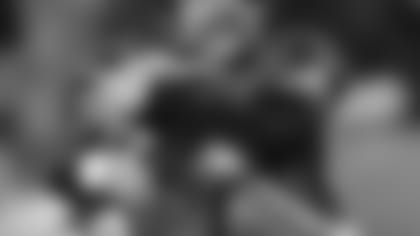 The life of an NFL kicker can be a difficult one. One missed field goal in a big spot can make a kicker an easy scapegoat, and as a result, it's often difficult for kickers to stick with one franchise for an extended period of time. So when David Akers joined the Eagles in 1999 after bouncing around with Atlanta, Carolina and Washington, expectations for Akers weren't very high. But the Eagles claimed him off of waivers and allocated him to NFL Europe. Soon after, he won the starting job for the Eagles in 2000 and went on to hold that spot for the next 10 seasons.
As an Eagle, Akers made the Pro Bowl five times (2001-02, 2004, 2009-10). Four times he was named NFC Special Teams Player of the Month, and his name can be found all over the Eagles' record books. No one has played more regular season games in an Eagles uniform than Akers, who suited up in midnight green 188 times. Akers' 294 made field goals are also the most ever by an Eagle. He finished his career with the Eagles as the team's all-time leading scorer, with 1,323 points. From 2000 to '10, no NFL player scored more points than Akers, and as a result, he was named to the NFL's All-Decade team for the 2000s.
Akers left the Eagles as a free agent after the 2010 season, signing with the San Francisco 49ers. In two seasons with the 49ers, Akers added another Pro Bowl appearance, while setting all-time NFL single-season records in 2011 with 44 made field goals and 166 total points. After two seasons with the 49ers, Akers played for the Detroit Lions in 2013.