The first meeting, like most between the Eagles and the Giants, was a one-possession game that came down to the final moments. The Eagles were unable to convert a fourth-and-1 situation and that, combined with a Giants offense that squatted on the ball for over 39 minutes, allowed New York to escape with a 36-31 win. In the three games since, the Eagles have struggled through two tough performances against the Bengals and the Ravens before cooking the Cardinals on Thanksgiving night. To keep their playoff hopes alive, the Eagles need to exact revenge in the rematch. It's hard to sweep a season series against a division rival. The Eagles can't afford to let that happen ...
It's supposed to be cold and windy at Giants Stadium, smash-mouth football weather which immediately seems to favor the Giants, the NFL's top-ranked running team.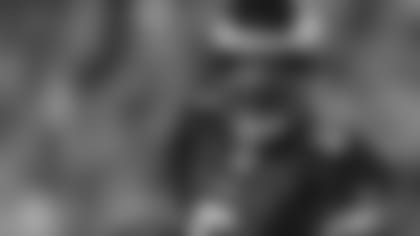 QB Donovan McNabb
Head coach Andy Reid said Friday that his offense is best when it's able to balance itself between the run and the pass. Conditions like Sunday's tend to suggest that the Eagles will have to run the ball more consistently than they did in a 36-31 loss to the Giants Nov. 9 at Lincoln Financial Field.
Brian Westbrook has been held out of practice for most of this week for precautionary reasons. But Correll Buckhalter remains doubtful with a knee injury, meaning we could see more of Lorenzo Booker and Kyle Eckel, who both played well in Buckhalter's stead against Arizona last Thursday.
An effective running game could help quarterback Donovan McNabb open things up even in the wind. Coaches said that McNabb will have a smaller, four-man receiver rotation this week, much like the one featured against the Cardinals.
While Andy Reid's motion to bench Donovan McNabb in Baltimore garnered most of the publicity in Philadelphia for the past few weeks, McNabb was back and starting just four days later.
But one move coaches have made stuck – the decision to start Akeem Jordan at weakside linebacker over Omar Gaither.
Jordan replaced Gaither midway through the Eagles' previous matchup with the Giants. And though Gaither started the next week in Cincinnati, Jordan took over the starting reigns in Baltimore and has yet to relinquish them.
"I just wanted a little bit more production out of there. Not that Omar was doing that bad, I just thought we needed a little bit more speed at that position," defensive coordinator Jim Johnson said. "For the coverage part of it, I thought (Jordan) was a better cover guy in certain games and I'm very happy with the way he's performing right now."
It was surprising in that Gaither, one of the defense's vocal leaders, was taken out, but Jordan has responded. He led the team in tackles against the Ravens and added four more last Thursday against the Cardinals.
Gaither made the switch from middle linebacker to weak side this season to make way for the emergent Stewart Bradley, who looks as if he has a stronghold on that job.
Jordan's speed allows Johnson to be a bit more flexible in coverage, especially against a team with a strong tight end, as the Giants have in Kevin Boss.
"(Gaither) might get his chance again, there's no question about it," Johnson said. "But right now, we're going with Akeem."
RB Brandon Jacobs
After gashing the Eagles for 126 yards on 22 carries in Week 10, Jacobs has been slowed as of late. Jacobs gained just 73 yards against the Ravens before missing the Cardinals game with a knee injury. He returned to churn out just 71 yards on 21 carries against the Redskins. Defensive coordinator Jim Johnson said the Eagles gained respect for the Giants' running attack after their clash earlier this season. Without Burress, New York may rely on the ground game even more on Sunday.
LB Antonio Pierce
Pierce has always seemed to play well against the Eagles, but his involvement in the Plaxico Burress incident may prove to be a distraction. Pierce was allegedly with Burress at the Manhattan nightclub the night of the incident and will be questioned about his involvement. Pierce paces the Giants with 79 tackles on the season, and is one of the leaders on the team. How he plays will go a long way in dictating how the Giants' defense will play.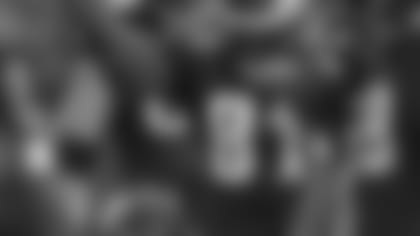 RB Brian Westbrook celebrates
RB Brian WestbrookThe Giants have been victimized by Westbrook repeatedly over the last few years. New York did a good job of bottling up their nemesis in its last meeting, limiting Westbrook to 26 yards on 13 carries. In the Eagles' last game against Arizona, however, Westbrook showed the explosiveness that had been lacking in previous games with a career-high four touchdowns.
RG Nick ColeCole subbed in for the injured Max Jean-Gilles and the Eagles offense continued to run smoothly against the Cardinals last Thursday. This Sunday, Cole will start for the third time in his career - each game against the New York Giants. This time, however, Cole will play the entire game, not just the first series as he did in his first two starts. Cole isn't as tall as the typical guard, but is stout and an effective pass blocker. The question is whether he can beat Barry Cofield and help establish Brian Westbrook's ground game. This is the opportunity the third-year former rookie free agent has been looking for.
KEEP AN EYE ON ... Giants P Jeff Feagles
Didn't he play for the Giants in the 1958 NFL Championship game? No, Feagles isn't quite that old, but the 21-year veteran is as crafty as ever.
Feagles has punted 44 times this season, but opponents have only been able to manage 14 returns. And on those returns, there's not much to be had - the Giants are only surrendering 3.9 yards per punt return.
Field position will be at a premium. The Eagles were able to make the most of it in the first meeting with the Giants as four of their drives started at least their own 35-yard line. In fact, the Eagles' own 35-yard line was their average starting point.
But explosive punt returner DeSean Jackson didn't record a single return in the first meeting. All three of Feagles' punts were intentionally directed out of bounds. The longest punt return against the Giants this season - 21 yards. Watch to see if Feagles boots the ball away from Jackson again, who averages 9.3 yards per return this season. Oh yeah, he also returned one 60 yards and another 68 yards for a score.
Feagles is as good as ever, but with the wind conditions likely to be a factor in Sunday's game the Eagles have to be prepared for a possible mis-hit. The problem is that if anyone knows how to handle the swirling conditions inside Giants Stadium - it's Feagles.