Two teams in need of wins play on Sunday with the winner staying very much alive in the early-season picture and the loser with almost no margin for error the rest of the season. The Eagles have lost two straight games and are searching for answers after a strong start to the season. An inconsistent offense coupled with a defense that has had trouble getting off the field on third down has sent the Eagles tumbling for two successive weeks. We examine the matchup in our Countdown to Kickoff ...
For the first time in three weeks, Brian Westbrook won't be a game-time decision. Unfortunately, he's definitely out. Correll Buckhalter will start at running back. Buckhalter rushed for 66 yards on 16 carries when he replaced Westbrook against the Bears two weeks ago, but he had just two carries for no yards against the Redskins. Buckhalter could find some success against the the 23rd-ranked rush defense in the NFL.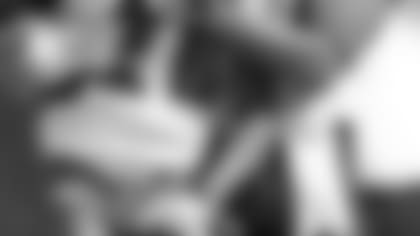 WRs DeSean Jackson and Hank Baskett
Up front, the offense will again be without the services of right guard Shawn Andrews.
Receiver Reggie Brown, who has racked up 10 catches the last two weeks after returning from a hamstring injury, is back to being a spectator. This time, Brown is out with a groin injury. He did not make the trip to San Francisco. Kevin Curtis, however, did make the trip and could see a limited role in Sunday's game. Curtis underwent sports hernia surgery in late August and has yet to play this season.
Defensively, reserve safety J.R. Reed is out with hamstring and ankle injuries. Up front, defensive end Juqua Parker (knee swelling) did not practice all week. However, Parker is expected to play on Sunday, according to head coach Andy Reid. Parker leads the team with 3 ½ quarterback sacks and the 49ers rank last in the league in sacks allowed per pass play.
Parker will join Victor Abiamiri, who will see his first action of the season, on the defensive line. Abiamiri is expected to get about 15 plays as a hybrid end/tackle, a switch necessitated by the move of Dan Klecko back to fullback.
49ers RB Frank Gore: After the game Clinton Portis had last week, all eyes have to be on Gore, who ranks fourth in the NFL in rushing with 423 yards. Upon further review, though, Gore's attempts and yards have steadily dwindled since he exploded against the Lions for 130 yards in Week 3. The Eagles defense, which ranked first in the league against the run entering last week's game, have dropped to eighth.
49ers SS Michael Lewis: Since leaving the Eagles after the 2006 season, Lewis has played in 21 consecutive games for the 49ers. Lewis has registered 42 tackles, a sack and a forced fumble so far this season, including an 11-tackle performance against the Saints in Week 4. Lewis and the Eagles didn't part on the best of terms, so it's only natural that Lewis wants to do particularly well against the team that drafted him.
Eagles WR DeSean Jackson: The rookie returns to his college roots and wants to put on a show against the 49ers. Jackson scored a 68-yard touchdown on a punt return last week and leads the Eagles with 23 catches and 335 yards. However, his receiving production has dropped lately, though, and the Eagles need to find a way to get their play-making receiver the football in space. After back-to-back 100-yard receiving games to open the season, Jackson has seen his numbers dip, including just one catch for 8 yards last week against Washington.
Eagles DE Victor Abiamiri: Defensive coordinator Jim Johnson said this week that Abiamiri, who has been out since late July with a wrist injury, is expected to play 10-15 snaps against the 49ers. Oddly enough, Johnson said that Abiamiri will play defensive tackle for a majority of those plays, which is not Abiamiri's natural position. Whether or not Abiamiri is in game shape, can handle the change in position or if his wrist will hold up is worth watching.
For all the struggles the Eagles have had in recent years, kicker David Akers has always seemed to elude the criticism that goes with losses. But with two alarming games over the past two weeks, Akers has been the center of attention.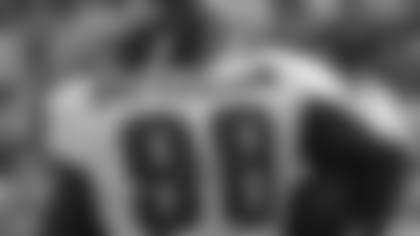 DT Mike Patterson's 98-yard fumble return for a TD vs. SF in 2006
Akers has missed three field goals from longer distances, kicks on which he built his reputation earlier in the decade. It pushed his total on kicks from beyond 40 yards to 3-of-14 since the start of the 2007 season, and both Akers and special teams coordinator Rory Segrest are scrambling for answers.
"The leg strength is definitely there. It's just a matter of working out some technical issues on things," Segrest said. "I feel like he's going to continue to work and we'll get that fixed."
It's true that Akers hasn't been missing his kicks short, but he's still missed on nine potential points in games the Eagles lost by a combined 10. What's more, Redskins kicker Shaun Suisham had a banner day from all distances last Sunday, when Akers missed a 50-yard field goal that would have put the Eagles up 17-0.
Akers – and all kickers, really – has a short memory. But statistics don't. So Segrest knows that, going forward, things have to improve.
"Each time he takes the field, it's a new kick. That's the approach he takes. That's the approach we take. We know that he's got the capabilities to get those kicks made," Segrest said. "Every time he goes out, it's a new situation and we have to go out and make sure that we approach it that way."
KEEP AN EYE ON ... 49ers WR Isaac Bruce
Without a receiver with experience in new offensive coordinator Mike Martz's pass-happy aerial attack, the 49ers inked the 15-year veteran in the offseason.
Bruce, who many thought was on his last legs at the end of his amazing tenure with the St. Louis Rams, continues to thrive in Martz's offense as the starter opposite Bryant Johnson. Bruce has four touchdowns in the past three contests. He is averaging 19.6 yards per catch through five games, with 14 receptions for 275 yards. Bruce had a 63-yard grab as part of a four-catch, 153-yard explosion against the Seattle Seahawks.
The Eagles have, for the most part, done a good job of keeping the opponent's top receiver under wraps this season. Redskins receiver Santana Moss was held without a reception a week ago. Devin Hester did score a touchdown for the Bears, but only had 27 yards receiving. Hines Ward caught four balls for 34 yards but was not a factor for the Steelers. Outside of Terrell Owens' two-touchdown performance, the Eagles secondary has been tight against opposing wide receivers.
Bruce's resume includes eight 1,000-yard seasons. Add in 88 career touchdowns and Bruce will see his name enshrined in Canton someday. But on this upcoming Sunday, the Eagles have to make sure the fluid route runner looks more like the pedestrian receiver who had just 733 yards a year ago instead of the behemoth who had 1,781 yards and 13 scores back in 1995 when Donovan McNabb was still at Syracuse.
Bruce has faced the Eagles seven times in his career, and in five of those games, he has recorded more than 70 yards receiving. He's hauled in three touchdowns in those games, including five receptions of more than 25 yards.
Talk about a contrast. Through their first five games, the Eagles have scored a total of 89 points in the first half and a mere 38 total points over the final two quarters.
Andy Reid and Donovan McNabb joined Bill Walsh and Joe Montana this season as the only first-time head coaches and rookie QBs to join a team at the same time and last into their 10th season as a tandem. This week, they have a chance to move past Walsh and Montana to become the winningest such pair.
With 12 pass attempts and 264 passing yards, McNabb can pass Ron Jaworski to become the franchise leader in both categories. McNabb already owns the team record for completions (2,301) and TDs (177).
RB Correll Buckhalter needs 100 rushing yards to reach 2,000 for his career.
FS Brian Dawkins needs one interception to tie Eric Allen and Bill Bradley (34 INTs) for the franchise lead.
With 17 opening-drive points this season, the Eagles have racked up the 2nd-highest total in the NFL, behind just Dallas (20). They have scored 3 times in 5 games. Since 2000, Philadelphia is 34-9 when scoring on its opening drive.
The Eagles defense has allowed just 3 drives of 10-or-more plays, which is the lowest total in the NFL. Additionally, the defense has forced 18 three-and-outs. Conversely, the 49ers have posted nine drives of at least 10 plays this season, a mark that ties for the eighth most in the NFL. San Francisco has scored on eight of nine of those drives.
Third down has been an issue of late for Jim Johnson's defense. In Chicago, the Bears converted 7 of 17 third downs and then the Redskins converted 11 of 19 chances on third down – plus a fourth-down conversion – to keep the Eagles defense on the field.
The 49ers rank among the top NFL teams for starting field position following kickoffs. In addition, San Francisco's three returns of more than 50 yards rank tied for first. Former Eagle Allen Rossum leads the NFC with a 28.9-yard average on kickoff returns.
San Francisco RB Frank Gore enters this week's game ranked first in the NFL with 603 total yards from scrimmage.
The 49ers have 10 completions of over 25 yards, which ranks tied for seventh in the NFL.