With 85 underclassmen invited to the 2014 NFL Scouting Combine, it should be noted that the Eagles have selected eight such players in their 49 total picks over the last five years – tight end Zach Ertz and defensive linemen Joe Kruger (2013); defensive end Fletcher Cox, guard Brandon Washington and running back Bryce Brown (2012); running back Dion Lewis (2011); wide receiver Jeremy Maclin and running back LeSean McCoy (2009). As you can see, the results for the Eagles when selecting underclassmen have been overwhelmingly positive.
Ertz, the former Stanford standout, had a tremendous second half of the 2013 season after starting slow and showed what kind of mismatch weapon he can be for Chip Kelly's offense moving forward. He has the skills of a wide receiver in a tight end's body, is a tremendous route runner with soft hands and displays impressive athletic ability. Ertz developed a strong rapport with quarterback Nick Foles, as well. His rookie stats – 36 catches, 469 yards, four touchdowns – compare quite favorably with some of the best tight ends in the game today, and his upward trajectory is a very encouraging signal for his continued evolution.
Kruger, a seventh-round pick from Utah, suffered a shoulder injury in preseason and was placed on Injured Reserve. The youngest player on the roster (he turns 22 in June), Kruger has the size (6-foot-6), length and athleticism the Eagles desire in their defensive linemen. He got most of his reps in Training Camp at the four-technique (3-4 defensive end), then spent the season rehabbing his shoulder and working to add more weight to his 270-pound frame.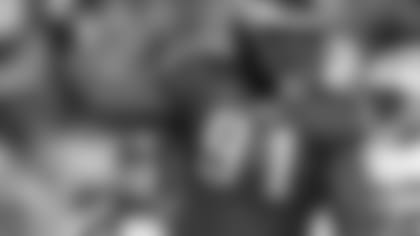 Cox, the Eagles' first-round pick (12th overall) in 2012 out of Mississippi State, just turned 23 in December and is coming off a season where he transitioned from 4-3 defensive tackle to 3-4 defensive end. Though it took some time for him to acclimate to the position switch, Cox had moments of downright dominance and showed the trademark combination of strength and athleticism that makes him so special. According to the team's official stats, Cox finished 2013 with 66 total tackles and led the defense with 21 quarterback hurries. With a year in the 3-4 now under his belt, his increased comfort level in the defense should lead to even more success in 2014.
Washington, an offensive guard from Miami (Fl.), was selected in the sixth round of the 2012 NFL Draft and released during the final round of cuts before the regular season began.
Brown, who was selected with the seventh-round pick the Eagles received from the Atlanta Falcons in return for Asante Samuel, not only made the team – he also made an eye-opening impact with his rare combination of size, speed and power. The Eagles took a chance on the talented running back in part because Bill Snyder, the respected and long-time Kansas State head coach, endorsed his character. Brown, though raw, showed flashes in Training Camp and shined upon starting in place of the injured LeSean McCoy against the Carolina Panthers and Dallas Cowboys in Weeks 12 and 13 of his rookie season.
In fact, he set the Eagles' franchise record for rookie rushing yards in a single game, exploding for 178 and two touchdowns against the Panthers. He followed that performance with a 169-yard, two-touchdown effort against the Cowboys. Though plagued by fumbles as a rookie, Brown showed the potential that made everyone associated with the Eagles excited about his future. He showed some of those same flashes again in 2013, including a 65-yard touchdown run against the Chicago Bears, and did not fumble a single time in 83 total touches, but McCoy was the workhorse and got the majority of the carries. Brown finished with 75 carries for 314 yards and two touchdowns, and eight catches for 84 yards.
Lewis, McCoy's understudy at Pittsburgh, came out as a redshirt sophomore following the 2010 season and was the Eagles' fifth-round selection in 2011. Though short at 5-foot-8, he boasted a thick build (195 pounds) and showed off a slippery spin move to elude defenders. In 24 career games for the Eagles, Lewis carried the ball 36 times for 171 and two touchdowns, to go along with three catches for 21 yards. He was traded to the Cleveland Browns in the 2013 offseason for linebacker Emmanuel Acho.
The Eagles did not draft any underclassmen in 2010, but 2009 saw two underclassmen in Jeremy Maclin (first round) and LeSean McCoy (second round). Maclin was poised for a breakout season under Kelly in 2013 before an unfortunate ACL tear in Training Camp. He will be an unrestricted free agent this offseason.
McCoy, of course, has turned into one of the game's elite, most prolific running backs, wowing everyone with his Barry Sanders-esque ability. He won the NFL rushing title in 2013 with 1,607 yards, an Eagles' franchise record, and also set the franchise record with 2,146 yards from scrimmage. At just 25 years of age, McCoy is 1,066 yards away from breaking Wilbert Montgomery's franchise record for career rushing yards of 6,538. His 4.8 yards per carry is already tops in franchise history among all qualified running backs. McCoy is still in the prime of career and is slated for continued, even greater success in Kelly's offense.
The 2014 NFL Draft is still three months away, but with the robust number of underclassmen available, keep in mind the Eagles' excellent track record when it comes to selecting them.