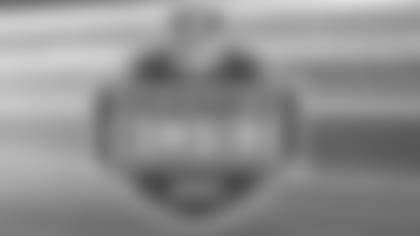 The NFL Scouting Combine begins Feb. 18 in Indianapolis. In the days ahead, we will take a position-by-position look at some of the key storylines to keep track of as the 2009 NFL Draft inches closer. Today, we take a look at running back ...*
1. Let's meet the elite running backs in this year's class.
The Eagles are cetainly going to pick up a running back somewhere between free agency and the draft this off-season. Brian Westbrook turns 30 in September and certainly will need someone to help shoulder the load in 2009. Correll Buckhalter proved that he was more than capable, but he's about to hit free agency and wants to play for a team that will give him a bigger role. Lorenzo Booker enters his second year in Philadelphia and while he'll get every chance to add depth to the position; he wasn't able to make an impact in 2008.
Numerous mock drafts are circulating the Internet and more than a few of them have the Eagles utilizing one of the two first-round picks on a running back. That would be amazing since the Eagles haven't used a first-round pick on a running back since 1986. The Eagles did select Siran Stacy as their top pick in 1992, but Stacy was a second-round selection.
Nonetheless, if the Eagles decide to use one of those top picks to complement Westbrook in the backfield there are some intriguing players who could be available. Pitt's LeSean McCoy, Georgia's Knowshon Moreno and Chris "Beanie" Wells from Ohio State are the three players who likely will go in the first round.
At 5-11, 210 pounds, McCoy is enticing for Eagles fans not just because he gained 2,816 yards and scored 35 touchdowns in two seasons at Pitt. McCoy also caught 65 passes for 549 yards. He was a two-time first-team All-Big East selection. He became just the third Panthers running back to rush for 1,000 yards in a season.
Moreno has virtually the same build as McCoy, just two pounds lighter, and put up identical numbers - 2,734 yards, 30 touchdowns, 53 catches, 704 yards - in his two years of playing at Georgia. A product of Middletown South HS in New Jersey, Moreno finished his career as the state's all-time leading scorer and second-leading rusher.
Unlike the other two, Wells is a bruiser at 6-1, 237 pounds. In 2007, his first season as a starter, Wells had 1,609 rushing yards and 15 touchdowns. An pre-season Heisman candidate, Wells suffered a foot injury in the season opener that limited his production. In 10 games, Wells still went over the 1,000-yard rushing mark with 1,197. He's not a receiver, not the best blocker and has questions about his durability.
2. Who are some of the other bruisers?
South Jersey native Shonn Greene, the 5-11, 235-pound Iowa Hawkeye who helped end the national title hopes of Penn State. A year earlier, Greene was at Kirkwood Community College and this past season he finished second in the nation in rushing with 1,850 yards to go along with 20 touchdowns. In fact, Greene went over 100 yards in each of the Hawkeyes' 13 games this season. The Doak Walker Award winner will be 24 when the season starts, but only has one year as a college starter under his belt.
There's also Rashad Jennings, the 6-1, 234-pound back from Liberty. The two-time Big South Offensive Player of the Year began his college career at Pitt, but transferred to be closer to his father who has diabetes. Jennings rushed for over 1,000 yards for the third straight season in 2008 gaining 1,500 yards. He also caught 24 passes.
P.J. Hill is a good short-yardage runner who gained nearly 4,000 yards and scored 42 times at Wisconsin in three years. At 5-11, 228 pounds, Hill was able to just his power to average 5.1 yards per carry for his career. His best season was in 2006 when he gained 1,569 yards and scored 15 times.
3. Who is this year's Chris Johnson?
At last year's Combine, East Carolina's Chris Johnson was asked to compare his game to a current NFL player. Johnson answered Brian Westbrook. Well, Johnson turned heads with his 4.24 40-yard dash which tied the Combine record. A first-round pick of the Titans, Johnson proved to be more than a Combine workout wonder with 1,228 rushing yards, 260 receiving yards and 10 total touchdowns.
Who is the burner in this year's group?
One of the fastest backs in this year's draft class, Devin Moore of Wyoming, wasn't invited to the Combine.
The player to watch is Texas A&M's Mike Goodson. Limited by amount of reps and injuries in 2008, Goodson only had 406 rushing yards on 94 carries in 2008. But he did catch 37 passes for 386 yards and had three touchdowns. In 2006, Goodson won the Big 12 Freshman of the Year award with 949 rushing yards. In his second year, he scored eight total touchdowns to go along with 711 rushing yards and 361 receiving.
Currently, Goodson is probably slotted as a mid-round pick but if he puts up the fastest 40 time among running backs at the Combine that will surely change.