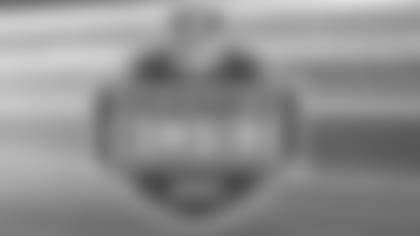 The NFL Scouting Combine begins Feb. 18 in Indianapolis. In the days ahead, we will take a position-by-position look at some of the key storylines to keep track of as the 2009 NFL Draft inches closer. Today, we take a look at the quarterback position ...*
1. Will the No. 1 overall pick be a quarterback?
Eight of the past 11 No. 1 overall selections have been used on a quarterback, with the most recent being Oakland's pick of JaMarcus Russell in 2007. Some of have been very successful, including 1998 No. 1 Peyton Manning and 2003 No. 1 Carson Palmer. Some have not, 2002 No. 1 David Carr and 2005 No. 1 Alex Smith come to mind.
This year, the Detroit Lions own the No. 1 overall selection after the first 0-16 season in NFL history. If the Lions decide to go with a quarterback, the top two - according to NFL Network expert Mike Mayock - are both underclassmen: Georgia's Matthew Stafford and USC's Mark Sanchez. The last time the Lions used a high pick on a quarterback was when they selected Joey Harrington at No. 3 overall in 2002. That didn't quite work out for them.
Stafford is the more accomplished of the two quarterbacks, having thrown for 7,731 yards and 51 touchdowns against 33 interceptions in his three seasons. This past year, Stafford completed 61.4 percent of his passes for 3,459 yards with 25 touchdowns and 10 picks. The 6-3, 228-pound Stafford compiled a 27-7 record as a starter as he led the Bulldogs to their second-straight 10-win season.
Sanchez, meanwhile, only started one full season but led the Trojans to a 12-1 record and a No. 3 national ranking in 2008. Sanchez threw for 3,207 yards and 34 touchdowns against 10 interceptions.
After the success of rookie quarterbacks Matt Ryan (Atlanta, No. 3 overall) and Joe Flacco (Baltimore, No. 18 overall) last year, there will be a close eye on whether someone from this year's crop can help quickly turn around a franchise that has just one winning record this decade.
2. Which small-school players should you get to know?
The aforementioned Flacco led the Ravens to an 11-5 record and a win in the playoffs in 2008. Just a year earlier, Flacco led the University of Delaware to the FCS Championship Game. This year, keep an eye on Ball State's Nate Davis and Sam Houston State's Rhett Bomar.
Davis, a junior, led Ball State to a 12-0 record and a No. 12 national ranking before losing his final two games of the year - to Buffalo in the MAC Championship and to Tulsa in the GMAC Bowl. Davis threw for 26 touchdowns against just eight interceptions as his QB rating was the 13th-best in the country. As a sophomore, Davis set the school records for passing yards (3,667) and touchdowns (30). Davis owns the all-time school records for passing yards (9,233) and touchdowns (74).
Bomar ended up at Sam Houston State after he was dismissed from Oklahoma over a job scandal in which he received money from a Sooners donor for work he didn't actually do which is a violation of NCAA rules. In 19 games at Sam Houston, Bomar finished as the school's all-time leader in passing with 5,564 yards. As a Bearkat, he threw for over 300 yards nine times. He was a two-time all-conference selection and last year was No. 4 in the FCS in passing yards.
3. Who could gain the most from the Combine?
West Virginia's Pat White. The question is whether White wants to be exclusively a quarterback or if he wants to be a jack-of-all-trades like say Washington's Antwaan Randle El. White would be an excellent fit for any team who wants to run the Wildcat formation. This past year, White came just 26 rushing yards short of his third consecutive season with 1,000 passing and 1,000 rushing yards. He finished with 1,844 passing yards, 974 passing yards and 29 total touchdowns against seven interceptions.
Mayock stated that he would use a second-round pick on the 6-1, 192-pound White if you were going to utilize him as a receiver, returner and Wildcat quarterback because of his overall athleticism. However, his size is not typical for an NFL quarterback and he would need time to adapt to a pro style offense after orchestrating a shotgun attack at West Virginia. White ended his career with the most rushing yards by a quarterback in NCAA history with 4,480.
Don't ignore the fact, however, that White became the first quarterback to win four bowl games as a starter and finished sixth in most career victories with 40.
4. Who has to beat the system label?
Texas Tech's Graham Harrell. In the Red Raiders' spread offense which usually utilizes four to five receivers lined up outside at a time, Harrell threw for 15,793 yards and 134 touchdowns during his college career. In the last three years, he has posted the following numbers: 4,555 yards and 38 touchdowns in 2006, 5,705 yards and 48 touchdowns in 2007 and finally 5,111 yards and 45 touchdowns in 2008. This past season, he also completed 71 percent of his passes and had just nine interceptions.
Harrell isn't the first Texas Tech quarterback to thrive in the scheme. The NCAA single-season passing record belongs to former Red Raider B.J. Symons. Who? Symons was a seventh-round pick of the Houston Texans in 2004 and was last found playing in the Arena Football League. A more familiar name to Eagles fans is Timmy Chang. The former Hawaii product set the NCAA record for passing yards in a career with 17,072 running June Jones' run-and-shoot aerial attack. Chang signed with the Eagles as a rookie free agent, but never made the 53-man roster.
The point is that gaudy numbers in college doesn't always mean success in the pros. Harrell will have to prove at the Combine that he has the physical tools and makeup to run a pro style offense.
5. What does this all mean for the Eagles?
If the Eagles keep the status quo at quarterback for the 2009 season, you will have a five-time Pro Bowler in Donovan McNabb, a former top draft pick in Kevin Kolb and a savvy vet in A.J. Feeley.
Doesn't seem like there's a lot of room on the roster for another quarterback?
If the Eagles were to utilize a pick on a quarterback, look for a late-round project. Remember Feeley's first tenure with the Eagles? He was a fifth-round pick out of Oregon after not even starting his senior year. After starting the final six games of the 2002 regular season due to injuries, Feeley was eventually traded for a second-round pick.