Jed Collins has been one of the biggest surprises thus far. Coming in as a rookie free agent, Collins was listed as the third fullback behind Jason Davis and Luke Lawton. But in Thursday's preseason game against Carolina and in practices, he has been running with the first-team offense and more importantly the first-team special teams unit.
Collins opened Thursday's game by tackling kickoff returner Ricardo Colclough which caused many of the people in the Lincoln Financial Field Press Box to say, "Jed Collins?"
"It was definitely a little weight off my shoulders," Collins said about making the early play. "In these preseason games all you can hope to do as a rookie is have a couple plays to show the coaches what you can do, and to open the game with that was definitely pretty exhilarating. It was fun to be able to do that …even though I am not the fastest guy on the field I can go down there and make a play."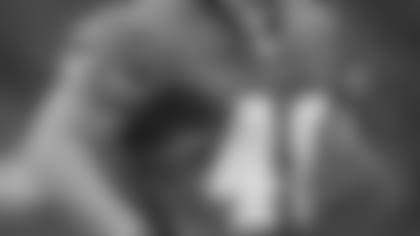 FB Jed Collins
Collins has come a long way since missing two weeks with appendicitis during the OTAs. Being from the west coast, he thought the pain was due to a Philly Cheesesteak. While he was recovering, Collins used the time to study the playbook so once he got back on the field he was able to keep up with everyone.
Not being the biggest, strongest, or fastest is something Collins is used to. Thankfully for him, body measurements are not all it takes to play this game. Collins' increase in playing time means that the Eagles coaching staff have recognized ability, rather than just physical dimensions.
"I never came in expecting to be first string on an NFL team," Collins said. "That's an extreme blessing and opportunity but you know, everybody's told me through college and through high school that I am a football player. I don't have great stats, I'm not fast, I'm not big or anything like that, but put me on a football field and I know what I'm doing out there."
He does have experience playing all over the field. At Washington State, his first two seasons were at fullback and linebacker before switching to tight end prior to his junior year. Collins joked that the reason he has been moved to fullback in the NFL is because he's slow and short. No matter what position he has tried to play though, Collins has got the job done and done it obediently.
"They said toughen up and change positions," said Collins. "I went in as a freshman as a linebacker and they had an open audition for fullback, I went and won that job. Then I realized it was a spread offense and the fullback doesn't get in too much, I took advantage of another opportunity at tight end, just went and won the job out there too."
For his career, the 6-1, 255-pound Collins totaled 80 catches for 899 yards and six touchdowns, while scoring twice on the ground. As a junior and a senior, he started on all four phases of special teams, both punt/kickoff coverage and return units, so most of those positions are common to him.
Regardless of comfort level, Collins pinpointed one characteristic that makes a good special teams player.
"Effort. Special teams is all about effort," he said. "Wanting to do it and getting the job done."
On the opening offensive drive of the Thursday's game, Collins certainly got the job done when he gained three yards while the team faced a third-and-one situation. The converted linebacker/tight end admitted that he was surprised to get a carry against the Panthers. Not only because the Eagles don't use the fullback that often, but he only had about 10 carries in his college career.
"(Running backs) Coach (Ted) Williams again said 'If we ever give you the ball, make sure you return it to the right guy, so that was the first thing that went through my head,'" Collins said. "After that, it was kind of just fall forward."
Brian Westbrook offered the rookie a few simple words of wisdom on his first NFL carry.
"West kind of said 'Play it tough, get in there and get the down,'" said Collins. "I never intended to go in and get the rock but they did it and I think I got the job done. So I hope next time on third-and-short they'll look to me again."
It was overwhelming for the 22-year-old to be in the backfield with Donovan McNabb and Brian Westbrook at first, but now he says that making the team has become his focus. Earning a spot took over any other thoughts running through his mind.