After Monday night's tough loss to the Cowboys, the coordinators have a short week to prepare for the undefeated Pittsburgh Steelers ...
JOHNSON: EXPECT MORE FROM CLEMONS
Defensive coordinator Jim Johnson realizes that his defense didn't play well against Dallas, but he's not ready to pass a verdict on the group just yet.
A tweak here, an adjustment there and the defense should be just fine.
"I don't think you make a full judgment after two games," Johnson said. "The first game, I thought we had good pressure; thought we did a good job. No question about it, the second game, not as good. We had some hurries, a little bit. (Dallas quarterback Tony Romo) scrambled around and made some plays.
"We made some plays on the ball, but we all want more pressure, no question about it. You have to do a better job, but we'll see. We'll evaluate after two or three games coming up and we'll see. We're getting effort and we just didn't have great pressure Monday night, simple as that."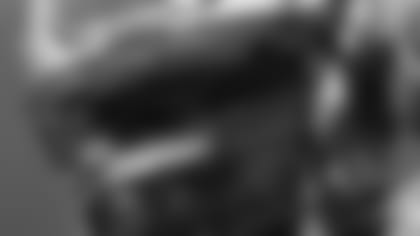 DE Victor Abiamiri
Johnson said injured defensive end Victor Abiamiri is still three to four weeks away from participating in practice and rookie end Bryan Smith is still learning the defense, so neither is the answer right now.
However, Johnson said end Chris Clemons should see more playing time against Pittsburgh on Sunday. In retrospect, Johnson said Clemons should have played more against Dallas.
"We should have probably had him on the field more, but we never got in the nickel situations as much in the second half," Johnson said. "(The Cowboys ran) more first and second down play-action passes that got us."
Still, Johnson fully expects the defense to regroup after Monday night's loss.
"I have confidence in this defense," Johnson said. "I think you've got guys that are flying around. They're working on the turnovers, working on stripping the ball. Like I say, one game doesn't make a season. We didn't play as well, I didn't coach as well, but I think we'll play better."
MORNHINWEG: NEED BETTER EXECUTION LATE
Other than the DeSean Jackson near-touchdown (there's a slight chance you might have heard about that), the most pressing question this week for the Eagles' offense centered around the two-minute drill with the game on the line in Dallas.
With more than enough chances to put away the 41-37 heartbreaker, the Eagles' last three drives stalled with a fumble (which the Cowboys capitalized on for the go-ahead touchdown), a punt and a turnover on downs.
"We need to execute just a little bit better, and I have to do a little bit better job there as well," offensive coordinator Marty Mornhinweg said. "Hopefully we'll win two out of three of those types of games, and things will work out that way."
Mornhinweg pointed out a few specific areas for his offense to improve, notably in yards per carry. With 3.38 yards per carry, the Eagles currently rank 23rd in the NFL, and right guard Shawn Andrews' back injury has him "day-to-day" for Sunday's game against Pittsburgh, Mornhinweg said, providing another potential setback to getting the ground game on the move.
Additionally, tight end L.J. Smith was held without a reception after a five-catch, one-touchdown performance in Week 1.
Still, Mornhinweg also said that the rookie wide receiver Jackson's emergence, despite his gaffe, should allow the Eagles to continue going down the field looking for a big play. Also encouraging is the fact that Philadelphia ranks first in passing yards per game despite missing both Reggie Brown and Kevin Curtis because of injuries.
"(Jackson) got his opportunity and has made the most of it up to this point. And then, he's a natural player. He's smart. He's got instincts. He normally does the right thing. He normally catches the ball pretty well," Mornhinweg said. "He'll get better at that. He's put all of that together here early. Now, the challenge is playing at a high level on a consistent basis every play, every game."
SEGREST: HITTING THE WEDGE
Although special teams coordinator Rory Segrest utilized some of training camp and the week leading up to Monday night's game in Dallas to prepare for the four-man wedge that the Cowboys use, Felix Jones was still able to breeze untouched for a 98-yard kickoff return late in the first quarter.
This came after a week after the Eagles kickoff coverage unit held Pro Bowl returner Dante Hall of the Rams to an average of 18 yards per return.
A four-man wedge you ask? Teams typically employ a three-man wedge to blast open a hole for the returner. The Eagles normally send in two players to blow up the wedge, but against Dallas you have to send a third which is fine as long as you don't allow the wedge to establish a running lane. Akeem Jordan, Tank Daniels and Chris Clemons were all blocked by the wedge to Jones' left on the return and J.R. Reed was double-teamed to Jones' right which created more than enough of a crease.
"Our execution was unacceptable," Segrest said. "It's one of those deals where we went down and we hit the wedge poorly. We lost leverage on the returner there as far as running through where guys are supposed to be, forcing back to their help. It's something we take a lot of pride in is our coverage units there."
Segrest added that there will be no personnel changes for this Sunday's game against the Steelers. First-round draft pick Rashard Mendenhall and Mewelde Moore have combined to average an not-so-spectactular 16.7 yards per kickoff return this season. In case you're wondering, the Steelers man a three-man wedge.