Believe it or not, the Giants are No. 1 in the league in points per game. They're not too bad on defense, as they rank fifth in points allowed per game. It's no surprise that the league's top rushing attack is 11-1. The Eagles can hold their own, however. They are sixth in points per game and 10th in points allowed. Obviously, the Eagles are going to pass the ball more and they rank fourth in passing offense.
Something has to give ... the coordinators break down the action in the Coach's Clipboard.
JOHNSON: NO BURRESS MEANS ...
While the Plaxico Burress incident affecting the New York Giants is unfortunate, it did eliminate one big headache for Jim Johnson and the Eagles' defense.
Burress has absolutely torched the Eagles over the course of his career, especially since joining the Giants.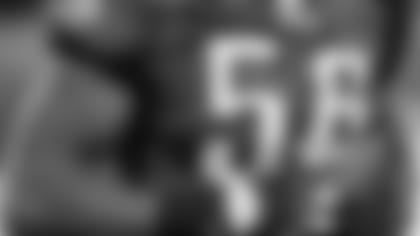 LB Akeem Jordan
In his last six games against the Eagles, including a playoff game in 2006, Burress has a combined 29 catches for 530 yards and six touchdowns.
In their last meeting however, Johnson's game plan was to limit the amount of damage Burress could inflict. Burress finished the game with one catch for 17 yards, but that catch also went for six points in a 36-31 New York victory.
Since the Giants suspended Burress and placed him on the reserve/non-football injury list to end his season, that's something Johnson doesn't have to worry about anymore.
"Plaxico was a guy that you could stop, you could stop and stop, and he gets in the goal line," Johnson said. "The last time we played them he caught one pass and it was a touchdown. That's always been his forte, getting down in the red zone. It probably makes it a little bit different in the red zone more than anything else as far as Plaxico.
"It'll change somewhat, but I think you still have to realize that this team is such a well-balanced team. Just like last week without him, they had a great performance against a good Washington Redskins defense. The biggest factor was Plaxico down in the red zone. That's where he gave us some problems."
Enter Domenik Hixon, who has 26 catches for 373 yards and a touchdown so far this season.
"(Hixon) is a good route-runner. He goes up for the ball. He's got good size. He's 6-foot-2. He's got good speed," Johnson said. "Right now, he's catching everything (quarterback) Eli's (Manning) throwing at him. Actually, he's been very productive the last 2-3 weeks in place of Plaxico. I see him as a legitimate starter right now."
Since the Giants racked up 219 yards rushing on 45 carries, there's probably a decent chance New York will try to pound the ball against the Eagles, especially with Burress' absence.
"They are the best rushing team in the NFL," Johnson said. "I give them credit. (They have) a good offensive line. We have to do some different things and there will be some things done differently.
"I think our guys have a lot more respect for the Giants' running game than before we went against them," Johnson said. "I think their tight end is as good a blocker in the NFL. (Kevin) Boss, I think we were a little surprised the way he blocked our ends. I think we were a little surprised how they ran the ball and I think our team will respond to that."
That's where Akeem Jordan comes in. Jordan replaced weakside linebacker Omar Gaither in the second half of the Giants game earlier this season and made his first start against Baltimore in Week 12 and led the team in tackles. Johnson said he likes the way Jordan handles both tight ends and backs.
"I think Akeem is doing a good job," Johnson said. "I just wanted a little bit more production out there. Not that Omar was doing that bad, I just thought we needed a little bit more speed at that position. For the coverage part of it, I thought he was a better cover guy in certain games and I'm very happy with the way he's performing right now."
He's probably even happier not to have to put a plan in place to stop Burress.
MORNHINWEG: THE DIFFERENCE ... A FOUR-RECEIVER ROTATION
If offensive coordinator Marty Mornhinweg is right, maybe quarterback Donovan McNabb did need a change to get into a rhythm.
McNabb was brilliant in last Thursday's 48-20 walloping of Arizona, throwing four touchdown passes with no interceptions, fresh off the heels of a benching in Baltimore.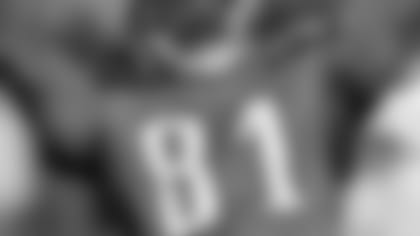 WR Jason Avant
To help McNabb, Mornhinweg and head coach Andy Reid decreased the wide receiver rotation from six players to using mostly four, allowing both McNabb and his targets to establish some chemistry through continuity.
He said to expect more of the same Sunday at Giants Stadium.
"I think that it's a little bit better right now for us," Mornhinweg said. "We did it more by personnel groups, and some of the guys didn't get quite as many plays as they had been getting."
Reggie Brown and Greg Lewis were virtually excluded from the passing game, as most three-receiver sets included DeSean Jackson, Kevin Curtis and Jason Avant, with Hank Baskett rotating in at all three spots.
Over the past several games, McNabb had been plagued with overthrows, underthrows, miscommunication, and throwing ahead of and behind his receivers. This rotation, Mornhinweg said, allowed McNabb to set the foundation for a much stronger rapport with the guys being used, to get the patterns down better and the throws on time.
"There was a time where we were rotating by series a lot of players and especially at the receiver position, and I thought that it hurt our timing just a little bit and it showed up in the games," Mornhinweg said. "I just thought our timing was off just a little bit both in practice and in the game because we were rolling so many guys in there."
The rotation also allows more chances for Jackson, the Eagles' top rookie and leading receiver, to get his hands on the ball.
Jackson's 775 receiving yards are good for 19th in the league, and first amongst rookies.
"It's a unique deal for him and he's taking advantage of it and he's done very well." Mornhinweg said. "DeSean is playing well, extraordinarily well for a rookie, and he can play better and he'll get better every day."
SEGREST: CONFIDENT AKERS BRACES FOR GIANT TASK
David Akers hasn't missed a field goal in almost two months. Well, it was the Oct. 12 game at San Francisco when Donald Strickland returned a blocked attempt for a touchdown at the end of the first half.
Since the block, Akers has made 14 straight attempts. For the season, he's made 86 percent of his field goals missing on just four occasions. He's third in the NFL with 107 points behind the Giants' John Carney (114) and Tampa Bay's Matt Bryant (110). It's the eighth time that Akers has reached the 100-point plateau in his career, only 14 other players in NFL history have accomplished that feat. And entering this Sunday's game at the Giants, Akers is coming off of his fourth double-digit game of the year - a 12-point performance (two field goals, six PATs) against the Cardinals.
"I think Dave has a lot of confidence right now," special teams coordinator Rory Segrest said. "He is hitting the ball really well. He is taking good aim on the ball. I think the snaps and holds have been a lot more consistent. Obviously, this time last year we were still figuring some things out there. I think just the number of reps together with those three guys (Akers, holder Sav Rocca and long snapper Jon Dorenbos) has gotten him to a point where he just feels like every time he goes out he can hit them. He is doing a good job at this point."
This week could provide the toughest test of the year for Akers. Yes, contests between the Eagles and the Giants usually come down to the last drive - so Akers could be called upon to make a last-second field goal for a win or to send the game into overtime. But it's the toughest test because Giants Stadium is a place where Akers has struggled.
In his career, Akers has made just 50 percent of his field goal attempts (8-of-16). But he has hit a 53-yard field goal there, which is his longest against an NFC opponent. His career long was a 57-yarder against New England at Lincoln Financial Field in 2003.
One of the biggest reasons it is so tough to kick at Giants Stadium is the wind.
"I know it's definitely a tricky wind there," Segrest said. "It's usually down at the other end as you come out from the gate that's open there. It's usually coming right back in your face, slightly varying right to left. It's definitely a tricky wind there. Again, it's one of those deals where we just go out pregame and try to figure it out and have a plan once we get in the game."
The key for Akers is to properly make any needed adjustments pre-game and realize that each kick is unto its own.
"I think each and every kick is different," Segrest said. "That's the way we're approaching it this week. The one issue you have up there is the wind. It's always windy in that stadium. I think the main thing is just going out in pregame and putting that behind us and just going out and figuring out what direction it's coming from and what adjustments we need to make and just going out and being able to execute when the time comes during the game."