Here is a look inside the X's and O's of this week's battle against the Chicago Bears courtesy of the Eagles coordinators in this week's edition of Coach's Clipboard ...
MORNHINWEG: PREPARING FOR THE WORST
Marty Mornhinweg knows there's a possibility his offense might be shorthanded when it arrives at Soldier Field, but this time, he plans to be a little bit more prepared.
TE Brent Celek
Brian Westbrook, Donovan McNabb, L.J. Smith and Shawn Andrews all missed practice for the second straight day on Thursday, and their backups have been getting increased reps as a result. Despite the injuries, it's a better situation should the starters not be able to go, Mornhinweg said.
"We just keep practicing, and we prepare," he said. "That was one thing last game, we were down an awful lot of guys and we were scrambling just a little bit personnel-wise with certain packages."
McNabb has said that he expects to play but the other three are far bigger mysteries. Westbrook left Sunday's game on crutches but has been getting around without their assistance this week. Max Jean-Gilles filled in for Andrews and played well against Pittsburgh, so coaches are confident he can step in and provide a similar performance.
And Brent Celek has shown enough to convince Mornhinweg that he can fill in at tight end, too.
"We're a little bit deeper at certain spots. There have been times where we've been banged up and the guys have come right in and played pretty well," Mornhinweg said. "In past years, there were maybe one or two times there that we were just so depleted that we were one-deep there. But yeah, we're pretty deep, and we have some pretty good talent there."
Mornhinweg said banged-up players keep at it in meetings during the week to ensure that they are ready to go if feeling better by game time.
"What we do is establish a plan and then get the fellows that are practicing ready to go," Mornhinweg said. "Then, the guys that are practicing day-to-day, they hammer it mentally so they are ready to go."
JOHNSON: SURE TACKLING A SIGN OF GOOD DEFENSE
It's not very often that a loss sticks in Jim Johnson's craw, but last season's last-second loss at home to Chicago is still quite fresh in his mind.
The Eagles took a 16-12 lead midway through the fourth quarter only to watch Bears quarterback Brian Griese drive Chicago 97 yards in 1 minute, 43 seconds culminating in a 15-yard touchdown pass to receiver Muhsin Muhammad with nine seconds left to give the Bears a 19-16 win.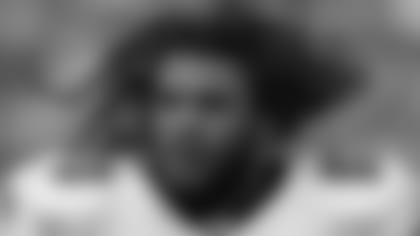 DT Trevor Laws is part of the stout four-man tackle rotation
For Johnson, it showed how quickly things can change in the NFL.
"Yeah, it's one of those things that you'd like to forget, but you have to remember," Johnson said. "You can play a whole game and, all of the sudden, it can come down to the last drive. We had some mental lapses there; you could correct them and still maintain our aggressive play.
"Just like last week, when (now Tampa Bay quarterback Brian) Griese did to the Bears the same thing; people do that once in a while. (When) you need to play in a two-minute situation, you can't play passive. You try to call things so you're not passive. You've got to be aggressive. Hopefully, if that comes up again, we'll be even more aggressive."
For the fourth week in a row, the Eagles' defense faces a quality running back. This time it's Matt Forte, but he's a rookie entering just his fourth regular season contest. Forte is currently fourth in the league in rushing with 304 yards on 74 carries. But the Eagles' run defense has surrendered just 45.7 yards per game, tops in the NFL.
"I think our tackles, all four of them, have done a great job, as far as stopping the run when they're in there," Johnson said. "But, also the linebackers; they're flying around, they're making tackles. A good defensive team doesn't miss many tackles. It seems, right now, although we missed a couple sacks with Big Ben (Pittsburgh quarterback Ben Roethlisberger) last week, we're tackling well. I think that's a sign of a good defensive team."
In all, Johnson likes how his defense is playing right now.
"We're playing good, disciplined football," Johnson said. "They're experienced, our tackles are experienced, our defensive line. We've got some young linebackers, but the biggest thing is that front four staying in their gaps and making sure they know exactly what their responsibilities are. It comes down to that a lot of times."
SEGREST: DANGEROUS WITH OR WITHOUT HESTER
Receiver/returner Devin Hester returned to practice albeit in a limited role on Thursday. Hester continues to battle through the rib injury that kept him out of last Sunday's overtime loss to the Bucs.
Without Hester, the Bears used Danieal Manning on kickoffs and Nathan Vasher on punts. Manning had the Bears' longest kickoff return of the season, a 46-yard return, and averaged 27 yards per return. Vasher returned three punts for 25 yards.
"Both of those guys are very explosive and very dangerous guys back there," special teams coordinator Rory Segrest said. "Whether Hester is back or not, they still have a very explosive return game. We still have to make sure we're sharp in our coverage phases."
It remains to be seen whether the Eagles will employ the same strategy as they did in last year's meeting should Hester play. Basically, they didn't allow Hester to touch the ball. On kickoffs, David Akers hit pop-ups to the upbacks. On punts, Sav Rocca hit three out of bounds and one through the end zone. Two of the punts left the Bears with very favorable field position.
""We definitely won't get into the plan on things. Again, he's a dangerous guy,"" Segrest said. ""We want to make sure he's not putting points on the board. We will do some things, in terms of coverage, to make sure we are getting hats to the ball."
Rocca is certainly a much-improved weapon from his rookie year. He leads the NFL in net average.
"The main thing with Sav is making sure we are getting the distance on the punts but also hanging them up there and not giving (the returner) a lot of space to create some opportunities for himself," Segrest said.