Put 80 players on a field fighting for their professional livelihoods, and someone's bound to get banged up.
The major focus of head coach Andy Reid's press conference Tuesday was the list of injuries the team has suffered through the first week of training camp. Though most remain simply minor kinks, a few have emerged as areas of concern.
Reid updated second-year defensive end Victor Abiamiri's wrist injury Tuesday, saying Abiamiri underwent surgery and an accurate timetable for his return will be determined at a later time.
Dr. John Taras performed the surgery at Hahnemann University Hospital in Philadelphia.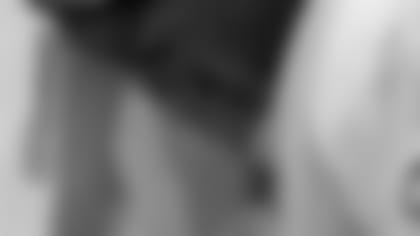 DE Chris Clemons
Head athletic trainer Rick Burkholder said Abiamiri had two screws inserted to fix the dislocated bone in his right wrist. The ligaments around the dislocated bone were also repaired. Burkholder said Abiamiri will miss at least the remainder of training camp, then will be reevaluated.
Burkholder said Abiamiri's timetable for return could be exceptionally wide. He said this particular injury might complicate his return because of the nature of the defensive end position.
"We're going to cut into some of the season, possibly … and then you start talking, 'At what point do you keep him alive on the roster?'" Burkholder said. "I'm not ready to say that it's a season-ending injury, but I'm not ready to say he's going to be ready for the opener, either."
Also, defensive end Chris Clemons was hospitalized with dehydration. Clemons dropped to one knee on the practice field, then was carted back to the locker room. From there, Burkholder's staff called an ambulance when they felt Clemons was not responding adequately to treatment.
Clemons never lost consciousness, and was "stable and responsive" while in the ambulance, Burkholder said.
Clemons was taken to Lehigh Valley Hospital after Tuesday morning's practice because of dehydration and was released on Tuesday evening. He is back with the team at training camp.
While at the hospital, Clemons was also tested for a head injury. Results were negative, Burkholder said. Clemons will be monitored closely before he is deemed safe to return to practice.
Burkholder said several defensive linemen, who are seeing increased reps, had been given internal body temperature monitors, but Clemons was not one of those players. However, he will now be using one when he returns to practice.
"I've been in the league 15 years, and you know when you look at a player, and he doesn't look back at you and can't answer your questions, that it's not normal," Burkholder said. "Here's a guy who knows that he's in trouble, and he can't answer my questions."
Abiamiri had been competing for a starting defensive end spot opposite Trent Cole, but the injury suffered on Sunday morning could prove to be a major setback. Reid said the worst-case scenario for Abiamiri would be a four-month recovery, but that a best-case scenario could not be determined until later.
Additionally, Reid said defensive tackle Kimo von Oelhoffen left practice with an undisclosed knee injury and will be evaluated by doctors. Free safety Brian Dawkins, who caused a bit of a scare when he was slow to get up from a play, slightly hyperextended his knee and returned to practice a few plays later.
Bumps and bruises, Reid said, are unavoidable with three-plus hours of practice every day.
"It's all part of (camp). We don't really have the serious ones, with the exception of Abiamiri," Reid said.
Abiamiri had been playing well, Reid said, and had been looked at to step up in a big way in his sophomore campaign.
In the event of his extended absence, Juqua Parker and Darren Howard should see more reps, and 2003 first-round pick Jerome McDougle could have a much-increased chance to make the 53-man squad. Clemons figures to get involved more, as well, when he returns.
But don't expect Reid to tone down his notoriously tough camps.
"I think if you go all out, you limit your injuries," Reid said. "If you start worrying about pacing yourself, you get hurt. You stand around, you get hurt."
Despite his desire for 100 percent effort, Reid said he wasn't pleased with the fights that broke out in Monday morning's practice.
"I'm not big on fights. We're not boxers. We're here to play football," Reid said. "I'm not going to keep a guy because he's a good fighter.
"Things are going to happen. I understand that. They're hot and tired and irritable. So I understand those things happen. But they're wasting their energy. They're not impressing me."
Reid said that some members of the team have talked to absent guard Shawn Andrews, but he still has no idea when or if the Pro Bowl guard will report to training camp. "I will let you know when I know something on that. I give you my word on that," he said. … Defensive tackle Brodrick Bunkley (shoulder contusion) and safety Marcus Paschal (hamstring spasms) missed the morning practice. Paschal returned in the afternoon. Tight end L.J. Smith (calf) left early. Asante Samuel, Rocky Boiman, DeSean Jackson and Bryan Smith remained on the sidelines with minor injuries.