Lost amid  the debate about who will win the Eagles starting quarterback job are the stories of the fourth and fifth stringers, Dennis Dixon and G.J. Kinne. While both players face steep odds to earn a spot on the 53-man roster, they are grateful for the opportunity to be part of an NFL organization and are intent on taking full advantage.
After a decorated and successful college career at the University of Oregon, Dixon entered the NFL in 2008 as a fifth-round draft pick of the Pittsburgh Steelers. He primarily filled a backup role but made spot starts due to injury before tearing the meniscus in his knee in Week 2 of the 2010 season. Dixon has not played in an NFL game since then and spent 2012 as a member of the Baltimore Ravens practice squad. He signed with the Eagles on February 14, 2013 and reunited with Chip Kelly, who was his offensive coordinator his senior season at Oregon. Even with that connection, Dixon finds himself in a familiar position as he desperately fights for a roster spot.
"I've been accustomed to that my whole life," Dixon said. "I'm always the guy that's always clawing and scratching until the final end. Do the little things, and the big things will follow."
G.J. Kinne originally attended the University of Texas on a football scholarship in 2007, but a jam-packed depth chart prompted him to transfer to the University of Tulsa. After sitting out 2008, Kinne quickly emerged as the starting quarterback for the Golden Hurricanes in 2009, with current Eagles wide receiver Damaris Johnson as his favorite target, and held the job for the next three seasons. Kinne posted the third-most passing yards in a single season in Tulsa football history (3,650) in 2010, guiding his team to a 10-3 record, a Hawaii Bowl victory and the No. 24 ranking in the final AP poll. He finished his college career with 10,831 total yards, 9,472 passing yards and 81 passing touchdowns, all of which rank second all time in program history.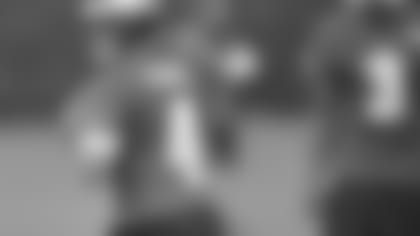 Kinne went undrafted in 2012 but was signed by the New York Jets and spent two months on the roster before being released. He spent the 2012 season with the Omaha Nighthawks of the United Football League and signed with the San Antonio Talons of the Arena Football League in December, before signing with the Eagles on February 28, 2013. As the fifth quarterback on the depth chart and a longshot to make the final roster, Kinne has had to find other ways to contribute and demonstrate his value. One of those ways is on special teams, where he has played some up-back on the kick return unit and outside rusher on the punt block unit.
"I didn't know I was going to (play special teams)," Kinne said. "But I think it's just something to help the team out, and I'm trying to do my best at it … I like it, I get to run around and not have to be a quarterback all the time. I get to do different things, switch it up, and it's fun."
Kinne understands his situation and that his time as an Eagle might be coming to an end soon, but he has cherished learning from and forming camaraderie with the fellow quarterbacks on the roster.
"We have a great room, that's one thing we do have," Kinne said. "We have a great room, everyone tries to help each other out. I couldn't (ask for) a better situation."
Kinne also feels he has learned a lot from quarterback coach Bill Lazor and has become a better player as a result. Now, he is just hoping for some extended reps, preferably at quarterback, in the final two preseason games so he can showcase his abilities on the field in a live action setting.
No matter what happens after Training Camp is over, and no matter where Dixon and Kinne end up (both are practice-squad eligible), each feels he will emerge a better football player because of his experience in Philadelphia.