James Casey joined the Eagles as an unrestricted free agent in March after four seasons with the Houston Texans. He shares the experience of his first season in Philadelphia in an exclusive diary with PhiladelphiaEagles.com.
I treated the first two days of practice as a great opportunity to get a jump start on things and I'm really happy with the way things went. I missed a little bit of work during the OTAs having my knee 'scoped, and I was kind of mad at myself for not being out there with my teammates and working in the heat. I felt like I had to pay my dues a little bit and come out and work with the rookies for two days and get back in the swing of things and feel like I'm part of the team again.
I knocked some of the rust off in these two days and now I'm ready for the entire team to report and to get down to business. I'm excited to show these guys what I can do and how I can help this team win football games.
What happens next is work. That's what it's all about. I hate to sound like a cliché, but that's the truth. I'm all about work. I am entirely focused on football and doing what I can every day to improve. I don't pay much attention to anything else. I don't want to be distracted. I tell my friends that I'm not going to have a chance to get in touch with them. My wife knows that I don't want to handle any bills or anything that might take my mind off my job. Heck, I don't even want to wash my clothes. I just want to make the 53-man roster and play my best football.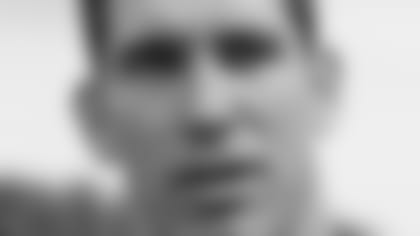 Training Camp is about paying attention to every little detail and getting things right for when the regular season begins. The opener against Washington isn't that far away and I feel like I need to master every responsibility I have in time for that game, whether it's blocking, running routes, catching the football or playing on special teams.
I love the intensity. I love the focus. Football is very special to me and having this opportunity is something I'm embracing. I know that I'm going to fit into this offense and I want to contribute in every way I can. I spent four years in Houston and it was great, but I want to have as much of an expanded role as the coaches think I can handle.
The mental part of Training Camp is probably the most taxing, although camp is also extremely tough physically. It's amazing what your body can do when asked to go beyond what you think are your limits. Mentally, you have to make sure you are tough enough not to break. You have to minimize your mistakes and keep your focus and understand that you can't get too high or too low.
I am one of those guys who is all football. I'm either taking care of my body or watching film or doing anything I can to be a better player. It's a kind of intensity that I love and treasure, because this game isn't going to last forever. As long as I'm in the league, I'm going to give it everything I can to get better.
To that end, hydration is a huge part of things. I can't even quantify how much water or Gatorade I drink, because it's constant. In my former life, in Houston, I would take an IV every day before practice just to make sure I didn't have any problem with hydration. I'm sure that the training staff does that here, but I know that our team takes hydration very seriously and that it's at the top of my mind every day.
Keeping my weight is a focus. I tend to lose 5-7 pounds every practice, so I have to keep drinking water and keep my body weight where it needs to be. I will play at 245 pounds, maybe 240, and I'll be at my best.
I'm looking forward to seeing everybody when the whole team reports on Thursday and then getting out on the field together on Friday. It's going to be rough and demanding, and I'm really excited to get it going all out.