Cornerback Cary Williams understands the hard work and sacrifice it takes to be successful in the NFL. Once a seventh-round pick of the Titans in 2008, Williams persevered to become a starting cornerback for the Super Bowl champion Baltimore Ravens and then a free agent signing of the Eagles.
Williams has not missed a game in the past two seasons as the Ravens have played in two AFC Championship Games and this past season's Super Bowl. In 2009 and 2010, Williams was a role player for the Ravens as they reached the Divisional Round of the playoffs in each of those campaigns.
Fully aware of the dedication it takes to survive the grind of training camp, preseason, regular season and the postseason, Williams chose to miss the Eagles' voluntary Organized Team Activity last Friday. It wasn't just because he wanted a day off, although it might have been a better excuse. Williams attended his 3-year-old daughter Amari's dance recital in Tennessee, where he lives in the offseason. Williams was heavily criticized in the media for missing the workout.
"I grew up as a kid who didn't have two parents in the household. I definitely take pride in being a father, being a husband and I take pride in being there for my daughter and any future children because I didn't have that when I was younger," said Williams following Tuesday's minicamp.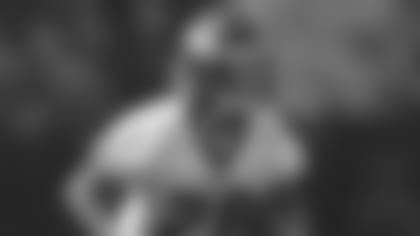 "I'll do whatever it takes for my child and she wanted to see her daddy center stage, clapping and cheering her on, while she danced then that was fine. … It's about being in your child's life, showing them that you care and that they have some sense of importance and daddy cares."
Understanding Williams' background, it's easy to see why he wants to be in his child's life. Williams' mother was diagnosed with schizophrenia when Cary was young and he estimated that he lived with her for no more than 10 months of his life. Williams was primarily raised by his father, Cary Sr., in Liberty City, Fla., a notorious neighborhood of Miami known for violent crime and street gangs. Williams Sr. fought hard to keep his son off the street.
"I wouldn't be the man I am today without my dad," Williams said.
Williams did also miss some of previous OTAs as he got married, his house was being worked on and he underwent dental surgery. Even with the missed time, he was still working as the first-team right cornerback in Tuesday's workout. His former team is scheduled to visit the White House on Wednesday to celebrate their Super Bowl win, but Williams will be with his new team in Philadelphia.
"I understand my responsibilities here and I understand what's needed of me here," Williams said. "I'm here. I'm happy to be here and I wouldn't be anywhere else.
"I'm just ready to go. I'm excited about the season. Coach (Chip Kelly) is excited about the season. I'm just ready to go out there and make plays on Sunday."
And Williams will do what it takes to be ready for that first regular season game, which just so happens to be on a Monday night (not a Sunday) against the Redskins.