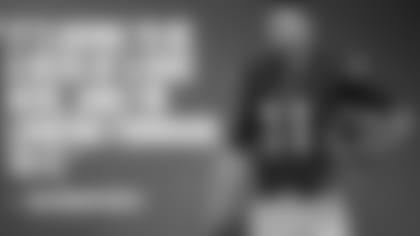 It's a moment he'll likely never forget, but also one he refuses to make too big.
With a little over a minute on the clock before halftime and a stadium full of fans chanting his name, rookie quarterback Carson Wentz jogged out to the 37-yard line at Lincoln Financial Field and saw his first NFL action.
On his second throw, the quarterback made his first completion, a 19-yard pass to tight end Zach Ertz.
He certainly wasn't perfect in his Eagles debut, going 12-of-24 for 89 yards and a red zone interception, and Wentz is the first to admit he's got a lot of work to do. But for his first NFL experience, the rookie couldn't have asked for anything more.
"I thought some plays were made. I thought there were still some plays that needed to be made that were left on the field," Wentz said after the game. "The interception in the red zone is something you never want to do. That ball sailed on me, got away from me. But overall, there are a lot of good things to build on and I thought as a team, we're walking away with a win. At the end of the day, that's a positive."
Wentz stayed in for the majority of the second half in the team's 17-9 victory over the Buccaneers, taking a number of hits and making some very athletic plays. He even told reporters that he'd never slid before this game, checking off yet another first.
However, Wentz hasn't had to go through this learning process alone as he adjusts to the NFL. Veterans Sam Bradford and Chase Daniel have been there to guide him and give advice, something both did before Wentz went out onto the field for the first time.
"'Trust your eyes. Trust your feet, man. Just go out there and play,'" Daniel told Wentz. "It's his first NFL game ever, something he'll always remember. I just said, 'Embrace the moment. Enjoy it. You only get one of these.' I think he did that."
"I thought Carson did a great job out there tonight," Bradford said of his rookie teammate. "I thought he did a great job in the pocket with his movement. He looked athletic and made some tough throws. He made some really smart decisions to throw the ball away when it wasn't there. I was really impressed with the way he handled himself out there tonight in his first game."
As a rookie, Wentz will have ups and downs as he makes adjustments. That's only to be expected. The game is faster, it's more physical and it's more mental. In the end though, it's all football.
"It was a little different, but it still felt like a football game," he said. "I was still out there playing ball, taking hits. It was all kind of similar, just a new offense, new facility, a lot of new things going on. But, overall it was still just a football game and I had fun with it."
Clearly, Wentz has a lot to work on, mistakes to fix and lessons to learn. But, this is only the beginning for the quarterback and his journey in Philadelphia.
He's more than ready for what's to come.
"I know it's going to be a heck of a ride here," Wentz said, "and I'm looking forward to it."
The Tampa Bay Buccaneers traveled to Philadelphia as the Eagles kicked off their preseason at Lincoln Financial Field. The Eagles took home the victory 17-9.