Offensive coordinator Marty Mornhinweg knows that the Minnesota Vikings have a ball-control offense that wants to eat up the clock with All-Pro running back Adrian Peterson. He understands the importance of sustaining drives to keep the Eagles defense fresh for the latter stages of Sunday's wild card game between the Eagles and the Vikings.
But the league's No. 1 run defense could have something to say about how long the Eagles offense stays on the field. Even with two starters along the defensive line injured - end Ray Edwards and Pro Bowl tackle Pat Williams - Mornhinweg has been impressed with how their backups have stepped in.
"They have so much speed and quickness in that front seven, even with a couple of backups they look very similar to the way they looked previous to the injuries," Mornhinweg said.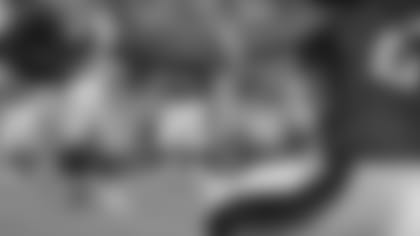 RB Correll Buckhalter scores against Dallas
The results would confirm that statement. The Vikings have not allowed an individual rusher to gain 100 yards all season. Heck, the most a team gained was 139 in a season opening loss to Green Bay.
But Correll Buckhalter, who led the Eagles in rushing and receiving yards in last Sunday's win over Dallas, believes that his team has the ability to run on anyone - even Minnesota.
"In this league, if you get a body on a body you can run on anybody," Buckhalter said. "It's just about every man up front playing with heart and blocking their man. No matter who is out there on the D-line, if you stick with it I think we can get it done."
Buckhalter's emergence allowed the Eagles to rest Brian Westbrook and force the Cowboys to deal with two different weapons in the backfield. How much will Buckhalter be involved Sunday? That depends on how healthy Westbrook is. Westbrook has battled a knee and ankle injury for the better part of the season.
"I really try to put Brian in certain spots," Mornhinweg said. "And then when he's not practicing, you don't want to do too much. Too much is just as bad as not enough when a man is not practicing very much. However, he is very smart. He makes very few mistakes, so it's not as big of a problem that way when he's not practicing."
Westbrook has been limited in practice this week because the Eagles worked out on artificial turf which is tougher on his knee. That is the surface they will play on Sunday at the Metrodome. Mornhinweg has prepared his game plans all season around Westbrook's health and this Sunday will be no different. The ideal goal is for Westbrook to play a lot and play well, but of course that doesn't always happen. If Buckhalter gets plenty of reps in practice during the week, Mornhinweg has a better idea of when he can go to him should Westbrook not be on top of his game. Before the game, Mornhinweg relies heavily on the training staff to inform him of how effective they believe he can be.
"I like to think that I have a pretty good idea when we are in pregame of how that particular player is moving," Mornhinweg said. "(Head athletic trainer) Rick (Burkholder) has a great feel on that, so before the game starts, I'd like to think that we know there. And then anything can happen in a game."
Buckhalter hopes that no matter what happens in the game the coaches exercise patience and continue to go to the ground game even if they struggle early. And Buckhalter wouldn't mind hearing No. 28 get called into duty to help ease Westbrook's load.
"I think that keeps (Westbrook) fresh and it also keeps the defense honest where they can't just key on him," Buckhalter said. "Whenever I can come in and kind of give our team that little extra boost, it gives them two running backs that they have to worry about."