Hours away from the Eagles' fourth game of the season, here's a look at what to watch for come 4:25 EST when the league's top two offenses face off against one another.
Last Time They Met:
December 27, 2009 – Broncos 27, Eagles 30
The Eagles moved to 11-4 in the penultimate game of the 2009 regular season on a game-winning field goal by David Akers with seven seconds left. Donovan McNabb threw for 322 yards, three touchdowns and one interception on the day while Brent Celek led the way for the Eagles with 121 yards receiving. Of course, the biggest storyline on the day was the return to Lincoln Financial Field by Brian Dawkins, who left for Denver the summer before.
Wide Receiver DeSean Jackson vs. Cornerback Dominique Rodgers-Cromartie
It stands to reason that the Broncos will put the speedy Dominique Rodgers-Cromartie on DeSean Jackson in a showdown between the former teammates and a rematch of several thrilling Training Camp one-on-ones in years past. Though Rodgers-Cromartie should have over-the-top help from safety Rahim Moore, it will be his primary responsibility to contain one of the league's most dynamic playmakers. After the loss to the Chiefs in which Jackson was held to just three catches, expect the Eagles to find more ways to get their explosive playmaker the ball.
Outside Linebackers Trent Cole and Brandon Graham vs. Left Tackle Chris Clark
While the most publicized concern is what will happen with Peyton Manning going against the Eagles' struggling secondary, the defense must get pressure on the Hall of Fame quarterback in order to slow down the Broncos' prolific passing offense. Manning thrives on quick throws, so Eagles defenders will have to be disciplined and solid as tacklers in order to minimize yards after the catch. If Manning is allowed to comfortably sit in the pocket and go through his progressions, he will pick apart any defense. The Broncos' offensive line has allowed only four sacks so far, the third fewest in the league, but will be missing All-Pro left tackle Ryan Clady, who is done for the season with a Lisfranc injury. His replacement, Chris Clark, is a five-year veteran who now has to protect Manning's blind side and just made his first ever start at left tackle against the Raiders, surrendering the only sack of the game. Trent Cole and Brandon Graham must take advantage of this matchup, generate significant pressure and get Manning off his game if the Eagles defense is to have any success.
Lane Johnson, Right Tackle, No. 65
The fourth-overall pick in the this year's draft got off to phenomenal start against the Washington Redskins, and was the highest-rated rookie tackle for week one, according to Pro Football Focus. Since then, Johnson has looked more like a rookie. He's committed some costly penalties and has missed a few blocking assignments. Johnson has the opportunity to put that all behind him and get back to that top form against a Broncos defense that is without Von Miller, one of the best pass-rushers in the game.
Mychal Kendricks, Linebacker, No, 95
Like Johnson, Kendricks was terrific in the Eagles Week 1 win, recording 10 combined tackles (including one for loss) and recovering a fumble. Kendricks continues to lead the Eagles with 27 combined tackles, but his play has not been as smooth as it was in the opener. Against San Diego and Kansas City, Kendricks displayed great pursuit to the ball, but on occasion his over-pursuit has led to missed tackles. Kendricks will need to have a great game both in coverage, when he is matched up against Julius Thomas or even Welker, and in rushing Manning.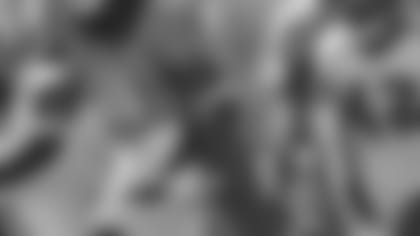 Trindon Holliday, Returner, No. 11
Holliday spent his first two-plus seasons in NFL limbo. After being placed on injured reserve during his rookie season of 2010 and then spending the majority of his time on the Houston Texans practice squad, Holliday was claimed off waivers by the Denver Broncos in October of last season. That signing has certainly paid off for both Holliday and the Broncos in the months since. After joining the Broncos prior to their Week 6 game, Holliday led the NFL in 2012 with an average of 32.5 yards per kickoff return. He came up big in the playoffs as well, recording the longest punt return in NFL postseason history (90 yards) and the second-longest kick return (104 yards), with both coming in Denver's divisional round loss to Baltimore. Holliday's blurring speed can change a game's momentum at any time and he already has one punt return touchdown to his credit in 2013. After a strong early start, Dave Fipp's coverage units took a small step back last week against the Kansas City Chiefs and now rank 20th in kickoff return coverage.
Derek Wolfe, Defensive End, No. 95
As mentioned above, the Broncos are without their best pass-rusher. In Von Miller's absence, Wolfe may be the player who steps up. Though designated pass rusher Robert Ayers leads the Broncos with 3.0 sacks, Wolfe is the man to watch in the middle as he creates interior pressure. After a strong rookie season in which he racked up six sacks and started all 16 games, Wolfe is an emerging stalwart on the Broncos defense. Through three games this season, he has been held without a sack, so expect Wolfe to be on the prowl come Sunday afternoon.