Wide receiver Jeremy Maclin has quietly put together an impressive start to his NFL career. The 25-year-old former first-round pick has caught more balls in his first four seasons than any Eagle in franchise history with 258. Last season, Maclin led the team with 69 catches for 857 yards and seven touchdowns.
Maclin has also been a reliable part of the offense missing just five games in the past four seasons. And that's even after being sidelined for all of Training Camp and the preseason in 2011 following a lymphoma scare.
2013 is a pivotal season for the Philadelphia Eagles franchise with the start of Chip Kelly's era as head coach. It's also the final year of Maclin's rookie contract. Maclin believes this offense will take advantage of his many talents.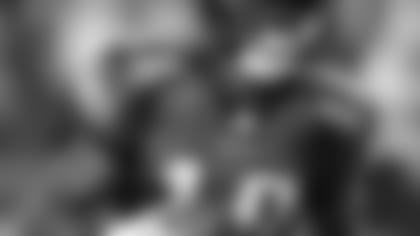 "I look at it as a way to showcase all of my skills as far as being able to be in so many different spots in this offense," Maclin said. "I really am looking forward to it."
Maclin has good size at 6-0, 198 pounds. He's scored 15 red zone touchdowns in his career. Twenty-eight of his career receptions have been of 25 yards or more. The offense Maclin played in at Missouri has similarities to what Kelly is bringing to the Eagles. Fellow wide receiver Arrelious Benn noted how quickly Maclin picked up the offense.
"I was one of the guys who picked up on it pretty fast," Maclin said. "Now, it's my job to continue to go out there and stay on top of it and do what they ask me to do."
Maclin has been integral not only on the field, but off the field as well. He is holding his annual youth football camp Tuesday and Wednesday at the RiverWinds Community Center in West Deptford, N.J. and teammates Michael Vick and LeSean McCoy are scheduled to be among the instructors along with the wideout.
"I always knew that if I made it to the NFL that I would be a guy who committed to working constantly in the community," Maclin said. "My football camp is just another way to reach the kids and spend time with them.  We really value this time and the relationships we build on and off the field.  I am grateful that I can pass along positive messages and help kids realize that by staying strong they can also accomplish their dreams."
Earlier this offseason, Maclin honored single mothers on Mother's Day. This year, he will introduce an annual backpack and school supplies program.
"We hope to inspire the kids to follow their dreams and put in the work necessary to have them become a reality.  They may not have had the easiest path to get there but dreams come true with hard work and by surrounding yourself with good people.  I am a living example of that and I hope the kids take these messages to heart," Maclin said.