On a cold December day in 1970, Bob Esterly walked into Franklin Field for the Eagles' last home game of the season.
The team had a lousy 2-10-1 record at the time, but the Eagles went on to salvage one more win before moving to a new stadium after defeating the Pittsburgh Steelers, 30-20.
Perhaps more importantly, however, that was the game that started "The Streak."
For every single Eagles home game in the past 38 years, Esterly has been in his seat in either Section 704 at the Vet or Section 207 at Lincoln Financial Field rooting for his favorite football team.
Not counting preseason games but including the playoffs, that's 311 consecutive games and counting for Esterly at the end of the 2008 season.
"Tickets to the game back then were $6-$7 each," Esterly said.
After that Pittsburgh game, Esterly bought season tickets for a total of $49 as the Eagles prepared to move into a brand new palace dubbed Veterans Stadium.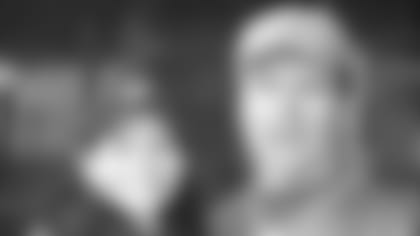 Bob Esterly with his niece Katie Pisoni
In Esterly's first three games at Veterans Stadium, however, the Eagles were outscored by a combined 86-10 while losing to the Cowboys, 49ers and Vikings.
"They were all good teams," Esterly said. "Everybody else was like 'What did you get yourself into?' But it was fun."
That's what keeps Esterly coming back – the fun. But it always included family. Before his father passed away in 1986, Esterly would call his dad a half-hour before games to talk about who to watch and what they thought would happen.
Esterly's son, Greg, has followed in his father's footsteps. He hasn't missed a home game since November of 1997.
"He's been going since he was three or four years old," Esterly said. "He missed a couple of day and night games because of school, but he's only missed a handful of games. Around seven or eight years old, the games became important to him. You don't see that in a lot of kids, but I saw that in him. I never had to drag him to a game."
Esterly's nephew Jeff Riley, who also owns season tickets in Section 207, has missed one game in the last 20 years and that's only because he had a free trip to Italy.
"Most of us stay to the end," Esterly said. "We're not fair-weather fans – that's a given. If the Eagles are 0-15 going into the last game of the season, we're there. If they end up 2-14 and both of those wins came against Dallas, that's a pretty good year."
Esterly sits seven rows from the top of the stadium, meaning when there's inclement weather, he's under cover. On hot days, that means Esterly sits in the shade. But for Esterly, the best part about sitting up so high is that he gets to see things fans sitting down low don't get to see.
"I like going to the games because I can watch what I want to watch," Esterly said. "If I want to watch the left tackle, I watch the left tackle. I might even miss a play while watching a guy."
Whether the Eagles end the year on a high note or a loss, Esterly performs the same strange ritual. He actually takes a significant moment to say goodbye to his seat.
"I think it started when I was looking to say good-bye to someone," Esterly said. "I couldn't find them, so I said goodbye to my seat. That's how it started, but now I say goodbye to the seat at the end of every year."
Esterly's 300th consecutive game was against the Miami Dolphins last year and his wife Terry marked the occasion by decorating their RV, known as "The Beast," with signs commemorating the achievement.
Esterly's nephew even asked the Eagles to put a congratulatory message on the video screens at halftime and fans in the section decorated his beloved seat with Eagles memorabilia.
After all, Esterly is like the U.S. Postal Service: Neither rain nor snow nor dark of night would stop Esterly from getting to his seat in time for kickoff.