To continue their improbable run at the playoffs at Washington on Sunday, the Eagles might need major contributions from some improbable sources.
Hank Baskett (knee) is out for the 4:15 PM game at FedEx Field and Kevin Curtis (calf) is doubtful, throwing a big wrench into the recently efficient Eagles wide receiver rotation. Reggie Brown, who has been a healthy scratch for two weeks, will see his first action in a while.
"I don't look at it that way. I think those guys, they would love to be out there, but we're fortunate to have Reggie here, somebody that's played quite a bit and kind of got moved out of the lineup there, due to numbers and the chemistry of the other guys playing," head coach Andy Reid said. "But, he's a guy that (quarterback) Donovan (McNabb) has confidence in and he'll step in. He's had a nice week of practice, so I would expect him to play well."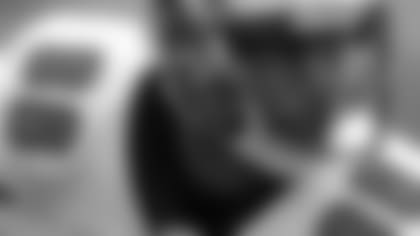 WR Reggie Brown will play Sunday against the Washington Redskins
Brown has fought his way through multiple injuries this season, but has lacked consistency. After finishing third behind Curtis and Brian Westbrook on the team in receiving in 2007, he's fallen to 10th in both catches and yardage in 2008. The emergence of rookie DeSean Jackson, the team's leading receiver, had almost rendered Brown a forgotten entity this season.
But he'll be needed in Washington. The passing game might already be suffering setbacks because of the anticipated wet weather, and the injuries just complicate the problem.
Not only that, but the running game might take a huge hit if Todd Herremans, who suffered an ankle injury in Thursday's practice, can't go. Herremans was listed as questionable and if he cannot suit up, rookie Mike McGlynn will be making the first start of his career, Reid said.
"I think (McGlynn will) be fine. He's played all three positions and I think he understands the offense," Reid said. "He got a few snaps last week, on Monday. We'll just see how he does, but I would expect him, if he has to be in there or is asked to be in there, that he'll do a nice job."
Whoever is on the field, though, Reid expects his guys to be ready. He hasn't felt the need to pitch the notion that this is like a playoff game, he said. They know that already.
They just need to go out and execute against a team that beat them in October.
"These guys know each other. They see each other in the offseason and so on. And I've always felt like with those teams, our guys are always ready to go. Now, I'm not saying they liked getting their tail kicked the last game against them, but I'm saying that I don't worry about them being up for this one," Reid said. "I didn't worry about them being up for the first one. I thought they were ready to go, we just didn't play very well."