Bernice Windish-Hawthorne epitomizes true strength
2022 marks 50 years for Windish-Hawthorne as an Eagles Season Ticket Member. Through all of the ups and downs, both on and off the field, family remains the constant source of love, support, and strength.
This is the first in a series of features to celebrate Women's History Month.
---
---
True character is revealed in times of adversity.
Bernice Windish-Hawthorne took advantage of a perk offered through her company to purchase Eagles season tickets in the summer of 1972. Windish-Hawthorne reluctantly took the part-time job on the assembly line only a year earlier after spending 20 years as a stay-at-home mother with five children in the house.
She was encouraged – OK, if we're being honest, pushed – by her friends to apply for the job. She actually had an interview scheduled and while driving to the plant decided to turn around and go back home. See, for Bernice, family is the top priority. She wanted to make sure her husband, Joseph, and their children were cared for. She finally relented and took the job. She made sure her husband – who served in the Air Force before taking a job with a steel factory in Jenkintown, Pennsylvania, near their home in Horsham, Pennsylvania – was home so the children were never alone.
The job turned out to be a blessing. Joseph Windish passed away suddenly just over three weeks before the 1972 season opener. Bernice Windish-Hawthorne was now a 41-year-old widow with the youngest child just 5 years old. Unfortunately, it wasn't the first time that Bernice experienced heartbreak as a sixth child passed away just days after birth.
"It wasn't easy," she said. "I had so many friends where I worked. Everybody was so good to me. I never really had a problem. They just turned out to be good children. It was hard at first, but I had the help, so that was good."
Bernice was born and raised in Glenside, Pennsylvania, as the third child in a family of six. She fell in love with sports thanks to her father, who was a big baseball and horse racing fan. Bernice read the sports section of the newspaper growing up and was named the most athletic in high school playing softball, field hockey, and basketball. She met Joseph Windish, who went to rival Upper Moreland High School, at a party and the two quickly fell in love. They were married shortly after high school.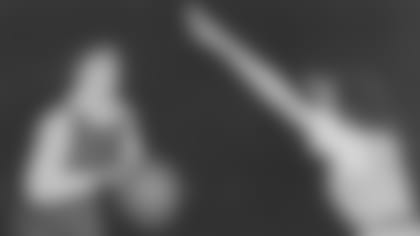 Life was idyllic as Carol Windish, one of the family's four daughters, recalls early morning breakfasts before her father went to work and weekend dinners with the grandparents – and, of course, cheering on the Eagles.
Bernice looked forward to going to Eagles games with Joseph, but she embraced her Eagles family and used Sundays as an escape from the difficulties of being a single mother.
"I always thought she was somebody very special and strong," said Carol Windish. "She has amazing strength and resilience, and she loves the Eagles more than anything outside of us."
Bernice turned 90 years old in December. 2022 will mark 50 years for Bernice as an Eagles Season Ticket Member. She is the only one from the group of 20 employees who bought the tickets in 1972 to still have them. Her children, 10 grandchildren, and 14 great-grandchildren share the tickets with her as they will not leave the family anytime soon. She is quick-witted, joking, "Everybody says I look good for 90." She can still get around, although she's not as mobile as when she was a star athlete in high school.
"I really look forward to going to the games," she says.
Her favorite players over the years have been Randall Cunningham, David Akers, Harold Carmichael, and Mike Quick. As much as she stresses the importance of family, don't plan any special events on Eagles gamedays.
"No Christenings. No birthday parties. No, she didn't go," Carol said.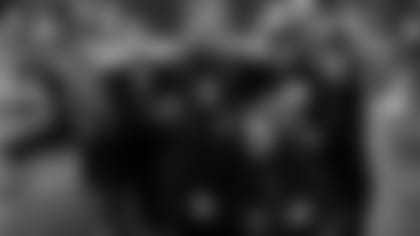 When the Eagles captured the Super Bowl following the 2017 season, her family made sure it was truly a "super" occasion. The family rented a hotel room in Center City and after the final Hail Mary attempt by the Patriots fell to the turf incomplete, the 86-year-old was partying on Broad Street with all of Eagles Everywhere, hugging and kissing strangers – with her family by her side.
"Family is most important. You have to start with your family first," Carol says of the biggest lesson learned from her mother.
Bernice lives in a senior community home where everyone at the facility knows she's the biggest Eagles fan. She has Eagles decor all throughout her room, an instant conversation starter. She moved into the home after her second husband passed away about a decade ago. She also lost one of her daughters, Patricia, after a battle with breast cancer that had metastasized in her brain a year ago Wednesday.
"That was really hard," Carol said as the family couldn't support her mother in person due to COVID restrictions. "I look back on my mom and her losses and wonder where she got her strength. How could she take care of five children alone when her heart had to be broken? How can anyone endure so much loss and continue showing strength? I believe it's because she is a survivor, and she continues to amaze me!"
Fifty years ago, Windish-Hawthorne's love of the Eagles resulted in her getting season tickets. Between the wins and the losses, the ups and the downs, the triumphs and the heartbreaks, family has been the pillar of strength that Bernice has built and leaned on in times of need.